Top 10 Hottest Girls in the World for 2015
The topic of whether or NOT someone is beautiful remains as moot as it's subjective. Speaking of which, no one has a clear definition of what real beauty really is. A poet drenched in aesthetic sensibility would pen down an enlightening essay full of drowning metaphors and adjectives describing a woman's beauty. And as much as we would like to differ, some of the girls that grace our screen are glaringly beautiful that no man in his right mind can have anything to argue against it.
Take a look at the 10 hottest girls in world in 2015 as voted by random men all across the globe and you'll agree with me when I say beauty is more objective and less subjective like most people love to think:
Michelle Keegan
Who doesn't love Michelle Keegan? Show me a man who doesn't, and I'll prove to you that the man is indeed blind.
Born on 3rd June 1987 in Stockport, Manchester, Michelle's road to fame was almost instantaneously. Thanks to her unmatched pulchritude, she didn't have to struggle to get to the top.
Unlike many actors who have to audition 10 or more times to get a role that would lead them to fame, Michelle had only two grand auditions and that was it. Fame started stalking her! She hit the Jackpot shortly thereafter and it was just a matter of time before she was crowned a beauty queen.
Kendall Jenner
Kendall Jenner is undeniably the new face of beauty. At only 19, this young girl has managed to create a name for herself in the world of beauty. There's no exaggeration in saying she's a sex symbol, a fembot that most girls only dream of.
What's more interesting is that we've all watched her transform from Kim Kardashian's little sister into the World's most in-demand fashion model. Besides, she also appeared in an episode in Hawaii Five O, and my-oh-my, who wouldn't want to see her play a lead role in one full series?
Jennifer Lawrence
Jennifer Lawrence is a clear definition of beauty at its peak. Which young girl wouldn't want to be her?
She may be only 24, but she's established a name for herself in the entertainment world. Thanks to her good face. Her breakthrough came when she was selected to play a role at Katniss in the Hunger Games and in X-men shortly thereafter as a young Mystique.
Jennifer has been quick to point out that she doesn't diet. Her major reason being that she doesn't like looking "like a bird" off-set.
Kate Upton
Remember her from "The Three Stooges" or the dumb, blond supermodel in "The Other Woman?"
Well, that's' the beautiful Kate Upton for us taking the fourth place of hotties in this list. If we can go back, Kate is the girl who, in 2011 Swimsuit issue, won the Rookie of the Year title in Sports. She was the cover-girl the following year, 2012.
Born on 10th june 1992 at St Joseph, Michigan, Kate started modeling at 12. But it was until several years later that she took it as a serious career. She's also a successful actor besides modeling.
Caroline Flack
Beauty has nothing to do with age and Caroline is a walking proof of that. At 36, she's still a glaring beauty who can go head to head with drop dead hotties at 20 and win.
Caroline's first hit the limelight when she was casted as Michael Jackson's courtesan in Bo' Selector. Before then she was employed as an abattoir. She's been rumored to be in a romantic relationship with Prince Harry, a statement she's been quick to debunk mentioning that "they're just friends."
Ariana Grande
Ariana Grande is a renowned actress and singer. The two career feat may be too striking, but they do not overshadow the fact that she's indeed a beauty queen.
Born as Ariana Grande-Butera on 26th June 1993, Ariana had her first break as a Nickelodeon and Broadway teen star. She now enjoys a success music career having release an album that's reached position 1 on the US Billboard.
Margot Robbie
Remember Naomi from "The Wolf of Wallstreet?"
Well, if you watched the movie and didn't love eye inch of her then you certainly have a problem with your eyeball. Get it fixed.
Maggie, born as Maggie Elise Robbie, is an Ausie hottie born on 2nd July, 1990. She's a promising actor who played as Leonardo DiCaprio's mistress in the Wolf of Wall Street. Her first major role was in Neighbours.
Every man who saw Maggie for the first time in the Wolf of Wall Street would agree with me when I say she was the perfect character for the role. Her beauty was everything the movie needed to get men glued on the screen again. From her philtrum and septum all the way to her bust and hourglass figure, it's almost impossible to single out one flaw in this beauty queen.
Chelsea Gilligan
Chelsea Gilligan starred on Star-Crossed but her first debut was in Addicted where she played as Molly.
Chelsea's beauty is all evident in the fact that she was the Winner for California Teen and runner-up for Miss Teen, USA.
Despite her villainy role in Star-Crossed, her beauty still stroke out. We still remember her for her soft, seductive gaze, the B-cups, the lithe body and well everything. In other words she has all the seals we need for a candidate in this list.
Emilia Clarke
Emilia Clarke is an English sex totem of our time. She's best remembered for her role as Daenery in Games of Thrones.
It's revealed that she hadn't starred in any major TV show prior her big break in Games of Thrones, save for BBC's medical soap doctor.
Emilia is a brunette bombshell, who despite having no fancy costumes, make up and stage trimmings still managed to radiate an unmatched beauty that most men can't stop fantasizing about.
Lucy Mecklenburgh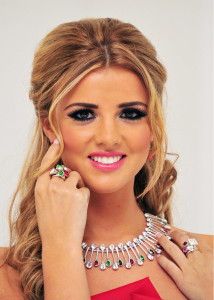 Closing the list is Lucy Mecklenburgh. She has a history of dating love-rats, but then again, which player wouldn't want to juggle such a beauty face?
Born on 21st August 1993, Lucy shot to fame after she starred in "The Only way is Essex." She's among the few celebrities who can confidently boast of having an hourglass, thanks to he ultra-slim waist and rounded bum.
Reference: Wiki Common Pics