Top 6 Best Gaming Headsets for 2016 [PC, Xbox 360, PS4]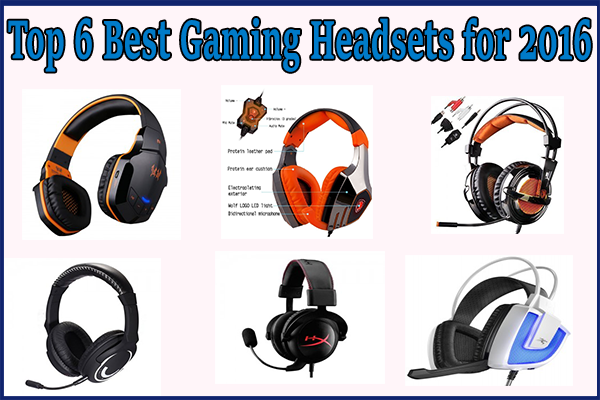 Headsets are a necessary accessory in video gaming for making voice input in controlling the game and making communication with other players logged in on the gaming network(Teamspeak, Ventrillo etc.). Gaming headsets often deliver better performance and have superior overall design and features compared to ordinary earphones.
Wire versus Wireless Headsets
Wired headphones are cheaper and deliver better sound quality compared to wireless earphones especially when you have a high definition soundcard adapter installed for your device or PC. Wireless headphones however are lighter and provide more flexibility in the seating arrangement relative to the visual display for multiple players. Wireless phones can also come in handy for keeping cords out the way especially when you have playful pets. Wireless phones come with built-in programmable controls and presets that allow you to adjust sound levels remotely. A downside of wireless headsets is the comparable diminished capacity for delivering heavy bass sound and the repeated need to recharge the battery.
Surround Sound
The quality of sound that your gaming earphones can deliver is of importance in terms of providing clear treble sound and good amount of bass sound. Modern gaming software provides spatial depth illusion especially for first and third-person player perspectives that require headphones with surround sound capabilities to make the most out of this feature for an enjoyable gaming experience.
Budget
The price of the headsets should be reasonable considering the relatively short durability and low longevity owing to constant handling. One should consider brands that link pricing to the quality of the headsets in comparison to other brands with similar features and sound quality. The headsets usually have a microphone attached to an adjustable arm and come with extra padding for the ear phones if prone to wearing out. Owing to their higher cost, a warranty may also be provided with your gaming headset.
Recommended Budget: 30 to 100 dollars(USD)
Comfort
Comfort is a key consideration for gaming headsets given the long hours that gamers can spend in one session of playing video games. Besides excellence in sound quality, gaming headsets have to fit well to avoid fatigue and pain on the ear lobes and head. The type of padding on the earphones and headband especially in heavier models, and how well the headphones fit snuggly have tremendous impact on the level of comfort and the quality of sound delivered.
The six headset models that are most suited for video gaming in 2016 are discussed below.
a) HyperX Cloud Gaming Headset(Black)
[asa2]B00JJNQG98[/asa2]
The Kingston HyperX Cloud Gaming headset is a rebranding of the Qpad QH-90 headphones model and features prominently among light-weight corded headphones for gaming. The new HyperX Cloud Gaming headset comes with the same lightweight features of the Qpad model but with a heavier bass sound that does not compromise on clarity of treble sounds. The HyperX Cloud headset has an inline remote on its cord and incorporates 53mm stereo speaker units with a closed ear cap design for superior bass sound.
The HyperX headsets deliver cinematic sound and precise positional audio with 7.1 virtual surround capabilities. The HyperX Cloud ships with multiple adapters including cell phone, analogue 3.5mm jack, USB and airplane connectors linking to the inline remote control instead of the multiple cables used in some surround output earphones. The inline remote controller has a button that allows you to toggle the surround sound feature on and off, which comes in handy for selecting between 2.1 stereo and 7.1 surround sound feeds. The HyperX headset has great ergonomic looks and is available in Black for the KHX-H3CL/WR model.
b) SADES SA928 Multi-function Lightweight Stereo Gaming Headset
[asa2]B015Q2IH60[/asa2]
The SADES SA928 is a lightweight multi-function set of headphones with a microphone and incorporating powerful 40mm speaker drivers that deliver clear high-fidelity stereo with strong bass sound. The SADES SA928 headset boasts a fully-adjustable and light weight design with a flexible head band and a comfortable ear-cap design that covers your entire ear and blocks out ambient sounds. The SADES 928 headset ships with a free headset splitter adapter and a choice of connectors including a 3.5 mm jack, RCA converter cable, USB audio cable and adapter connectors for compatibility with multiple platforms that include Xbox360, PS2, PS3, Mac and Laptop PC. The headset connects directly to a remote volume control box that in turn connects to your specific device through the various cable adaptors. Although it lacks surround sound features, the SADES SA928 headset delivers a crisp sound and incorporates a glossy surface with the option of leather or microfiber pads for the earphones.
c) Sentey Artix White Gs-4560 Gaming Headset w/ Microphone
[asa2]B01HF6VE8S[/asa2]
The Sentey Gs4560 headset incorporates 40mm Audiophine driver speakers that deliver strong sound without distortion even under loud volume levels. The Sentley headset has a built-in USB-powered amplifier with a multi-channel integrated chip and vibration module for providing a shocking deep-bass subwoofer effect. The Sentey GS-4560 headset features a detachable microphone, flexible and retractable self-adjusting headband and closed ear-cap headphones and ambient noise insulation pads that provide a comfortable experience despite the comparatively robust and heavier design. The Sentey GS4560 headset is provided with a heavy-duty braided 2.2 meters cord and ships with USB 2.0 and 3.3mm audio jack cables as well as various adapter cables compatible with a PC, PS4 and Xbox, but only provides voice chat on PS3. The Sentey Artix headset is available in white with blue or gold-plated detail.
d) Sades A60 7.1 PC Pro USB Gaming Headset
[asa2]B016Y7JB9S[/asa2]
The SADES A60 Pro USB Gaming headset testifies the brand's devotion to creating stylish and high-performance accessories for the video gaming world. The SADES A60 has 7.1 Surround alongside stereo sound capabilities that are delivered by 50mm Loudhailer driver speakers. SADES A60 Pro gaming headphones incorporates a multi-channel microchip with high-performance surround decoding and amplification, flashing lights and color-changing logo, and vibration feature for a shocking subwoofer bass sound effect.
The Sades Retail Box model version adopts a stylish over-ear closed-cap headphones design with a sleek black electroplated case and a retractable all-directional microphone. The Sades Pro gaming headset ships with four sets of headband padding and ear cushions built with soft ventilate protein padding for comfort. The Sades A60 headset is compatible with a PC or laptop, and can also be used on all devices supporting USB audio.
e) HAMSWAN® HUHD 2.4GHz Wireless Gaming Headset
[asa2]B00WQEXW8U[/asa2]
The HAMSWAN HUHD 2.4GHz Wireless Gaming Headset is specifically designed for use with XBOX360, XBOX ONE, and PlayStation 3and 4 to provide sound control and amplification for these devices. The Hamswan HUHD gaming headset amplifies and controls chat and game sounds separately via a multi-channel digital wireless audio adapter, and incorporates 40mm speaker drivers that deliver strong and clear stereo sound.
The Hamswan HUHD headset is compatible with devices implementing USB2.0 and can thus work on a PC or laptop. A Microsoft Adapter or Kinect is however required for using the Hamswan HUHD wireless headset with XBOX ONE. The Hamswan HUHD headset incorporates a lightweight design that is available in black with a detachable microphone and 6-10 meter wireless transmission range for comfortable gamming, and a rechargeable battery that can last up to 7 hours.
f) AFUNTA 2015 B3505 Wireless Bluetooth
[asa2]B00SCX72BC[/asa2]
The AFUNTA B3505 Wireless Bluetooth headset is a professional lightweight headphone developed in 2015 for compatibility with Bluetooth enabled devices for music, call and gaming functions. The AFUNTA B3505 wireless headset incorporates 50mm driver speakers that provide a vivid sound field with enhanced noise reduction, vibration function providing shock subwoofer bass effects and built-in NFC for supporting Bluetooth pairing on the fly. The AFUNTA B3505 headset has comfortable headband and ear-cap padding, and delivers remarkable amplified sound for devices including the iPhone6/iPhone6 Plus iPhone 5 / 5s / 5c,S3 S4 S5, Ipad, Lenono, Samsung, Blackberry and HTC smart phones and tablets.
The AFUNTA Bluetooth headset has a closed ear-cap design that is available in white, black and orange colors, and comes with Stereo 3.5mm Plug and USB Plug for added connectivity with a PC or laptop. The casing design for the AFUNTA wireless headset features a sensitive microphone mounted inside the headphone casing and built-in controls that allow you to power on and off, answer calls, and playback music without removing the headset.