Top 6 Best Yoga DVDs for Beginners [Suitable for All]
As someone that just recently got into Yoga, it can be incredibly frustrating to get a Yoga DVD to only find out that it is a little too advanced or confusing for a newbie. This rings especially true for people like me who cannot stretch very well. After digging through a few of them, I have compiled a list of awesome DVDs for beginners that are:
Easy to follow
Less complex movements
Easily completed in 30-40 minutes
Suitable for the ages 40 and up
1) Flow Yoga: Elements of Yoga: Air & Water with Tara Lee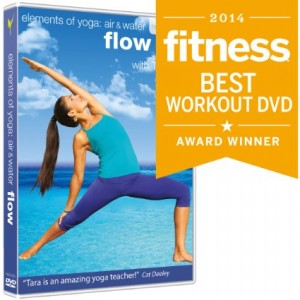 Air & Water is the second release in Tara Lee's elements of yoga series. This title was created as a more flow based practice, focusing on connecting to the Air & Water elements inside us all. The routines are all about opening up the chest and expansion while linking the fluid movement of the postures to the water element.
The DVD is divided into three 20 minute sequences and can be played in succession or individually.
First Session – Tara provides a slow gradual warm up, allowing you to slowly get into it. She mainly focuses on breathing, which is an important part of yoga. She goes over the various places she wants you to focus your breathing on. She then proceeds to the basic yoga moves which are quite easy to follow. I suggest you stick with this until you have mastered them before moving to the second DVD.
Second Session – Now she begins to get into more flowing movements. These are quite advanced and can really confuse you if you aren't too familiar with any of the poses.
Third Session – This last video mainly features twisting moves, which are even harder to do. Only attempt this once you are comfortable with the second video. Skipping straight to this video as a beginner is asking for a VERY sore body tomorrow.
You can check out the DVD on Amazon.
2) 
Rodney Yee's Yoga for Beginners
Key features:
Two full-length yoga workouts for beginners
On-screen pose training for perfect form
Secrets to overcoming the most common yoga mistakes
Proper Posture
Learn accurate alignment, technique and how to avoid the mistakes they see most often.
Rodney provides the perfect balance between beginner and intermediate. The poses are not too hard for beginners to learn so that you would get bored because it is too easy. It challenges you just enough to keep going and 40 minutes seems to be a perfect length for yoga. You can check out the DVD here.
3)  
Yoga over 50 – with 8 Routines [Barbara Benagh]
They focus on 8 routines that will build strength, increase flexibility, promote calmness and improve balance. It will also help with Osteoporosis and Osteoarthritis. if you are over 50 and want to get into Yoga, this is a great beginner DVD for you. The routine will go anywhere from 20 to 60 minutes, depending on your pace. You can
check out the DVD here
.
4) 
Yoga Sweat Yoga DVD for Weight Loss with Julie Schoen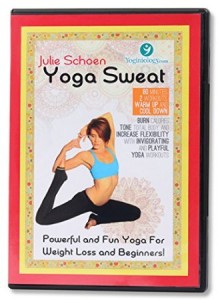 Key features:
Session 1: Focus on burning calories and building heat
Flow through fun and effective yoga poses specifically designed for toning and strengthening legs and glutes
Burn fat easily and lose weight

Session 2: Keep the sweat going with a vigorous sequence of yoga poses
Strengthen arms, back, and core
Flatten your midsection quickly with tummy toners
Challenge yourself with balance moves
Be amazed at the results you'll see in just weeks!
When it comes to working out, there is really nothing I would rather do than yoga, but that does not always burn a great amount of calories…but when I came across this great yoga dvd that is intended for losing weight, I knew I was something that I would like to give a try. Julie Schoen's Yoga Sweat is definitely just that- yoga that makes you sweat! By continually moving while going through the poses, you are not only toning your body, but able to burn excess calories. – Cristi
You can check out the yoga DVD here.
5) 
Element: Hatha & Flow Yoga For Beginners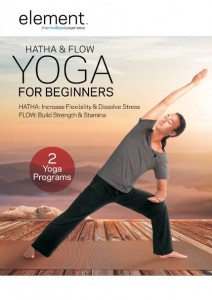 I love this yoga practice! With the Hatha flow, Tamal uses a strap with many of the poses and guides you how to approach each pose at your own pace and ability level. The practice is challenging and I always finish feeling very relaxed. Tamal also has a soothing, calm voice and gives clear instruction so that I am able to focus on the pose and not on the screen. He also describes the benefits of each pose as you are doing it. I also like the Flow practice. Tamal doesn't go too quickly, but creates a repetitive flow. It is a great cardio workout. I have already experience results and challenge myself to go farther into each pose each time I practice. This is by far the best yoga instructional DVD that I have. His positive words and guided meditation always leaves me feeling more at peace. – Yma Art
You can check out the DVD on Amazon here.
6) 
Bob Harper: Yoga for the Warrior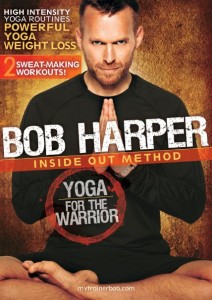 I was first introduced to doing yoga while I was doing the P90X program. I really enjoyed the yoga workout in P90X, but the biggest problem was that it was a 2 hour long workout. Its hard enough to find 1 hour most of the time to commit to a workout like this for me. So I decided to look for something with the same intensity, but not as long. I researched on a lot of different videos and didnt really find one I thought would be similar. Then I came across this one. I have a lot of respect for bob, but I didnt want a Biggest Loser workout. This is not that. I lucked out , because this was the 1st one I actually purchased. And it was exactly what I was looking for. Just as intense as P90X but in half the time. – topchef1
You can check out the DVD on Amazon here.