Top 8 Best Prank Call Websites to Use
A prank call is a great way to make fun of your friends. Prank calls are common in teens but many websites have taken this a notch high by introducing great features to make it fun for adults too. Beware that prank calls can land you in trouble and be sure you know the nature of your friend before prank calling. Below are the top 8 prank call websites to try: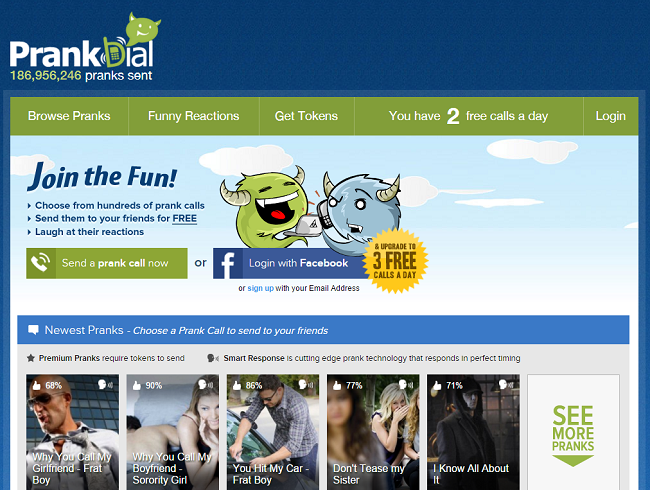 Prank Dial is a simple website that offers awesome features for prank calling amateurs as well as pros. The website has a wide collection of pre-recorded voices and all you have to do is select a prank call scenario, send it to your friend and make fun of their reaction. Prank Dial offers free services to a number of selected countries outside the US. As a user, you are awarded three free calls in a day.
This is a prank call website designed for the US and Canadian citizens. The beauty of this site is in its ease of use. To make a prank call, you simply enter the number to call, select a voice, enter the prank message, enter a code to verify you are human and press call. The conversation can be recorded for later use. Making prank calls on this website is free; they offer you many free calls per day without asking for any subscriptions.
Bored
Bored is one of the simplest and the best prank call website. True to its name, the website focuses on bored people and has categories such as games, humor and videos. You will find the "Caller ID Spoofing Tool" under the dumb category. This tool allows you to make a call by submitting the information of the person to be called. It utilizes text-to-voice technology to transform your text to a voice. They offer you three free calls a dEasy Prankay after which you have to pay additional charges.
Easy Prank is a new entry in this arena. The website offers 8 free calls to their users but currently lacks a caller ID spoofing feature. Making a prank call is easy; choose one among the pre-recorded voices, enter your friend's number and your preferred caller number and you are done. The call will be made and recorded for you to listen. They have a plethora of prank call scenarios.
With Hoaxcall, you can hear the calling partner directly from your browser. All you do is select from a list of prank call scenarios such as "Allah wants you", "the garbage spy" and "you are on air" among others and play the clip. You can also record the call for later hearing. Playing the clip is as easy as clicking on the sentence you want your friend to hear. The website offers you unlimited fun.
Foxy Call
Foxy Call is a great prank call website for those looking for fun. Besides making a call, this website allows you to send a message to your friend and see their reaction. It features a voice modifier that allows you to talk as a completely different person throughout the whole conversation. Besides, it offers pre-recorded voices that you can send to your friends and laugh at how they react. You can record the prank call and download it to share it with friends later. They have developed an android app that allows you to make prank calls from any number you want.
Prank Owl is a fun place. The website allows you to send pre-recorded voices and make prank calls all over the world. The operator prank feature heightens the fun in prank calling by forcing two friends to call each other unknowingly. It features caller ID spoofing where you can directly call your friend with a fake caller ID and prank them. You have to buy premium tokens to unlock the best features of this website.
Phone Losers has a wide collection of call scenarios. On visiting the website, you will come across hundreds of call scenarios many of which will suit your friends. You can make a prank call from any caller ID. They have categorized their call scenarios into themes such as complainer pranks, foursquare stalking and Wal-Mart pranks among others. Under each theme, there is a long list of prank call scenarios. All you have to do is select a scenario and make a call.