Top 6 Best Bean Bag Chairs [Review] – For Both Adults and Kids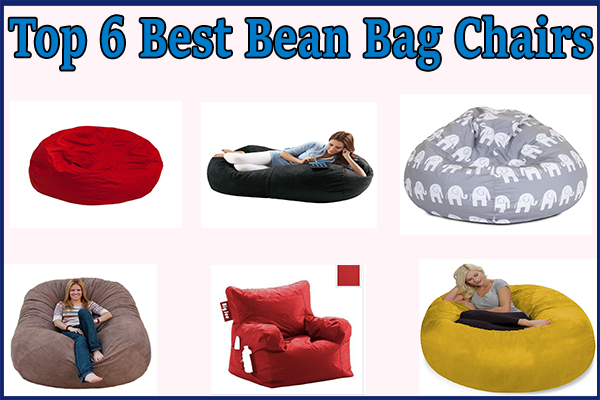 Bean bag chairs are one of the latest and stylish piece of furniture that can be added to your living space. They are portable, offer great comfort and give any room a friendly look among many other advantages. When planning to shop for the chair, there are a few qualities you need to be on the look out for to get amazing bean bags chairs, and some of them include:
High Quality Fabric– Bean bags are all about comfort, and for this reason, it is vital to get one that is made from sturdy material that is soft to touch yet sturdy. The fabric should be easy to clean and maintain. Go for rip-proof fabric outers as they increase the durability of the bags. Natural materials like leather and cotton are popular because they are strong and breathable, although you can find some chairs made from denim, PVC, vinyl, faux leather, faux fur, corduroy and faux suede. Pick a stain-proof material when getting the chairs for children.
Excellent Bean Bag Fillings – Foam and polystyrene beads are some of the synthetic materials used to fill the bean bags. Polystyrene is a cost efficient and practical filler as it can withstand constant compression without losing its springiness. Natural materials like dried legumes or rice are also used. Regardless of the filling, you opt for, make sure that all the pieces are of uniform size because different sizes cause discomfort. Purchase a chair that has quality zips and double stitching as these ensure the fillings stay in place.
The Ideal Design – The bean bag chairs are available in different designs, allowing buyers to pick the ones they are most comfortable with. Shapes that are more in demand include the body fitter, lounger, and teardrop. These offer excellent sitting positions so that all body parts are well rested. They also adapt to various sitting styles. The chairs are available in numerous colors and prints; thus, you can choose the ones that blend in well with your interior décor. You should also consider buying an outdoor bean bag chair that features UV-resistant, and waterproof material if you enjoy lounging outdoors.
The Right Size – While searching for best bean-bag chairs, it is vital that you get the correct size to enjoy fully using it. There are some that are made for children and others for adults, so you should pick accordingly. In addition to this, there are some that can accommodate more than one child or adult; thus, it is important to confirm this before you invest in the chair to get the one that best suits your needs.
Best Bean Bag Chair For Adults
1) 6-Feet Cozy Sack Bean-Bag Chair, Large, Earth
[asa2]B00139XMFC[/asa2]
Filled with ultra soft virgin urethane foam, this is one of the best bean-bag chairs on the market today. The foam springs back to its original form after it has been used, and it will not go flat. The size and shape of the chair changes to conform to the owners sitting position and weight. It features a microfiber cover that can be easily removed and machine washed, child safety zipper, and a protective liner. It is also made from 100% polyester that feels like suede. All its seams are double stitched, and the zipper is No.5 YKK for additional strength. Its color can blend in easily in most homes, and the ideal floor space is 6.5X 4.5 inches.
2) Chill Bag – Bean Bags Bean Bag Chair, 5-Feet, Lemon
[asa2]B00P21TPPS[/asa2]
Ideal for a college student, a teenager, or child who loves to watch TV & movies, or play video games, the 5-Feet Chill Bag Chair is the best addiction to a dorm, basement, or family roof. It is perfect for one adult or child, but it is also large enough for two small adults. At 55lbs, only top-notch quality shredded foam has been used to make the chair. It is also manufactured using a soft micro suede cover that you can remove and wash when need be. The chair features child safety zipper, an ultra durable inner liner, and measures 60"d X 60"w X34" h.
3) Big Joe Dorm Bean Bag Chair Color: Chili Pepper Red
[asa2]B00DPO1AN4[/asa2]
With simple details that make it easy to use, the Big Joe Dorm Bean Bag is perfect for studying or just relaxing with family and friends. It comes with a beverage holder and side pocket that ensure everything you need is close at hand. The bag is sized right for your living room, bedroom or dorm room. It is not only fashionable and durable, but it is made from SmartMaxTM fabric that can be cleaned easily. The fabric is also stain resistant, waterproof and tough. Most importantly, the bag is filled with Ultimax Beans that conform to the users. Double zippers and double stitches enhance safety and strength.
4) Jaxx Sofa Saxx 4-foot Bean Bag Lounger, Black Microsuede
[asa2]B00GKN0BSC[/asa2]
Adults who love to snuggle will like the 4-foot Jaxx Sofa thanks to its supportive and plush foam. The lounger that measures 26"H X 34" W X 46" L offers everyone their space. It comes with durable and ultra soft premium micro suede covers that zip off for machine washing and filled with shredded furniture grade polyurethane foam. A protective liner that has a childproof zipper ensure foam contents stay in place without any dirt seeping in.
For Kids and Teens
a) Small Solid Red Kids Bean Bag Chair
[asa2]B00G582MCU[/asa2]
Kids will sink right into comfort with the small solid red kids bean bag chair. It is one of the best bean-bag chairs because it is lightweight and allows the young ones to tote it all over your home. It also features a slipcover that can be removed for spot cleaning when accidents happen and overall cleaning. A metal safety zipper has been put in place to secure the beads. The chair also features cotton twill upholstery.
b) Majestic Home Goods Bean Bag, Gray Ellie
[asa2]B00DCCJDQK[/asa2]
An impressive addition to any playroom or home, the Gray Ellie Majestic Home Goods Bean Bag also makes it to the list of the best bean-bag chairs. Your child will enjoy reading or watching their favorite show on the chair as it has been manufactured to offer the utmost comfort. The bag is filled generously with 50% recycled polystyrene beads. It also comes with a zippered slipcover that can be removed for cleaning. Since it has been created for kids, it also makes it possible to spot clean the slipcover before you hang it out to dry.