Top 5 Best Camera Sliders Review For 2017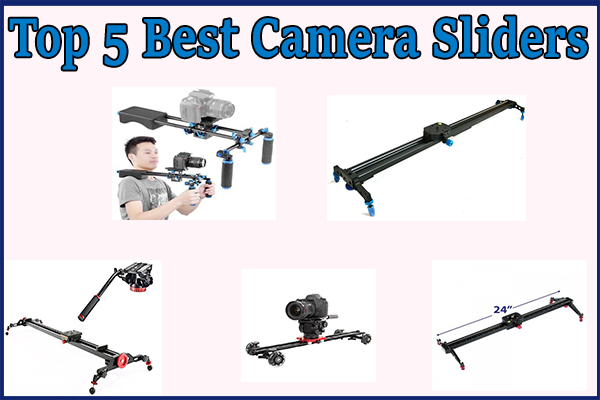 In the current era of technology, photography plays a very important role in our daily lives. As a result, several cameras have been invented to ensure that those taking photos and videos achieve professional grade snapshots and footage. However, even with a top notch camera, there is no guarantee that the quality of the pictures and video you capture will be great; shaking during capture can lead to poor quality photos. Fortunately, there are several camera sliders available on the market, which can help to stabilize your camera and ensure you capture high quality photographs and video footage.
Types of Camera Sliders
With a variety of options on the market, finding the best camera slider can be very frustrating. However, with the right information, it should not be that hard. Below is a look at three different types of sliders that you can find on the market.
1) Micro Sliders
Micro sliders are small-sized camera sliders that are used to provide support when shooting. They are typically light, and can be carried around without any trouble. This makes them perfect for shooting in remote locations, such as when you are hiking or travelling. They are also ideal if you are carrying around heavy gear all by yourself. In addition to portability, micro sliders are very easy to operate, and thus ideal for people who do not have much experience in operating camera sliders. They are also more affordable than the rest of the camera sliders, which is a great option if your budget is limited.
While these micro sliders can offer you a lot of benefits, they also come with a few drawbacks. To start with, their cheap price means that they are limited in terms of quality. They are also designed for smaller sized cameras, and thus can cause stability problems when used with larger cameras.
2) Medium Sliders
Medium sliders fall in the medium-sized category, and are a bit larger than the micro sliders. They are also heavier, with most of them ranging between 8 and 15 pounds, but they can be easily operated and carried around by one person. Due to their larger size, medium slider can support larger and heavier cameras, and their operation and movement is smoother.
However, just like the micro sliders, they also come with a few drawbacks. To start with, they are more expensive due to having a better construction. They are also more bulky and take up more space, which limits their portability, especially when travelling for long distances. In addition, they are only great when working with small or medium-sized cameras and not the large ones.
3) Large Sliders
Large sliders are the largest type of camera sliders available on the market. They are longer in size, have a wider base, and weigh much more than the micro or medium sliders – some can weigh up to 20 pounds. Large sliders are also more expensive, especially since they are used together with additional accessories. They are also very limited in terms of portability, and will require more than one person to set up. However, they offer several benefits that make it worthwhile:
– They provide a smooth movement and operation, which ensures you get professional grade photos
– They provide adequate support large and heavy cameras
– Their quality is better and are thus more durable
Camera Sliders Recommendations
1) StudioFX 40″ DSLR Camera Slider
[asa2]B00BOGOT4M[/asa2]
The StudioFX 40″ camera slider is made using aluminum, steel body, and it comes with a round bubble level to offer assistance in getting slider level. It is a professional grade camera slider that comes with a smooth ball bearing system, and is thus able to provide shake-free stability to your camera when shooting. It is also very versatile, and you can use it with a movie camera, video camera, or digital camera. It comes with a carrying case and it is easy to set up, which makes it perfect for shooting outdoors. In addition, it is very affordable, and is currently going for just $104.99 on Amazon.
2) Kamerar SD-1 Mark II 23″ Video Stabilizer System
[asa2]B00R1V847W[/asa2]
The Kamerar SD-1 Mark II is one of the few camera sliders that are equipped with Dolly track. The slider comes with an advanced stabilizing system, and features four adjustable roller bearings and a friction-less polymer coating. This helps to provide smooth operation and movement during shooting, ensuring that you capture smooth pictures and videos. With the slider made using lightweight aluminum, it has a decent build quality and is able to offer support to a wide range of camera models. The slider dolly can be used as a standard camera slider or mounted on a tripod. It is fairly small in size, and thus can be used for outdoor shooting with minimal problems.
3) Konova Camera Slider K3 100cm (39.4-Inch)
[asa2]B00PB56W9C[/asa2]
Konova Camera Slider K3 is a premium slider model that is popular with professionals. It features four adjustable legs and ball bearing sliders, which allows you to capture crisp, clear footage and photographs without worrying about camera shakes. It comes with a simple installation mechanism, and can be used with a wide range of DSLR cameras. Its quality build is also more superior that of most sliders on the market. However, this makes it a bit more expensive. It is also one of the larger slider models, and thus it is mostly ideal when shooting indoors.
4) LimoStudio 24 inch/60cm Camera Slider
[asa2]B010OSYKW6[/asa2]
The LimoStudio Track Slider is a video stabilization system that is designed for use with camcorders, DSLR cameras, SLR cameras and even digital video cameras. The slider can be used on its own, and for this it comes with two removable legs whose height can be adjusted. The slider can also be mounted on a tripod to help with capturing dynamic shots. It is very easy to set up and use, and it comes with a convenient carrying bag, which makes it very portable. It can therefore very ideal for shooting in the outdoors.
5) Neewer Portable FilmMaker System
[asa2]B00GTMBA7K[/asa2]
The Neewer Portable FilmMaker System is a premium camera that is designed to provide maximum stability and comfort when shooting. It comes with a shoulder mount, which allows you to shoot continuously for long hours without having to worry about motion problems. The shoulder rig can be used by both right-handed and left-handed people, and you can adjust it to meet your height.
The Neewer Portable camera slider can also be mounted on a tripod, and it features a simple mechanism that makes it compatible with any regular tripod. The slider is also very portable, and can be used to shoot in both indoors and outdoors.