Top 6 Best Gaming Mouse and Keyboard for League of Legends [Review]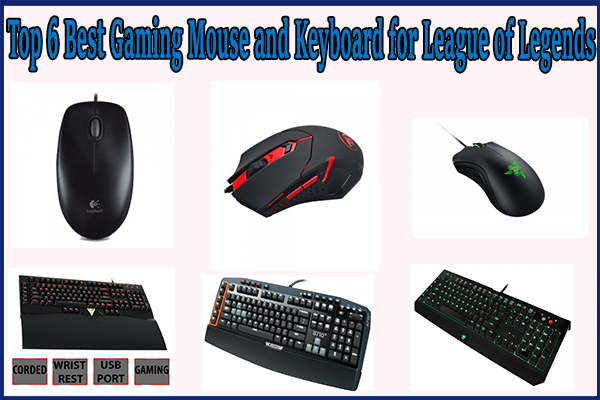 I love League of Legends and nothing infuriates me more when I die due to an equipment error. This includes my wireless mouse dying and I am in the middle of a team fight or pressing a non responsive keyboard when trying to cast an ability. I have compiled a list of the best gaming mouses and keyboards recommended by my experience and also veteran players.
But before we get into that, let's talk about some things you should consider before making a buying decision.
Wire vs Wireless – Now this is the biggest thing you should take note of. I personally would recommend wire keyboards and mouse. Why? Because they require no battery and will not die on me in a LoL match, especially ranked. The downside of a wire mouse is that there will be wires hanging, making it not as suitable for traveling and also taking up more space. When I was doing a lot of traveling, I had a wireless mouse and headset. They were great initially. However, I would often find myself spending money buying batteries. My 70 dollar headset also broke after using it for a year. Not a very good investment I would say.
I am not trying to deter you from getting wireless mouses and keyboards, but you do have to factor in these situations I mentioned above.
Mechanical Keyboards – If you own a PC, mechanical keyboard should be your preferred choice for gaming in general, not just only League of Legends. Why? Each key has its own switch and is unaffected by other buttons. That means that response times will be faster, which is always an advantage, no matter how small it is.
Top 3 Gaming Mouse for LoL
Logitech B100-TAA Optical USB Mouse
[asa2]B003L62T7W[/asa2]
Price: ~$7.32 USD
Comfortable, ambidextrous design 800 dpi optical precision

Technical Specifications: Corded mouse 3 buttons Optical tracking

800-dpi resolution USB connectivity Cable: approximately 5′ 9″ or 180 cm Works with Windows XP, Windows Vista and Windows 7

Comfortable, ambidextrous design 800 dpi optical precision

3 buttons Optical tracking
Having tried various mouses playing League, you will be surprised that I chose this as my preferred mouse as a right hander. Why? Because it does the job. It is plain and simple, plus, there is no fancy functions that will get in the way of you dominating on the rift. All you need is your left click for choosing things, right click for orb walking, kiting and targeting enemy champions. The mouse also fits my hand perfectly. The best part is, it is CHEAP AND GOOD! Nothing beats that. I have used this for many years, unlike some of the expensive models I bought before that already broke after 11 months of use.
Razer DeathAdder Chroma – Multi-Color Ergonomic Gaming Mouse
[asa2]B00MYTSDU4[/asa2]
Price: ~$55 – $70 USD
Ergonomic right-handed design with textured rubber side grips

10,000dpi optical sensor

Chroma lighting with a wide range of customizable colors

Razer Synapse enabled

Five independently programmable Hype response buttons

On-the-fly sensitivity adjustment

Always-on mode
Now this is the mouse you should be getting if you are willing to spend a bit more. The mouse is designed for comfort. The rubber side grips will reduce the sweat stains you will get after using it for a long period of time. This mouse is also very responsive and I personally feel it is a tad more responsive when I was playing at my buddies place. He owns this and the razer keyboard, which I will talk about later on. Plus, they also have a few options besides the classic, and that includes a left-handed edition for the rare left handies. The glow of the Razer brand kinda makes you feel like a eSports athlete for just a bit. If you are looking for a cool mouse that glows and is comfortable for extended 6 hour ranked sessions, the Razer DeathAdder mouse is great!
Redragon M601 CENTROPHORUS-2000 DPI Gaming Mouse for PC, 6 Buttons, Weight Tuning Set, Omron Micro Switches
[asa2]B00HTK1NCS[/asa2]
Price: ~$10 – $18 USD
Package contents: CENTROPHORUS Gaming Mouse, tuning weights, and user manual

6ft high-strength braided fiber cable, anti-skid scroll wheel, and red backlighting

Adjustable up to 2000 DPI, 4000 FPS, 15G acceleration and an Avago sensor, Omron micro switches
If you want something cool looking and does its job well, then you will want to get the Redragon M601 mouse. Why? Because it feels unique and stands out from the black mouse you often see. My buddy's mouse is this and it goes well with his red lighted keyboard. It comes with a user manual plus a durable smooth TEFLON feet and contoured body for ultimate gaming control. I think their side looks better than the Razer Chroma mouse, but whether it is beats it in terms of comfort for long gaming sessions is up for debate. If your hands are huge, you might want to get the M602 version, which is slightly bigger than the M601.
Top 3 Gaming Keyboard for LoL
Razer BlackWidow Ultimate Elite Mechanical Gaming Keyboard
[asa2]B00IG3GPTS[/asa2]
Price: ~$100 – $140 USD
Fully programmable keys + 5 additional gaming keys with on-the-fly macro recording|Individually backlit keys with improved lighting|Easy access media keys for convenient volume control and media playback|Mechanical key architecture with distinct tactile feel and faster response|10 key rollover for extreme anti-ghosting

Fully programmable keys + 5 additional gaming keys with on-the-fly macro recording

Individually backlit keys with improved lighting

Easy access media keys for convenient volume control and media playback

Mechanical key architecture with distinct tactile feel and faster response

10 key rollover for extreme anti-ghosting
Ah, this is the keyboard you will want if you own a PC. This is the mechanical keyboard my friend uses when he plays LoL. I played a couple of times using his keyboard and I feel the difference between his and my HP ENVY laptop keyboard. The perks of the mechanical keyboard that each key has its own switch and is not bound to other keys. That means if something from your regular keyboard is broken, it will affect the other buttons. Plus, it is also very responsive and when I press Q to cast a skill, its response time seems to be better. When I do finally decide to get a PC instead of a laptop, this will be the keyboard I am getting! The green light also adds in a "wow" factor when you are playing league.
Logitech G710+ Mechanical Gaming Keyboard with Tactile High-Speed Keys – Black
[asa2]B009C98NPY[/asa2]
Price: ~$80 – $130 USD
Tactile, high-speed keys: Quiet mechanical keys deliver gaming-grade responsiveness and superior tactile feedback without noise distractions

Adjustable dual-zone backlighting: Adjust the brightness of WASD/arrow keys independently from the rest of the keyboard so you can easily find any key?even in low light

6 programmable G-keys: Configure up to 18 unique functions per game, including single keypresses, complex macros or intricate Lua scripts

High-performance gaming keys: 110 anti-ghosting keys and 26-key rollover help you make the right moves with flawless precision; one-touch media keys let you instantly control volume, mute and media playback
Now for those that don't want no fancy lighting and would like the basic functions of the mechanical keyboard, then the Logitech G710+ version will fit your needs. The biggest perk of this keyboard is the programmable G-keys, which you can use to assign specific things like placing wards with those keys. I personally hate using the number 4 key to place my ward. It takes away 0.5 seconds of my reaction time to do other things in big team battles. Those 0.5 seconds are vital to casting my other abilities while putting down my ward. By binding those keys, you are free to perform other actions quicker. Nasus E + Q combo while putting down a pink ward against Akali or Rengar becomes a lot easier to execute. DA CANE IS REAL BABY!
GAMDIAS Hermes GKB2010 Ultimate Mechanical Keyboard Cherry MX Blue Switches, Magnetic Wrist Rest, 13 Macro Keys, Red Color Backlit
[asa2]B00O9FVHSG[/asa2]
Price: ~$140 – ~200 USD
Exclusive & innovative removable dampener allows for faster keystroke snapback & minimizes the clanking noise on the keys

Cherry switches (50 million keystroke lifecycle)

Gold plated mechanics switches

13 additional customizable macro keys

Time alerts & command dispatch to customize keys for on-screen audio alert timers, sounds effects

Luminance control

Wrist rest also works as dust cover
This is probably the most expensive keyboard I will recommend because it comes with one other important function that most keyboards won't give you – wrist rest. We all know that long periods of playing league strains your wrist and hands. It also come with macro keys so you are free to bind it to whatever skill you like. This is the mechanical keyboard that has it all – looks, coolness and comfort. The keys feel good and the keystrokes are quiet, so no key sounds even when you play at night.  The lighting makes sure you never lose your finger placement. Ever wonder why sometimes you don't cast your skill even though you "thought" you pressed it? That's right, you probably press the wrong key. The light will make sure your fingers are always in the right spot. If you are into premium gaming gear, then the GAMDIAS GKB2010 mechanical keyboard has all the features you are looking for.
Conclusion
Hope this short little guide will help you decide your needs. Till then, have fun playing League!