Best Ergonomic Office Chairs Under 200 Dollars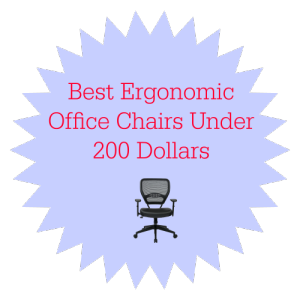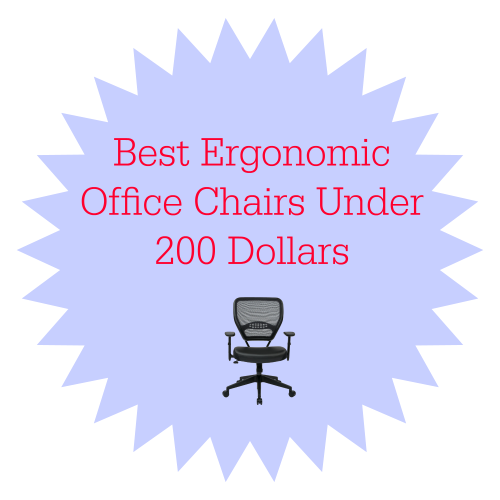 As someone who works at home, it is incredibly important to have a comfortable office desk chair to ensure you have proper posture to avoid any potential back pains. Before we look at some good chairs here, let's take a look at posture and what kind of chairs will suit you.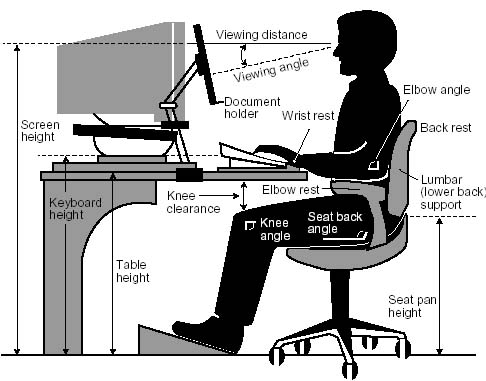 Source: Osha.gov
To make things easier for you, here is a brief summary of what you need. A good office chair needs to meet the following requirements:
A back rest that doesn't slant backwards to throw off your posture
The lower back support of the office chair must be durable, especially if you weight over 200 pounds
The adjustable chair height needs to go as high as your desk – important as it varies depending on your height
The elbow rest must be even height to your desk
You will need an Ergonomic Chair – No Doubt
Since your budget is under $200, I will recommend you these:
| Chair Name | SPACE Seating Eco Seat(Black) | Flash Furniture High Back Leather Executive Office Chair | Boss Black Leather Plus Executive Chair |
| --- | --- | --- | --- |
| Picture | | | |
| Company | Office Star | Flash Furniture | Boss Office Products |
| Weight | 43 lbs | 43 lbs | 48 lbs |
| Height | 42 inches | 45.5 inches | 48.5 inches |
| Width | 27 inches | 28 inches | 28 inches |
| Length | 26.5 inches | 28 inches | 26.5 inches |
| Color Variety | No | Yes | No |
| Arm Rest | Yes | Yes | Yes |
| Leather Back | No | Yes | Yes |
| Adjustable Height | Yes | Yes | Yes |
| Price(USD) | ~$170 | ~$180(Varies on color choice) | ~$155 |
Now having looked at the basic product details, let's look at each specific chair.
SPACE Seating Managers Chair Model 5700E/5700
[asa2]B000PWGZOI[/asa2]
This chair has an air mesh back with a leather seat cushion. This is great for people that prefer a non-leather back and it is a very comfortable chair during summer. With air flowing through the mesh, it reduces sweating. The mesh is not adjustable, making it perfect for people looking to sit straight with proper structure.
You can however, turn on the lever on the right to lock/unlock for rocking. I don't recommend unlocking it as it encourages you to have bad seating posture. The range of the seat height is 18 to 23 inches. At the lowest settings, the arm rest is about 24 inches off the floor. If you are 5'1 to 5'4 you do not have to worry about the arm rest being too high for you. The arm rests are about 18 inches apart.
As for whether your legs will touch the floor with your feet flat will depend on the length of your lower leg below your kneecap. 17 inches or more and you should be fine.
Due to it not having a leather back, this is not suitable for people that prefer the comfy and cushy back. The materials used are good quality and can handle anyone with a weight of up to 220 lbs.
Warranty: Lifetime on component parts including pneumatic cylinder, control mechanism, base and casters. 3 years on upholstery fabric and foam against wear and deterioration. Leather is not warranted against routing scratching and scuffing, as leather is subject to minor blemishes in use.
Assembling Tips: Get a 3-point Phillips head screwdriver or a hand wrench to tighten down the machine screws that attach the arms and chair base.
Flash Furniture High Back Executive Chair(Black/Tan/White)
[asa2]B008OTSFK6[/asa2]
These cool looking executive chairs come in 3 different colors of black, white and tan. At the lowest setting, the seat is about 17.5 inches off the floor. The chair has a leather cushion for the seating area and resting back area.
You can tilt the chair by lifting the lever on the bottom left side. This allows you to adjust the angle of the chair. Works great if you are working on your laptop and you just want to align it with the chair without having to crouch or sit up really straight for a comfortable view. This also works great in offices with higher desks.
It doesn't roll from side to side when sitting on hardwood floors, which is a plus. This chair is more suited for taller folks (5'9+) due to a higher back rest. The chair is relatively easy to assemble.
When you first get it in your house, it has that "new leather smell" which you might not like. It does go away after a few days though. The cushion of the chair is also quite thin. If you seat on it long enough(3+ hours), you might feel tired. It might not be suitable for folks looking to seat for very long hours.
Warranty: Manufacturer's warranty can be requested from customer service which you can click here to find out more.
Boss Black LeatherPlus Executive Chair B8601
[asa2]B00166DR9S[/asa2]
This is the chair for people that love thick and comfy cushion seats. With a long height at 48.5 inches, this is perfect for taller folks. The chair is also durable and can handle people weighing over 200 lbs easily. You can tilt the chair backwards by the knob in front under the chair.
The lever on the side that adjusts height also allows for tilt if you pull it out to the right. it leans pretty far, but u may have to loosen the knob to get the tension where u need it for easy recline. The chair can recline to about 30 degree angle.
The actual back seat height from the base to the top head rest is roughly 26 inches high. It has excellent neck and back support and is very suitable for those that like to lean back and relax. The chair is extremely durable.
The arm rests curves downwards, so if you prefer having your arms downwards, this chair is perfect for you.
This chair is designed for taller folks. If you are 5'9 or shorter, I suggest you go with either the Space Seating managers chair or Flash Furniture executive chair. This chair will not fit any desk with a height that is 27 inches or lower. Keep that in mind.
During summer time, you are prone to sweating if you seat on it for long periods of time. Other than that, it is a comfy chair to rest on. The chair might also squeak a bit after a few years if you didn't assemble it well enough. Tightening screws will usually fix the problem.
Summary and Recommendations
In short, SPACE Seating Managers Chair is recommended if:
You like non leather back
You sweat quite a bit
Looking for a summer chair
Firm back rest
If you are 5'9 or shorter
Avid video gamer since it gives you proper posture with very little rocking
Flash Furniture High Back Executive Chair is recommended if:
You like slight leather cushion back
You are 5'8 or taller
You want an adjustable chair
You like a different color other than black
Boss Black LeatherPlus Executive Chair is recommended if:
You love thick and comfy leather seats with big cushion
You are 5'9 or taller
You want a neck support chair
You will be sitting for long hours(4 hours+)
You like to watch movies or PC gaming as you can tilt it and recline about 30-40 degrees backwards
You have office desks higher than 28 inches off the floor.
There you have it folks, hopefully this is able to help you figure out which chair is suitable for you.