Ultimate Guide to The Best Stand Up Desks For Your Home or Office [Top 5 Recommendations]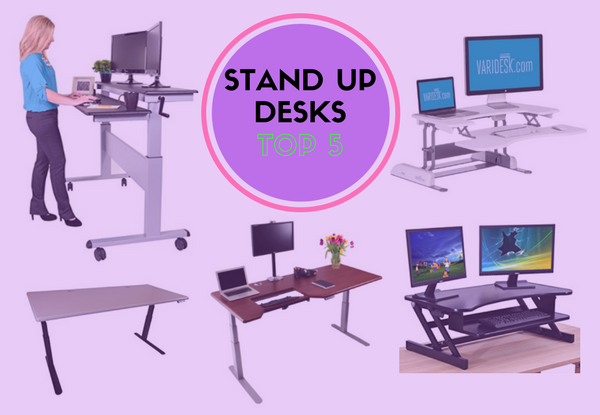 Did you know that sitting at your desk all day can be detrimental to your health? Studies spearheaded by experts such as renowned endocrinologist James Levine have ascertained that sitting all day increases vulnerability to a variety of health issues such as obesity, heart disease and diabetes.
The side effects of sitting all day have transformed standing desks from a tool used by eccentrics such as Dickens and Hemmingway to a popular tool that is widely used the modern work environment.
[toc]
So What Is a Standing Desk?
A stand-up desk also referred to as a standing desk is special kind of desk that is meant for reading, writing and computing while standing. Thanks to the purported health benefits of such desks, they are currently made in numerous styles and variations. The heights of a standing desk unlike sitting desks are not standardized, they vary in height from 71cm to 127 cm; most are adjustable to suit users of different heights.
Why Stand Up Desks over Traditional Sit Down Desks?
The work and school environment is quickly transforming. Look around you, someone in your class or office-maybe even you are probably working while standing. Are standing desks just another fad or is the traditional desk quickly becoming redundant? This section goes beyond the hype to uncover the pros and cons of each type of desk and also establishes why standing desks are the ideal choice.
Let's first look at traditional sitting desks…
Although working in seated position is convenient for studying, reading and computing, working hunched over a desk for long periods can substantially distort how the human body carries weight. Traditionally sitting desks have been commonplace in offices and classes because they have a variety of advantages.
PROS of traditional sitting desks
· Reliable and exhaustive research proves that sitting allows the human body to rest and recover after strenuous bouts of physical activity.
· Working in a sitting position is healthy and advantageous to pregnant women who easily get exhausted and dizzy while standing
· When sitting in an ergonomically correct position, people tend to typically expend less energy and this minimizes stress to the body hence help boost productivity while also increasing ones capability to work for elongated periods.
The rule of thumb when working with a traditional sitting desk is to go for a chair that offers lots of adjustability in terms of arm height and seat height.
While the advantages of working while sitting cannot be argued, there are several disadvantages that make traditional sitting desks not advisable especially for individuals who work for long periods of time
CONs of traditional sitting desks
· Sitting for long hours leads to distorted body posture
Reliable research has proved that sitting for a long time in the wrong posture not only causes improper body alignment but also increases the chances of muscular imbalances. Additionally, long hours of sitting also leads top damage of the inter-vertebral disc.
· Sitting for extended periods increases accumulation of fat in the body
Sitting for long periods causes excessive fat accumulation around the waist area leading to severe conditions such as high blood pressure and even heart attacks.
· Another disadvantage of long hours in seated position is straining back and neck muscles
Sitting for long periods of time leads to tension in the tissues of the neck and the back resulting in exhaustion in these areas.
· Traditional sitting desks increases the chances of developing heart ailment and diabetes
Working while seated for extended periods of time results in abnormally high cholesterol levels. This boosts the chances of getting a heart attack and also increases the chances of developing Diabetes.
· Sitting for extended periods of time leads to leg disorders
Working in a sitting position causes slow blood circulation that cause fluids to pool in the legs. This leads to a variety of problems ranging from varicose veins to swollen ankles and deep vein thrombosis.
· Reduced productivity
The muscle strain and eye strain of working while sitting causes difficulty concentrating and this substantially reduces productivity and the ability to remain focused.
PROS and health benefits of standing desks
This type of desk essentially allows you to stand comfortably as you read, write or work on your computer. Although research is still in its initial stages, there is evidence which proves that using a stand-up desk has impressive health benefits. Additionally, these desks also help to considerably elevate productivity levels.
At the very least using standing desks can partly negate the detrimental effects of sitting for a long period of time. Here is a brief but detailed outline of the health benefits of using standing desks
· Working while standing decreases the risks of excessive weight gain
Studies show that standing even without moving leads to burning more calories than sitting. Furthermore, these studies also show that you can burn an extra 1000 calories by simply standing at your work station every afternoon.
· Improves core strength and helps improve body posture
Standing all day comes in handy in helping to maintain a proper body posture which helps ensure added core strength. Additionally, working while standing also reduces back and neck soreness as compared to sitting for long periods.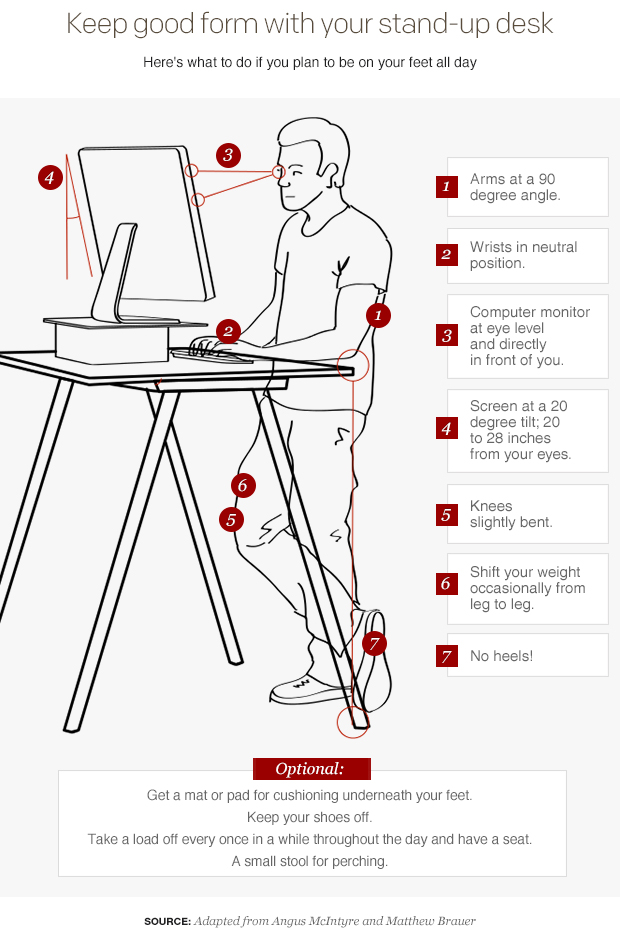 · Working in a standing position ensures proper blood flow to all parts of the body hence eliminating the possibility blood flow related issues
Working for long periods has long been associated with a variety of blood flow issues such as varicose veins, numbness and deep vein thrombosis.
· Considerably decreases the risks of cancer
A handful of reliable studies have linked sitting for long periods with cancer especially breast and colon cancers. The underlying mechanism by which sitting elavates the risk of developing cancer has yet to be ascertained; however, there is evidence that people who sit for extended periods have biomarkers affiliated with different types of cancers.
Aside from the health benefits, stand up desks also help boost productivity both in the learning and work environment in the following ways;
· When standing, you are constantly aware of your body making it harder to lose concentration and doze off which is a common occurrence when in a seated position.
· Working while standing increases engagement with coworkers because you are better positioned to see more of your colleagues and take notice of what is going on in your environment. This improves communication and promotes sharing of ideas.
· If you are in a standing position, you are ready for action as opposed to when sitting and sedentary. This means you are prepared in case of an emergency
· Makes supervision easier; when workers are in a standing position, it is easy to observe them as opposed to when everyone is seated.
CONS of standing desks
· Expect leg and feet soreness before getting acclimatized to working while standing. However, this is not a permanent problem because once you get accustomed it will get better; all you have to do is power through in the beginning.
· If you work for very long days, you can get extremely fatigued
· Another disadvantage is that it takes a while to get used transitioning from sitting to standing
Bottom-line
Sitting at a sedentary position for extended periods of time clearly has detrimental health effects and also negatively affects productivity making the stand-up desk more ideal. An added advantage of the standing desk is that you are able to be versatile and go from sitting to standing when tired through simply adjusting the height and sitting on a stool
There is no perfect work environment since both have CONs, thanks to innovation; this type of desk gives you the best of both worlds by enabling you to shift positions at will.
WHAT To Look For In a Stand Up Desk
If you are considering buying a standing desk, expect to be overwhelmed by numerous options from different brands. The rule of thumb is to choose one that fits your height, lifestyle, work environment and of course computer use. Here are some key factors to take into consideration in order to end up with a perfect stand-up desk that meets all your needs
1.) Adjustability
This is one of the most important features because you don't want a desk that sticks to a specific position. Go for a desk that you can easily adjust to a height that meets your need because your standing habits may change or you may choose to sit on a stool when tired of standing. A custom-made desk is not advisable because there are high chances that other people will eventually use your desk. Although those that lack adjustability may be cheaper they are not convenient.
2.) Height memory and synching are also vital
As established above adjustability is vital; there are two types of adjustability-hand crank version and electrical version. Electrical desks are great because help synch height from one side to the other accurately to void working on a crooked surface.
3.) Type of surface
Although many stand-up desks are flat, there are others that include multi surfaces coupled with accessories. Multi surfaces are great as they offer shelf space to store a variety of items. Additionally, higher and lower sections are also beneficial if you require to port your desktop from your laptop.
4.) Go for a cable friendly design
The last anyone wants is a cable constantly drooping off your desk and creating tripping hazards. Look for a desk that has a provision for cable management; sometimes all you need is a simple hole for routing cables.
5.) Adequate support
Although it may seem like a minor feature, it is important based on what you are using your desk for. Desks typically support 200-300 pounds which is enough to support speakers, averagely sized desktops and assorted paraphernalia. However, if you are planning on using heavy equipment such as amps, keyboards and large scale printer make sure you go for a desk that can offer more support.
6.) High quality materials
Standing desks made from durable and quality materials are not only professional looking but also extremely durable and invulnerable to wear and tear.
TOP 5 Best Standing Desks Review
Are you tired of sitting hunched at your desk wondering just how much damage you are doing to your back and neck. Ever heard of the phrase sitting is the new smoking? These five standing desk are a great way to make your work environment healthier and more productive.
1.) Stand Up Desk Store 60″ Crank Steel Adjustable Sit to Stand Up Desk
[asa2]B00JREVI5G[/asa2]
This innovative adjustable height standing desk easily adjusts from sitting to stand thanks to its smooth crank adjustment which ranges from 33-1/2" – 47-1/4" (upper surface) to 28-7/8" – 42-5/8" (lower surface). Additionally, it also has a 2 tier shelf design that helps you organize your work environment especially if you are working with a computer; these shelves facilitate proper placement of the keyboard and monitor to provide a proper viewing height. Furthermore the silver gray finish is not only professional-looking but also durable. It is also available in electronic adjustable model that is easier to adjust.
2.) VARIDESK – Height-Adjustable Standing Desk – Pro Plus 36 – Black
[asa2]B00JI6NCCK[/asa2]
This standing desk has a well-thought out design that accommodates users with a dual monitor set up and those who require a larger working surface. The Varidesk Pro Plus 36 has a two-tier design that gives a user both an upper display surface and a lower shelf for the key board in addition to a mouse desk. For ergonomic comfort, it offers eleven different positions; at every position it remains stable and sturdy even when completely and fully extended.
One of the most impressive features of this desk is its patented spring-loaded lifting mechanism that enables it to lift up to 15 Kgs in just 3 seconds. This allows you to sit and stand without interrupting your work.
3.) Standing Desk – the DeskRiser – 32″ Wide Adjustable Height Sit Stand Up Desk
[asa2]B019GTZ5ZA[/asa2]
This is one of the most stable and sturdy standing desks; it is able to support up to an incredible 50lbs. Additionally, the height is easily adjustable thanks to the levers on side of the desk. Furthermore, it is made from high-quality materials that ensure it remains wobble-free.
The well- thought out ergonomic design adjusts to most users heights without any strain (6.5 inches to 16.5 inches). The 24 inch retractable keyboard tray also provides more than enough space to work without too much hassle.
4.) ThermoDesk ELITE Standing Desk
[asa2]B00J8TLFKI[/asa2]
Among the most advanced electric height adjustable desk in the current market. It is equipped with a digital controller with 4 presets and moves quietly at only 46dB. Additionally, it has state-of-the art 3D laminated tops that feature grommet holes and are also ergo-contoured for maximum convenience to the user.
The height adjustable ranges from 25 to 51 inches with a width adjustment provision that ranges from 44 inches all the way to an incredible 75 inches. This is a great desk that is not only durable but also guarantees maximum comfort and easy movement.
5.) Omega EVEREST Electric Adjustable Height Standing Desk
[asa2]B017UYIBXG[/asa2]
This Omega Everest standing desk incorporates one-of-a-kind Steady-Type infinitely-adjustable key board tray technology into the desktop which helps eliminate wrist extension that causes hand-fatigue and numbness when computing; this impressive feature means users no longer have to anchor themselves to the desk by pressing down their palms.
Additionally, this standing desk also has a wide height range making it suitable for persons of different heights; the top-end height is 51 inches while it descends to a low sitting height of 25 inches. Furthermore, this outstanding stand-up desk is also equipped with a digital controller that features 4 programmable memory presets.
If you are looking for a great working environment, this is the perfect choice, it is one of the quietest electric desks in the market as it only puts out 46 dB when descending or lifting (this is barely noticeable in a typical office environment that features background noise and air conditioning). In addition, to being quiet, it also has an incredible lifting capacity of 220lbs and an outstanding travel speed of 1.5″/second.
Frequently Asked Questions
Answer is yes. Standing lowers your risk of weight gain and obesity, lower blood sugar levels, reduces back pain, improves mood and energy levels.
How do I make an affordable stand up desk?
You will need to get a few pieces of wood and a bit of elbow grease to assemble your own stand up desk. This will cost about $169.
Where to buy a stand up desk?
Aside from Amazon online, there are plenty of places offline to get it from. Below are some spots where you can find them:
Another online option for stand up desks would be standupdeskstore.com.
Maintain the correct posture.
Vary your standing position.
Get an anti-fatigue mat.
Choose your shoes wisely.
Vary between sitting, standing, and walking.
Stretch a few times throughout your day.
The height of your desk should generally be at elbow height. This means: as your elbows are positioned at a 90 degree angle from the floor, measure the distance from the floor to the bottom of your elbow. The desk should be built to this height.
For instance, the average standing desk height for those 5'11" is 44 inches tall, but remember this is guidance and you should consider your body's proportions before settling on a height.  Of course you can always grab an adjustable standing desk if you decide to.  An easy way to get the proper height for standing *and* keep your existing desk is by using a Standing Desk Converter.
The steps to set your standing desk to the correct height are:
Stand up straight with your head toward the ceiling and shoulders slightly back
Hold your arms down by your sides and then bend your elbow to 90 degrees
Bring the desk up until your fingers gently touch the keyboard keys
Now, adjust the height of your monitors so that your eyes are looking across at the top third of the monitor
There are some famous people that used stand up desks. Check it out…
We have theBritish Prime Minister during the trying times of World War Two being a user of the stand up desk. The man was known for his stalwart posture and sitting down while working on a strategy to defeat the Hun could possibly see the lion's share of the world's population goose-stepping to work.
Just to put things into a little more perspective for you, arguably the greatest mind of all time was also a user of the Standing Desk. If Leonardo Da Vinci; painter, sculptor, architect, musician, scientist, mathematician, inventor, engineer, anatomist, cartographer, geologist, botanist, writer and all round great guy, was a user of the Standing desk, then surely it makes sense to follow suit.
Next on the list of famous users of the Standing Desk we have Ernest Hemingway, a writer of many critically acclaimed novels and one of the foremost investigative journalists of his era. Still held by many as one of the most inspiring novelists of all time, Hemingway used the standing facility to his benefit and let his creative juices flow like a whitewater river.
Other popular users include:
How do you make a stand-up desk calendar?
Conclusion
Standing desks are an indispensable tool in the modern working and studying environment. They create a versatile work environment, foster productivity and also promote good health. You should always have one at home.