Ultimate Ninja Blazing Character Skill List [Naruto Shippuden]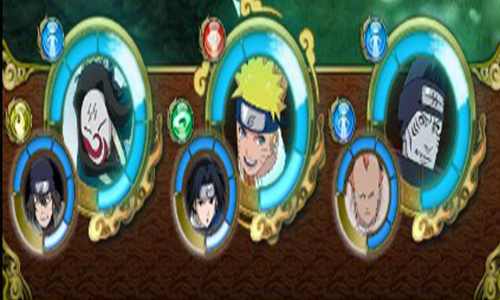 Here is a list of skill of all the characters currently available in Naruto Shippuden: Ultimate Ninja Blazing. We will be adding more characters as more are released or discovered.

Legend
Field Skill – The passive bonus skill that your character and party gets while being within the range of it.
Buddy Skill – This is the passive bonus skill you get when the character is paired up as the support character in conjunction to the main character.
Jutsu – The character's special attack. Some are single target attacks, positive buff on self, negative debuff on enemy or AoE attacks. This uses chakra
Secret Skill – Only available to 6 star characters so far.
| Unit Name | Attribute | Attack Range | Field Skill | Buddy Skill | Jutsu | Secret (★6 Only) |
| --- | --- | --- | --- | --- | --- | --- |
| Zabuza ~ "Silence of Madness" | WIS / Wisdom | Medium | Chance of receiving anti-healing is reduced by 20% - 25% (Excluding Friend skills). | Reduces SKL / Skill damage by 20%. | (5 Chakra) 2x ATK in WIS / Wisdom damage to all enemies in range, 25% chance to stop enemies healing for 2 turns. | (10 Chakra) 6.6x ATK in WIS / Wisdom damage to one enemy, heals your HP by a slight amount. |
| Gaara ~ "Sand Defense" | BRV / Bravery | Large | Reduces the chance of your attack being reduced by 20% - 25% (Excluding friend skills). | Reduce damage from WIS enemies by 30%. | (6 Chakra) 3x ATK in BRV damage to one enemy, 35% chance of immobilization for 2 turns. | (12 Chakra) 8.3x ATK in BRV damage to one enemy. |
| Kakashi Hatake ~ "Hidden Left Eye" | SKL / Skill | Medium | Boost critical hit rate by 1.4x - 1.9x. | Reduces HRT damage by 20%. | (4 Chakra) 2.8x ATK in SKL damage to one enemy. 20% Chance to delay enemy for 2 turns. | (8 Chakra) For the next 3 turns, dodge up to 6 incoming attacks. |
| Kakashi ~ "Copier of 1k Techniques" | BRV / Bravery | Medium | Reduces chance of enemy's counter-attacks by 11% - 22%. | Reduces damage from BRVattribute enemies by 30%. | (5 Chakra) 2.2x ATK in BRV damage. 40% chance of lowering enemy(ies) ATK. | (10 Chakra) 7.2x ATK in BRV damage to one enemy. |
| Naruto ~ "No.1 Maverick" | HRT / Heart | Medium | Boosts ATK by 80 - 160. | Boosts ATK by 115. | (4 Chakra) 3.2x ATK in HRT damage to an enemy in range. | (8 Chakra) 6.7x ATK in HRT damage to an enemy in range. |
| Sasuke Uchiha ~ "Lone Survivor" | SKL / Skill | Small | 25% - 50% Chance to counter-attack enemies. | Reduces damage from status effects by 25% (Excluding ninjutsu attacks). | (4 Chakra) 1.8x ATK in SKL damage to enemy(ies). 40% Chance of poisoning the enemy(ies). | (8 Chakra) Boosts own ATK by 50% for 10 turns. |
| Haku ~ "Frozen Heart" | BOD / Body | Medium | Reduce chance of stun by 15% - 20% | Increase linked Ally's critical hit chance by 2.25x. | (5 Chakra) 2.5x ATK in BOD damage to all enemies in range. | (10 Chakra) 5.6x ATK in BOD damage to all enemies in range. |
| Kabuto Yakushi ~ "The Sound's Spy" | WIS / Wisdom | Medium | Recovers 120 - 170 HP every turn. | Probability of receiving 'slip damage' (status effect) is reduced by 20% (Excluding Friend skils). | (3 Chakra) Recovers 1,780 HP. | |
| Shikamaru Nara ~ "Lazy Guy" | WIS / Wisdom | Large | Boost critical hit rate by 1.3x - 1.8x. | Boost critical hit rate by 2x. | (6 Chakra) 85% chance of immobilization for 2 turns. | |
| Tayuya ~ "Tayuya of the North Gate" | HRT / Heart | Large | Chance of receiving 'slip damage' (status effect) is reduced by 15% - 20% (Excluding Friend skills). | Chance of receiving 'slip damage' (status effect) is reduced by 20% (Excluding Friend skills). | (5 Chakra) 2.2x ATK in HRT damage to multiple enemies, 40% chance to seal enemies' jutsu for 5 turns. | |
| Shizune ~ "Tsunade's Attendant" | HRT / Heart | Medium | Recovers 110 - 160 HP each turn. | Increase linked Ally's attack by 70. | (3 Chakra) Recovers 925 HP. | |
| Sakura Haruno ~ "Maiden in Love" | BOD / Body | Large | Recovers 120 - 170 HP every turn. | Boosts ATK by 95. | (4 Chakra) 3.5x ATK in BOD damage to one enemy. | |
| Kakashi ~ "Teacher of Konoha" | BRV / Bravery | Medium | Boosts critical hit rate by 1.3x - 1.8x | Chance of receiving ATK down debuff is reduced by 20% (excluding Friend skills). | (4 Chakra) 2.5x ATK in BRV damage to one enemy and 80% chance of immobilization for 1 turn. | |
| Neji Hyuga ~ "An Unchangeable Destiny" | WIS / Wisdom | Small | Reduce chance of enemy counter-attacks by 10% - 20%. | Chance of receiving 'slip damage' (status effect) is reduced by 20% (Excluding Friend skills). | (5 Chakra) 2.2x ATK in WIS damage to one enemy, 40% chance to seal enemy's jutsu for 5 turns. | |
| Kidomaru ~ "Kidomaru of the East Gate" | SKL / Skill | Large | Boosts ATK by 75 - 150. | Boosts ATK by 95. | (5 Chakra) For 7 turns, apply DEF shield (1,000). | |
| Hinata Hyuga ~ "Nice Girl" | HRT / Heart | Small | Reduce chance of enemy counter-attacks by 10% - 20%. | Boost critical hit rate by 2x. | (6 Chakra) For 6 turns, apply DEF shield (1,000). | |
| Jirobo ~ "Jirobo of the South Gate" | BOD / Body | Medium | Boosts ATK by 75 - 150. | Boosts ATK by 95. | (4 Chakra) 2.5x ATK in BOD damage to one enemy, 35% chance to seal enemy jutsu for 2 turns. | |
| Orochimaru ~ "The Horror Returns" | SKL / Skill | Large | Boost critical hit rate by 1.3x - 1.8x. | Enemy(ies) have 20% chance to have their ATK lowered (Excluding Friend skills). | (4 Chakra) 3.5x ATK in SKL damage to one enemy, 35% chance to lower enemy(ies)' ATK for 5 turns. | |
| Jiraiya ~ "Enter the Sage" | HRT / Heart | Medium | Chance of receiving 'slip damage' (status effect) is reduced by 15% - 20% (Excluding Friend skills). | Chance of receiving 'slip damage' (status effect) is reduced by 20% (Excluding Friend skills). | (3 Chakra) 2.5x ATK in HRT damage to multiple enemies, 35% chance to apply 'slip damage' for 5 turns. | |
| Hiruzen Sarutobi ~ "The Third Hokage" | HRT / Heart | Large | Chance of receiving 'slip damage' (status effect) is reduced by 15% - 20% (Excluding Friend skills). | Chance of receiving 'slip damage' (status effect) is reduced by 20% (Excluding Friend skills). | (5 Chakra) 2.2x ATK in HRT damage to multiple enemies, 35% chance to apply 'slip damage' for 5 turns. | |
| Kisame Hoshigaki ~ "Monster of the Mist" | BOD / Body | Medium | Boost critical hit rate by 1.3x - 1.8x. | Boosts ATK by 95. | (5 Chakra) 3.5x ATK in BOD damage to one enemy, 35% chance to lower enemy(ies)' ATK for 5 turns. | |