Where to Buy Bean Boozled – The Jelly Bean to Prank Your Friend
Imagine grabbing a handful of jelly beans from the bowl and tossing them in the mouth only to be met with a taste similar to vomit, baby poop, or mold? Or picture your friend spitting or almost throwing up in a bid to get rid of the foul taste of canned dog food or skunk smell after eating those yummy looking jelly beans? Or maybe you at times like tasting something out of the ordinary. Maybe you don't mind the taste of dirt, lawn clippings, or toothpaste. Well, you don't have to imagine anymore. You can actually make this imagination a reality. Playing pranks is always a good way to add some fun in life. I mean, life isn't always about putting a serious look to it. All you need is getting some Bean Boolzed jelly beans.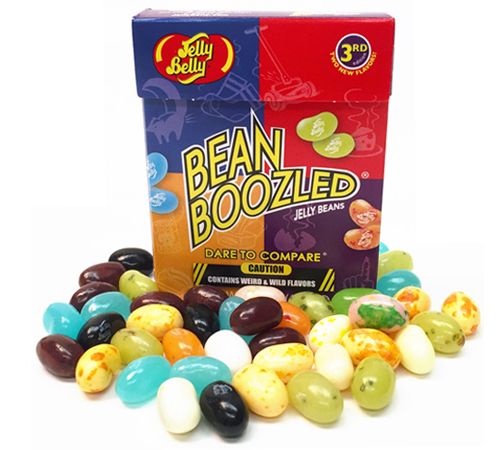 What is Bean Boozled?
Bean Boozled is a type of jelly bean that come in the most weird and at time atrocious tastes you can ever think of. When you think about jelly beans, what comes to mind is the sugar coated bean that has some sugary and tasty jelly inside. And this is what makes the jelly beans so famous. Bean Boozled gives you the same jelly beans that resemble the ones found in stores and supermarkets. However, this time round, instead of the sumptuous and sugary jelly, the taste will be weird or nasty. Maybe it's rotten egg, barf, dirt, moldy cheese, and other flavors. Of course, the best use of such jelly beans will be on your friends. I mean, there is nothing exciting like pulling a prank that will have you in stitches, right?
Bean Boozled jelly beans come in different packages and tastes to suit your wildest imagination. There are a total of 20 flavors, 10 being wild and weird, while the other 10 resemble the real thing but taste quite different. Can you imagine Berry Blue flavor tasking like a skunk, or Tutti-Frutti tasting like a pair of stinking socks? Or buttered popcorn tasting like rotten eggs?
Notable flavors include Licorice(Skunk Spray), Tutti Fruitti (Stinky Socks), Berry Blue (Toothpaste ), Lawn Clippings (Lime),Rotten Egg (Buttered Popcorn),Barf  (Peach),
Canned Dog Food (Chocolate Pudding), Booger (Juicy Pear), Moldy Cheese (Caramel Corn) and Baby Wipes (Coconut). The jelly beans are available in a pack count of 6, 24, or 48 and the biggest box rated at 1.6 oz.
Where to Buy Bean Boozled Jelly Beans
Bean Boozled jelly beans have become so popularly especially among pranksters or people out to have fun with their friends. In order to have the best and thrilling experience, it's best to purchase the genuine product from reputable and reliable source. You don't want your friend to continue enjoying the jelly beans because they are actually the real thing. What you want is to see him rush to the washroom or drown loads of water to wash off that awful taste. The following are some top resources where you can find the Bean Boozled jelly beans:
1. Amazon: http://amzn.to/22uPRdV
2. Jellybelly: http://www.jellybelly.com/beanboozled-jelly-beans-1-6-oz-box/p/98678
3. Walmart: http://www.walmart.com/c/kp/bean-boozled
4. Walgreens: http://www.walgreens.com/store/c/jelly-belly-beanboozled-jelly-belly-spinner/ID=prod6150225-product
Ways of Pranking Your Friend with Bean Boozled Jelly Beans
Playing pranks on your friends is the ultimate way to have fun with Bean Boozled jelly beans. If you are looking for ideas read on to find the best:
1. House Party
A party can never be without offering your guests a bowl of jelly beans. Get a large bowl and purchase original jelly beans. Also buy Bean Boozled type and combine together in the bowl. Sit back and watch your friends grabbing the nearest drink or running to the bathroom after popping them in their mouth.
2. Prank Your Teachers
If you are among the lucky few individuals who visit the teachers' lounge, then this is your chance for payback. When no one is noticing you, slip Bean Boozled jelly beans in the bowl. Wait to see your teachers making all kinds of faces as they come to terms with the unexpected taste.
3. Surprise Gift
Purchase Bean Boozled jelly beans and remove them from the pack. Find a used pack of the tasty type and put them inside and carefully seal the bag. Offer the gift to your friend and see what happens. It would be a nice idea to have a hidden camera to record all the happenings.
Pranking your friends is a good way to enjoy a serious laugh. You also get a chance to revenge on an earlier prank played on you. So, instead of looking for ways which you aren't sure will work, why don't you use Bean Boozled jelly beans?