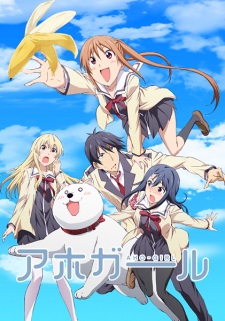 Aho Girl

Here are my favorite picks for anime like Aho Girl. Keep in mind the list is in no particular order. Enjoy!
Seitokai Yakuindomo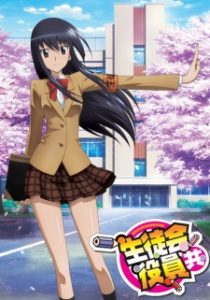 On his first day of high school at the formerly all-girl's Ousai Private Academy, Takatoshi Tsuda is called out for his untidy uniform by the student council president Shino Amakusa. In apology for delaying Takatoshi for his first class—and stating that the group needs a male point of view to accommodate the arrival of boys at the school—Shino offers him the position of vice president of the student council. Though unwilling, Takatoshi finds himself appointed as the newest member of the student council having yet to even step foot inside the school building.
Plastic Neesan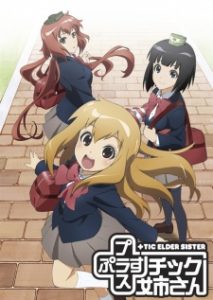 Iroe Genma is a third-year high school student often referred to as "Elder Sister" despite her short height. This troublemaking teenager is the president of her school's Model Club, which is dedicated to building plastic models of various objects and structures, such as cars, boats, and even robots.
Mangaka-san to Assistant-san to The Animation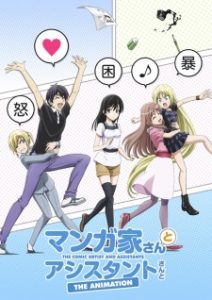 The story depicts the work-life of a perverted mangaka, Aito Yuuki, and his assistant, Ashisu Sahoto. Constantly pressured by his editor and lacking experience with girls, Aito asks Ashisu to act as a reference.
Kill Me Baby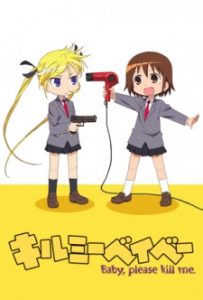 Kill Me Baby is the touching story of Yasuna, a normal (?) high school girl, and Sonya, her best friend who happens to be an assassin. Unfortunately, little Sonya's trained assassin instincts often work against her and others in her daily high school life, as Yasuna's often-broken wrist can attest to. She just wanted a hug, but she ended up with a broken neck. Isn't it sad? No, it's hilarious.
Kono Subarashii Sekai ni Shukufuku wo!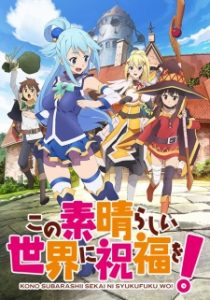 After dying a laughable and pathetic death on his way back from buying a game, high school student and recluse Kazuma Satou finds himself sitting before a beautiful but obnoxious goddess named Aqua. She provides the NEET with two options: continue on to heaven or reincarnate in every gamer's dream—a real fantasy world! Choosing to start a new life, Kazuma is quickly tasked with defeating a Demon King who is terrorizing villages. But before he goes, he can choose one item of any kind to aid him in his quest, and the future hero selects Aqua. But Kazuma has made a grave mistake—Aqua is completely useless!
Gekkan Shoujo Nozaki-kun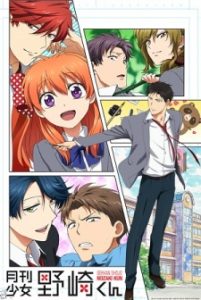 Chiyo Sakura is a cheerful high school girl who has fallen head over heels for the oblivious Umetarou Nozaki. Much to Chiyo's confusion, when she confesses to her beloved Nozaki, he hands her an unfamiliar autograph. As it turns out, the stoic teenage boy is actually a respected shoujo mangaka, publishing under the pen name Sakiko Yumeno! A series of misunderstandings leads to Chiyo becoming one of Nozaki's manga assistants.
Aiura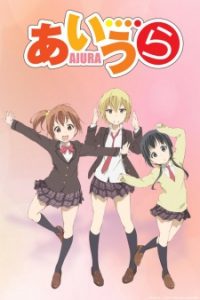 The story centers around Amaya, Iwasawa, and Uehara—three "annoying, spirited high school girls with zero motivation"—and their classmates. Their daily life is "what happens when there is nothing happening."
Nichijou
Nichijou primarily focuses on the daily antics of a trio of childhood friends—high school girls Mio Naganohara, Yuuko Aioi and Mai Minakami—whose stories soon intertwine with the young genius Hakase Shinonome, her robot caretaker Nano, and their talking cat Sakamoto. With every passing day, the lives of these six, as well as of the many people around them, experience both the calms of normal life and the insanity of the absurd. Walking to school, being bitten by a talking crow, spending time with friends, and watching the principal suplex a deer: they are all in a day's work in the extraordinary everyday lives of those in Nichijou.
Itazura na Kiss
When her newly-built home is razed to the ground by an earthquake, low-achieving, clumsy, and troublesome third-year high school student Kotoko Aihara is forced to share a roof with the school's—and possibly Japan's—smartest student, Naoki Irie. Kotoko is not actually a complete stranger to Irie-kun; unfortunately, a single love letter that she tried to give him in the past has already sealed her fate as far as he is concerned. Throw in some quirky friends and a meddlesome mother, and Kotoko might not even have a snowball's chance in hell of winning the older Irie boy's heart. Yet Kotoko remains optimistic that, because she now lives in his house, her unattainable crush on the genius since the beginning of high school has never been more within reach.
Sakamoto desu ga?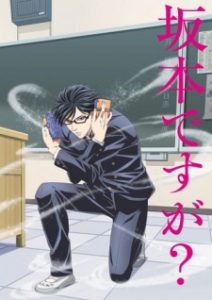 Sophisticated, suave, sublime; all words which describe the exceedingly handsome and patently perfect Sakamoto. Though it is only his first day in high school, his attractiveness, intelligence, and charm already has the girls swooning and the guys fuming with jealousy. No one seems able to derail him, as all attempts at tripping him up are quickly foiled. His sangfroid is indomitable, his wits peerless. Will any of Sakamoto's classmates, or even teachers, be able to reach his level of excellence? Probably not, but they just might learn a thing or two trying…
References: Myanimelist