9 Anime Like Himouto! Umaru-chan [Recommendations]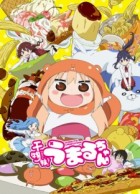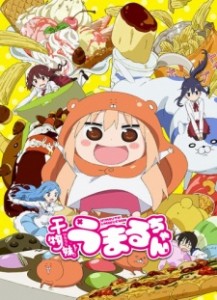 Here are my favorite picks for anime like Himouto! Umaru-chan. Keep in mind the list is in no particular order. Enjoy!
Tomoko Kuroki is about as socially dysfunctional as it is possible for a first year high school girl to be. We start the story when she realizes she has attended high school for three months without even talking to anyone at all. Not all is lost, however, since she is irrepressibly optimistic about her chances to turn it around and live a fulfilling high school life.
Living on the shadow of his prodigious younger sister, Kyousuke Kosaka conducts a normal lifestyle until he accidentally finds out that she hides a secret. In addition to being smart, pretty, and popular; Kirino Kosaka is also an obsessive consumer of anime and eroge (adult computer games). After being assured that Kyousuke is committed to not mock her and keep this concealed from their parents, she starts to share a bit of her world with him. Kirino faces several problems as she tries to keep the appearances and balance her exemplar school life with her hobbies. Her brother then becomes a crucial ally while dealing with all the difficulties that lie ahead.
A little girl named Kohina ends up summoning a Kokkuri-san, a lower-ranking ghost in Japanese folklore. The Kokkuri-san she calls ends up being a white-haired handsome, young man. Although he had intended to merely haunt her at first, he becomes worried about her terrible eating habit of cup ramen for every meal, so he decides to haunt her in order to protect her.
Portrays the lives of several school girls attending a Japanese high school with a very loose humor tone. The main heroine is Konata Izumi, an athletic and intelligent girl who, despite these attributes, is not in a sports club, and her grades remain low. Her laziness at school is due to her love for anime and video games, and she is not interested in much else.
Squid Girl
Squid Girl has come to the land from the depths of the sea to conquer humanity for its pollution of the ocean. Unfortunately she ruins the first house she uses as an invasion base and has to work to pay for repairs. Of course, she can't overcome the Aizawa sisters who manage the house, so who knows whether she can subjugate humankind.
Kobeni Yonomori, an ordinary girl, finds out on her 16th birthday that she is betrothed to Hakuya Mitsumine, a boy the same age as her. Hakuya moves in from the countryside and starts living with her, bringing his younger sister who is still a primary school student with him.
The "Polar Bear Cafe" is run by a polar bear, and serves both humans and animals daily.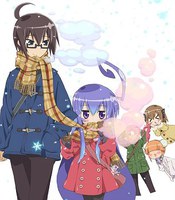 The serious-minded Tsumiki and the pure-hearted Io feel they never want to be parted, and yet they haven't fallen in love yet. More than friends but not lovers, they develop an awkward quasi-romance.
Yukino Miyazawa is really, really vain, and loves to hear people praise her. She's always been the best at everything, and always tries to look perfect. But when Yukino goes to high school, she's finally upstaged–by Souichiro Arima, who scores better on the entrance exams and instantly snatches the attention of the class. By accident, Arima finds out that Yukino is just pretending, and this starts off a series of events that lead to Yukino and Arima falling in love. They then have to cope with a lot of obstacles in their relationship.
References: MyAnimeList, ANN, Wiki