8 Anime Like Soredemo Sekai wa Utsukushii [The World is Still Beautiful]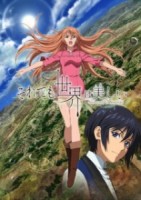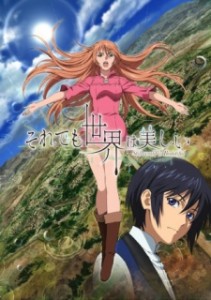 Here are my favorite picks for anime like Soredemo Sekai wa Utsukushii. Keep in my the list is in no particular order. Enjoy the recommendations!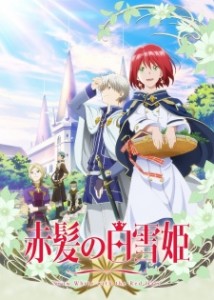 Although her name means "snow white," Shirayuki is a cheerful, red-haired girl living in the country of Tanbarun who works diligently as an apothecary at her herbal shop. Her life changes drastically when she is noticed by the silly prince of Tanbarun, Prince Raji, who then tries to force her to become his concubine. Unwilling to give up her freedom, Shirayuki cuts her long red hair and escapes into the forest, where she is rescued from Raji by Zen Wistalia, the second prince of a neighboring country, and his two aides. Hoping to repay her debt to the trio someday, Shirayuki sets her sights on pursuing a career as the court herbalist in Zen's country, Clarines.
Akagami no Shirayuki-hime depicts Shirayuki's journey toward a new life at the royal palace of Clarines, as well as Zen's endeavor to become a prince worthy of his title. As loyal friendships are forged and deadly enemies formed, Shirayuki and Zen slowly learn to support each other as they walk their own paths. [Written by MAL Rewrite]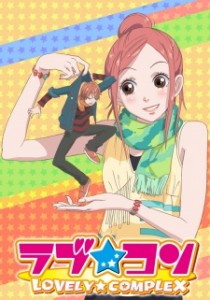 Risa and Otani are always being laughed at as the comedy duo. Risa, a girl, is taller than the average girl, and Otani, a boy, is shorter than the average boy. The two are always bickering and even their teacher sees them as a comedy act. But as their friendship develops, so do Risa's feelings toward Otani. (Source: AniDB)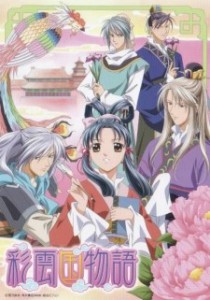 Saiunkoku is a world of eight provinces or houses, each named after a different colour. The new Emperor, Shi Ryuuki, has gained for a reputation for being uninterested in courtly matters and for flaunting his love for men. Shuurei, although born of the important Kou family, has difficulty making ends meet. She easily accepts an invitation to be the Emperor's concubine in order to turn him into a good ruler. The mysterious Seiran, a young man who was adopted by her father, goes with her as Ryuuki's bodyguard. Entering the imperial palace revives Shuurei's dream of being a court official and, together with the many companions she meets along the way, continues moving bravely forward while trying to fend off the Emperor's advances. (Source: ANN)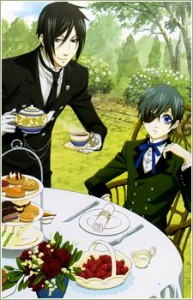 In Victorian-era Europe, a young boy loses everything he once held near and dear to a vicious plot. In his moment of death, he strikes a deal with a demon: his soul, in exchange for revenge. Ciel Phantomhive is now the head of the Phantomhive corporation, handling all business affairs as well as the underground work for the Queen of England. His new partner is a demon butler, Sebastian Michaelis, whose prowess as a butler is only surpassed by his strength as a demon.
The story follows the two along with their other servants, as they work to unravel the plot behind Ciel's parents' murder, and the horrendous tragedies that befell Ciel in the month directly after.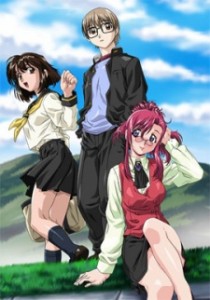 Kusanagi Kei, a high-school student living with his aunt and uncle, has an encounter with a female alien. This alien is revealed to be a new teacher at his school. Later, he is forced to marry this alien to preserve her secrets. From there, various romantically-inclined problems crop up repeatedly. (Source: ANN)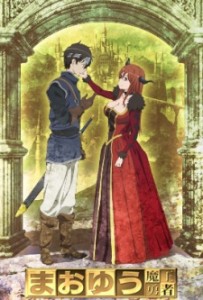 After a long and treacherous journey, our Hero finally arrives at the Dark Lady's castle only to find himself being asked for help. The Hero explains how the war that the demons have brought upon the humans have killed thousands and put more in misery. The queen of demons however argues that this war has made the human society band together as one and showed empirical evidence how it has increased population, increased production, boosted economy and improved society overall. Furthermore, she explains to the Hero that ending this war will result in a civil war that will produce more bloodshed than there ever was. The Hero, convinced that the only way to bring peace, relatively speaking, is to join forces with the Dark Lady, agrees to help with her plans! (Source: MU)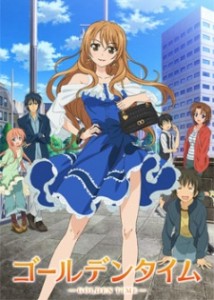 Banri Tada is a newly admitted student at a private law school in Tokyo. However, due to an accident, he lost all of his memories. During his freshman orientation, he encounters another freshman from the same school, Mitsuo Yanagisawa, and they hit it off at once. Without any memory of each other, their lives become more and more intertwined as if set by the hands of fate. But what is their fate, and will it lead to happiness or another memory to forget… (Source: Crunchyroll)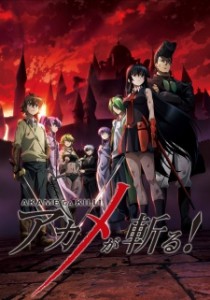 Night Raid is the covert assassination branch of the Revolutionary Army, an uprising assembled to overthrow Prime Minister Honest, whose avarice and greed for power has lead him to take take advantage of the child emperor's inexperience. Without a strong and benevolent leader, the rest of the nation is left to drown in poverty, strife, and ruin. Though the Night Raid members are all experienced killers, they understand that taking lives is far from commendable and that they will likely face retribution as they mercilessly eliminate anyone who stands in the revolution's way.
This merry band of assassins' newest member is Tatsumi, a naïve boy from a remote village who had embarked on a journey to help his impoverished hometown and was won over by not only Night Raid's ideals, but also their resolve. Akame ga Kill! follows Tatsumi as he fights the Empire and comes face-to-face with powerful weapons, enemy assassins, challenges to his own morals and values, and ultimately, what it truly means to be an assassin with a cause. [Written by MAL Rewrite]
References: MyAnimeList, Wiki, ANN