Bruno the Protector Review [Mobile Legends: Bang Bang]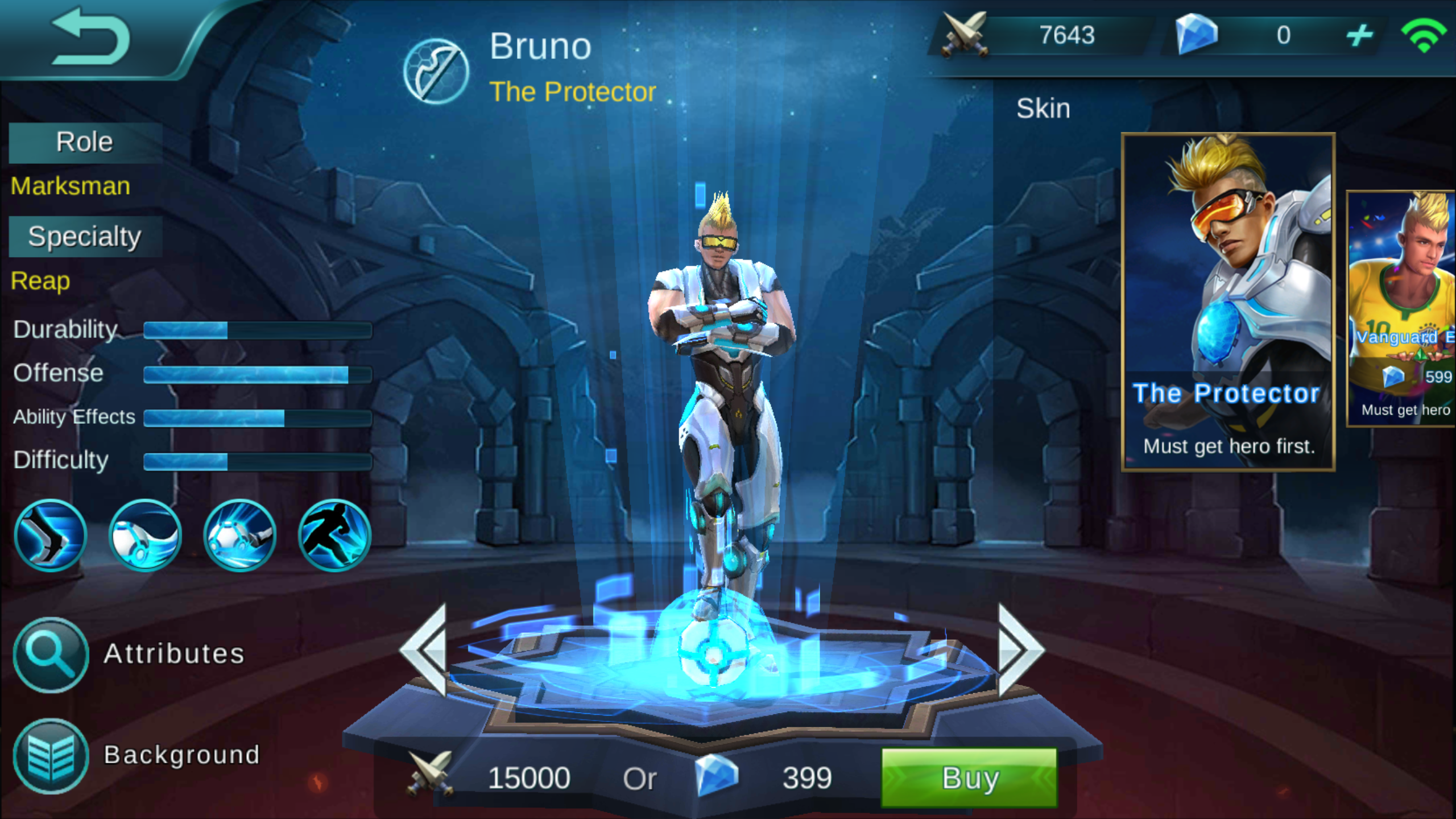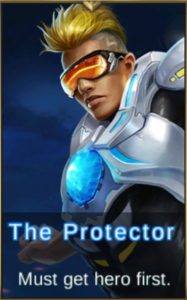 | Role | Marksman |
| --- | --- |
| Specialty | Reap |
| Cost | 15000 BP or 399 Diamonds |
| Durability | 5/10 |
| Offense | 8/10 |
| Ability Effects | 6/10 |
| Difficulty | 5/10 |
Thoughts
Bruno is a good Marksman character with great damage output. Use him for either Minion mobs or hero damage.
Attributes
| | | | |
| --- | --- | --- | --- |
| MOVEMENT SPEED | 2.4 | MANA | 439 |
| PHYSICAL ATTACK | 116 | ATTACK SPEED | 8.5 |
| MAGIC POWER | 0 | HP REGEN | 30 |
| ARMOR | 17 | MANA REGEN | 15 |
| MAGIC RESISTANCE | 10 | BASIC ATTK CRIT RATE | 0 |
| HP | 2402 | ABILITY CRIT RATE | 0 |
Abilities
Mecha Legs: Passive

Description: Each time a skill causes damage, Bruno's nechanical legs will add a 4% crit strike chance effect, stacking up to 5 times.
Volley Shot
Cooldown: 10 s
Mana Cost: 80
Description: Kicks a shot-refracting energy ball at a specified target, dealing 230 pts of physical damage and slowing down the target 55%. Bruno and teammates can pick up the energy ball to reduce this skill's cooldown.
Flying Tackle

Cooldown: 7 s
Mana Cost: 55
Description: Bruno makes a forward slide tacle, stunning enemy units and dealing 140 pts of physical damage.
World Wave – Ultimate
Cooldown: 35 s
Mana Cost: 140
Description: Kicks an energy ball filled with energy at a specified hero. dealing 250 pts of physical damage and knocking the target back. The energy ball will then ricochet among enemy heroes until it cannot find a new target.
Builds
Damage Durability


Damage Dash

Damage Jungling

Skins
Lore
Born in the slums, Bruno was always more frail than other children his age, but this did not prevent him from having a heart that yearned for freedom. One day in a terrible incident, Bruno lost both of his legs trying to save a friend, causing him to pretty much give up on life. The scholars of Eruditio however heard his story, and out of pity for his misfortune and admiration for his bravery, they decided to use the city's most advanced technology to make a new pair of legs for him. When Bruno was finally able to stand on two legs again, he was surprised to discover that his mechanical legs allowed him to run like the wind. To express his gratitude, Bruno vowed to always protect the City of Scholars to his dying breath. Eruditio in turn made an energy ball weapon that works with his mechanical legs, and from that day, anyone who tried to cross the citizens of Eruditio were met with Bruno's merciless attacks. The people simply call him The Protector.