8 Anime Like Date A Live [Recommendations]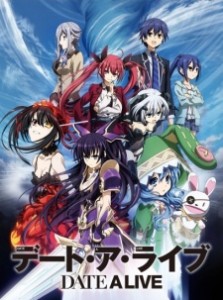 Here are my favorite picks for anime like Date A Live. Keep in my the list is in no particular order. Enjoy the recommendations!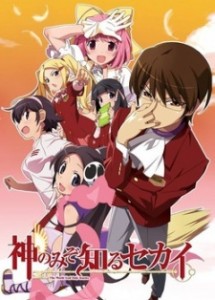 Keima Katsuragi, known online as the legendary "God of Conquest," can conquer any girl's heart—in dating sim games, at least. In reality, he opts for the two-dimensional world of gaming over real life because he is an unhealthily obsessed otaku of galge games (a type of Japanese video game centered on interactions with attractive girls).
When he arrogantly accepts an anonymous offer to prove his supremacy at dating sim games, Keima is misled into aiding a naïve and impish demon from hell named Elucia "Elsie" de Lute Ima with her mission: retrieving runaway evil spirits who have escaped from hell and scattered themselves throughout the human world. Keima discovers that the only way to capture these spirits is to conquer what he hates the most: the unpredictable hearts of three-dimensional girls! Shackled to Elsie via a deadly collar, Keima now has his title of "God of Conquest" put to the ultimate test as he is forced to navigate through the hearts of a multitude of real-life girls. [Written by MAL Rewrite]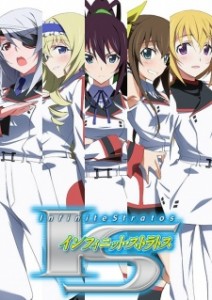 Japan engineered an armed powered exoskeleton "Infinite Stratos" (IS) and it became the mainstream of weapons. Since only women can operate IS, women dominate the society over men. Orimura Ichika is a 15-year-old boy and accidentally touches an IS placed in the IS pilot training school. He is found to be the only man who can operate IS and forced to enter the training school. Ichika's busy school life surrounded by girls has begun.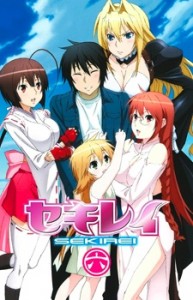 Minato Sahashi is extremely intelligent, yet due to his inability to cope under pressure has failed the college entrance exam twice. As a result he has been branded an idiot and loser by many. One day after talking to his yet again disappointed mother he comes into contact with a girl named Musubi who was under attack. The girl runs but takes him with her and soon finds that Minato, while unknown to him, is an Ashikabi, one of the mysterious set of masters that have the genetic trait that can become partners with some of the 108 cute girls, buxom women, and bishōnen called "Sekirei." The reason for the partnership allows the Sekirei to use all their power to win in the competition held by the mysterious MBI corporation. (Source: ANN)
Kanade Amakusa is a high school student who is suffering from a curse called "Absolute Choices." This curse requires him to select an action from a list of two or three options that appear before him at any time, and has no control over what choices appear. Many of them are weird or perverse and as a result, the curse has tainted his reputation with his classmates and other people around him, making his life very difficult. However, one day, a choice he makes on his way home from school causes a mysterious, beautiful young girl to fall from the sky. (Source: Wikipedia)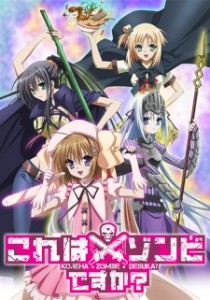 Aikawa Ayumu is a normal high school boy. One day he is killed by a serial killer and revived as a zombie by a necromancer named Eucliwood Hellscythe. He starts to serve Eu as her guard but he happens to deprive the masou-shoujo Haruna of her magic power. Haruna orders Ayumu to fight against the anti-masou-shoujo system "Megalo" in her place.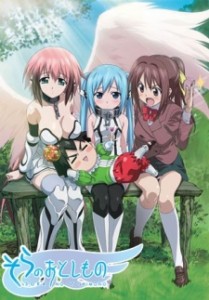 Sakurai Tomoki has been having the same strange dream since he was a child and would wake up in tears. Sugata, an upperclassman at his school, believes the dream to be of the new continent. Later that night, while waiting under the cherry trees for Sugata and his childhood friend, an angel called Ikaros comes flying down and his peaceful life changes from then on.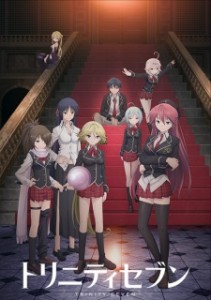 In this "romantic comedy but sometimes serious magical school story," life as Arata Kasuga knows it is wiped out by a bizarre incident known as "Collapse Phenomenon," which causes worldwide destruction and takes his cousin Hijiri Kasuga to the next world. To resolve the "Collapse Phenomenon" and bring back Hijiri, Arata enrolls in the Royal Biblia Academy. Waiting in the school are seven beautiful female magic users—the Trinity Seven. (Source: ANN)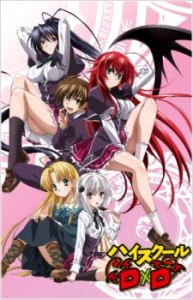 The world of High School DxD is filled with devils, fallen angels and exorcists, all blending in with the normal human population. Hidden underneath the average tasks of everyday folk are conflicts and battles resolved by each of these different factions.
Meanwhile, we have Issei Hyoudou – your typical "curious" high school student. His perverted dream is to create his own steamy harem. However, with a stroke of bad luck, Issei's first date turns out to be with a beautiful fallen angel that ends up brutally attacking and killing the poor boy. Talk about a bad date, huh? Luckily though, he is later brought back to life and turned into a devil by Rias Gremory, a devil who now becomes Issei's master. Now, Issei, along with Rias and other fellow devils, must try to make it in the world of devils and angels. Issei fights to become one of the strongest supernatural beings in the world, in hopes of someday making his perverted high school dream come true.
High School DxD is a hilarious harem anime, featuring a variety of supernatural creatures, as well as tons and tons of beautiful ladies! Keeping in mind that, in this series, there is no clear good or evil, who will you root for – angels or devils?
References: MyAnimeList, Wiki, ANN