10 Anime Like Gate: Jieitai Kano Chi nite, Kaku Tatakaeri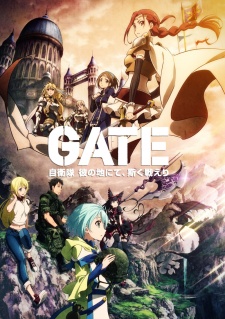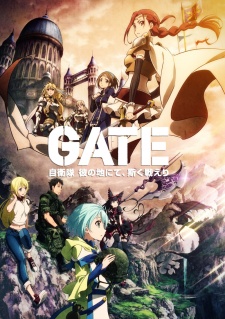 Here are my top picks for anime like Gate: Jieitai Kano Chi nite, Kaku Tatakaeri. The list is in no particular order. Check out these recommendations!
Shinichi Kanou is a young secluded Otaku who is offered a job thanks to his vast knowledge of anime, video games and manga and just after meeting his new employer, he is kidnapped, awakening in an alternate world with a fantasy setup. Shinichi then is informed that he was in fact selected by the Japanese government to help improve his country's relations with this new world by establishing a company to spread the unique products of the Japanese culture to this new, unexplored market.
One day a gate to another world opened in Mikado City. This entities of the other world, called Neighbors, sent out an invasion force that overran the area surrounding the gate. Given the technological superiority of the Neighbors, the destruction of the city seemed only a matter of time. But then suddenly Border appeared in the town, an organization that researches the technology of the Neighbors to protect this side of the gate.
In a short time they built a huge base and became established as the line of defense against the Neighbors. One day a student named Yūma transfers to the same middle-school class as Osamu, a teenager who belongs to Border. He has a weapon called Trigger that is only allowed to be possessed by people in Border, and claims to have come from beyond the gate.
Meet Louise, a budding magician. The students at the Tristein Academy call her "Zero Louise", due to her current record of zero successes with magic. In fact, her magic tends to go spectacularly wrong. Now, as an important test of her aptitude for magic, she must summon a familiar to be her servant. At this critical moment, she summons up all her magic and wishes for a familiar that is "devoted, beautiful and powerful", and gets… Hiraga Saito, an ordinary Japanese boy. It's difficult to say who is more surprised and dismayed, but the rules don't allow for second attempts. Louise is stuck with her strange familiar, and he with her.
Five "Black Points" suddenly appeared around the world as portals to parallel worlds. Immediately after, strange creatures began their invasion from these portals. These creatures are the inhabitants of five worlds—the same worlds in different timeframes. In order to ensure their own future timeframe survives, each of the five invasion forces battle to wipe the other future timeframes out. The key is one card-shaped device.
Tenchi Masaki may be a 17-year-old young man in rural Japan, but little does he know how bad his day will be getting. When a space pirate chased by a pair of Galaxy Police officers crash-lands at his grandfather's temple, Tenchi is sucked into a new adventure that will literally blast him off into outer space and beyond.
References: ANN, MyAnimeList, Wiki