Gordon Ramsay Dash Guide [Tips and Tricks]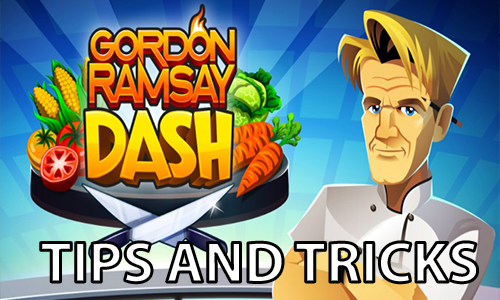 It's time to enter Gordon Ramsay's kitchen in this Gordon Ramsay Dash guide. Prepare your Chef with these tips and tricks that won't leave your kitchen in a nightmare.
Properly prep your food stations.
At the start of each stage you have a small window before any orders start. You will waste valuable time if you wait for a customer, during this small window of time you can run to your first station and already have food going. Start with the station that has the most food burners and storage's available. The idea is to take advantage of the fact that you can hold two items at a time and start their timers.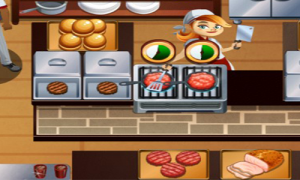 Do this for every available storage even while you serve orders and wait for the customers to leave their tips. In some cases, you can pick up a item and start another one even if you don't immediately need it for it, if you feel like you can anticipate the next order.
Condiment stations also work as an additional storage. Items prepped on the condiment station don't go bad
Upgrading your Kitchen.
This is one of the tricky parts of Gordon Ramsay's Dash. What to upgrade and when to upgrade it. Starting out you will want to prioritize coin per portion. This will increase your earning for an item used.Then grab storage as it becomes available.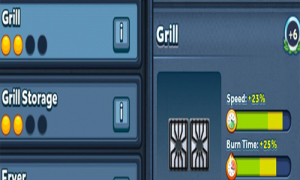 One storage slot per item will allow you to have prep work done for each station. For example early on upgrading your hamburger storage and grills is the safest pick because its requested the most and it also has a higher coin earning than any other food
Speed upgrades are okay whenever you have left over coin /gold or you have something annoying to prepare like the chili and cheese topping station, which tends to take forever.
Split it up.
While handling multiple orders if you find yourself being overwhelmed and running out of time, split a order in half! You can by yourself time by serving someone their drink or their meal and then return to them with the other half when its done. Occasionally this will work with two part food orders, so keep this trick up your sleeve to buy time.
I typically go for the drink first because they are usually done before any food order so this really helps out to by you time. This also resets the customers temper bar back to full!
Frenzy to Super Ramsay!
You'll want to double up on your actions when making food or carrying orders to increase your frenzy bonus. While swiping across a table of tips will help out greatly, if you really wanted to buy yourself more time, leaving a tip on the table will keep another customer from sitting down. Use this sparingly as you need to get customers out of the restaurant as fast as you possibly can.
Once you've managed to stack your way up to the use of Gordon Ramsay, your best bet is to save him until the last possible moment. He will instantly rush through the process of cooking orders, and having customers eat. This makes him wonderful when the stage is about to end and you can't possibly finish the orders in time to make sure you get a high star rating. Alternatively you can use him as soon as you have 3 customers seated to get them out of the door as quickly as possible.
Action Queue
The action queue is a handy method of playing the game, it allows you to tap through a selection of orders instead of waiting to do it one at a time. Want to make a burger and a turkey sandwich and grab a drink? Tap one after another and your character will do it in order. This also works when you're serving multiple customers with orders that are ready to go.
Free Coins or Gold!
Tapping the plus sign next to the respective coin or gold icons brings up the list, but at the bottom you can take advantage of the offer to watch a video to earn a gold piece or coins.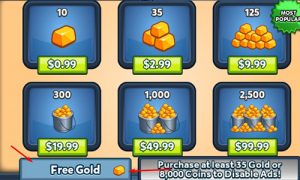 Additionally if you want to take the time you can use the "more offers" and follow through one of those task but I wouldn't recommend it unless you really need it. Even then I would only recommend the ones that require you to download a game and play it once.
General Tips and Tricks
Make sure you connect a Facebook account for a 10 gold signup bonus and to ask fellow friends for supplies if they play the game.
It should go without saying but Prioritize VIP customers!
Check your trophy achievements for coins and gold.
Don't forget to collect your restaurants profits. Turn on phone notification for reminders.
Save your Super Gordon Ramsay boost button to complete multiple orders before the timer runs out.
Forgot how to make a order? Tap and hold someones order to be shown how its made.
Ignore most of the "Recommended" upgrades they will waste your coins and gold if they aren't gotten in the right order.