NBA Live Mobile Guide [Tips and Tricks]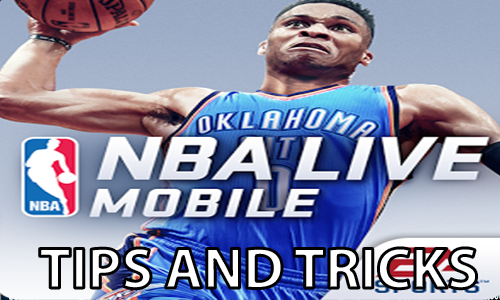 Come on and slam in this NBA Live Mobile tips and tricks guide. We've got your squad covered in this guide that spans from team composition to auction house flipping for in game coins.
Team Composition
Starting out NBA Live Mobile you have your choice of teams. Your best bet is to go with your favorite team, unless you are playing purely to win. Which in that case you want to find the team with the highest overall stats to make the start of the game easier for you.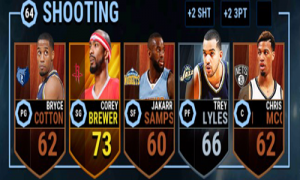 Much like a true NBA team you want to focus on power house players to fill out your roster,the difference here is you have several setups such as Two-Way, Defensive and Big Man lineups.
Playing through the seasons
Each time you play a game while going through the season you earn some coins, and a small amount XP for each quarter that you complete. You can also get bonus season rewards pack for using one of the required lineups for that game. Make sure you have a strong line up when you go after these game modes.
Auto play
A handy feature is auto play, this can be found in the form of the play button next to the scoreboard. Auto play does a decent job of controlling your players and can be useful to grind through the season with a decent win rate.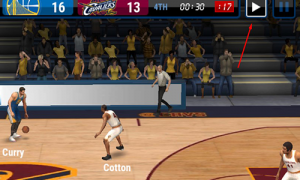 I do recommend taking over by the 4th quarter if the games are really close and you need the win for achievements. You can get in about 5 or so auto played games in before running out of stamina.
Live Events, Head to Head
The daily drill and daily grind live events are quick small challenges you can complete that reward you with easy first win xp, coin and occasionally a card pack. Some of these are repeatable and you can farm them for card packs, and some have changeable difficulty levels for more rewards as you beat each difficulty level.
Head to Head will put you against other players teams, the winner being decided by whomever puts up the most points against the others defensive team. Start up as many head to head games
Achievements
The Achievements in NBA Live tend to get overlooked but they are a great way to pick up money and card packs.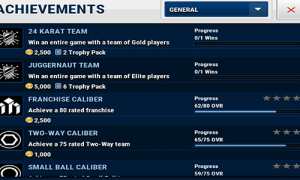 The easiest ones to focus on are the Season Achievements and General Achievements and these will provide you with a decent amount of coin just for playing the game in certain ways or building a better overall team.
Sets
Sets are player cards, trophy cards or other cards like Big Moments that you can combine into a set of cards that will be sacrificed to get a better card in turn.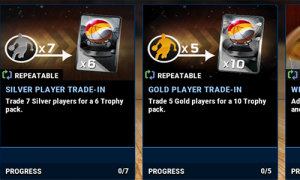 Either sacrificing player cards to turn them into trophy cards, or turning player or trophy cards, into higher value players. This is what you will want to do with left over cards that you either can't auction off or don't feel like auctioning.
Auctions
There are a few ways to collect different player cards with in the game but relying on the random loot rewards can be really frustrating. The auction house will be your best friend when it comes to building an all star line up.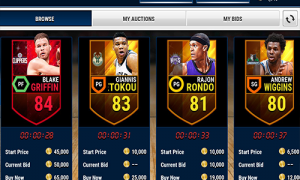 This is where you will be using your coins. Tap on the search button and set the overall average to your liking and desired position. If a player is better compared to the current player in that position, they will have a green number, if they aren't they will have a red number for their stats.
You can choose to either bid or buy out an auction in progress. Starting out you won't have a lot of coin, so you want to look for low 1k starting prices with no bids. Current Bid: — means there is no bid.
Bid amounts update as bids come in with a slight delay to the "bid x" amount button to adjust to the recent bid. So If there is a player you really want wait until the last second, with a preset bid amount to try and win the auction before other buys can react to the bid. This can help you secure higher overall average players and make your game infinitely more enjoyable.
Alternatively you can play the Auction house section purely as a way to make money! The best method of doing this is to watch the market of valuable player trades, trophy's for collections, buy low, and then resell at a higher mark up.
You'll want to look for Silver or Gold tier players around the average range of 70 overall skill. This is a nice way to make coins in general or as something to do while you wait on your energy to refill.
Moves
Here are a few moves that the tutorial doesn't teach you that just may come in handy.
Pump fake: Tap the shoot button
Spin: Double tap the Drive button to attempt to spin around a defenders guard.
Steals: Tap the Guard button to attempt to steal the ball (mostly spammable without fouling)
Hesitation: stay stationary and tap the "Drive" button once
Fade Away: Move towards the baseline and tap "Shoot" to perform a fade away
General Tips and Tricks
Play the auction house
Abuse the steal move. You rarely get fouled for spamming it unless you're double teaming.
Save ingame currency for pro packs or priority auction trades.
Turn silvers into trophies
Auto play has a high win rate