8 Anime Like Actually, I Am [Jitsu wa Watashi wa]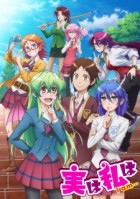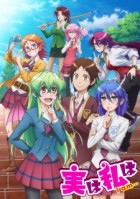 Here are my favorite picks for anime like Actually, I Am. Keep in mind the list is in no particular order. Enjoy!
Kinjirō Sakamachi has gynophobia (fear of women), due to his violent mother and sister. Subaru Konoe is the butler of his classmate, Kanade Suzutsuki, and has to dress as a male due to butlers having to be men. When Kinjirō discovers Subaru's secret, Kanade promises to cure Kinjirō of his phobia. Kinjirō and Subaru are forced due to circumstances to spend time together and defend Subaru's secret while trying to cure Kinjirō's fear.
Due to poor grades, Tsukune Aono, an average high school student, has been unable to get accepted into any private academy of his choice. By exceptional accident, the only school to accept him turns out to be anything but ordinary; the school is attended by youkai disguised as humans. Fearing for his life, he attempts to escape only to meet Moka Akashiya, a beautiful girl who just happens to be a vampire. Despite this, Tsukune decides to stay at the academy, hiding his human nature from students and teachers. Tsukune also discovers that when the rosary around Moka's neck is removed, her true nature emerges.
A young boy gets saved from drowning by a mermaid but, according to mermaid law, if a human sees a mermaid's true form, both have to be killed. The only solution to the problem is for him to marry her.
Kazama Kenji was feared as the worst delinquent of Fujou High, but after certain events led him to peek in on the Game Development Club, he witnesses the outbreak of a fire. While the members inside manage to succeed in putting it out, they all attack Kenji to erase his memory and hide the incident. Kenji desperately tries to escape from them, but when their president Shibasaki Roka rescues him he ends up joining their Game Development Club.
Three years ago, the world learned that harpies, centaurs, catgirls, and all manners of fabulous creatures are not merely fiction; they are flesh and blood – not to mention scale, feather, horn, and fang. Thanks to the "Cultural Exchange Between Species Act," these once-mythical creatures have assimilated into society, or at least, they're trying.
When a hapless human teenager named Kurusu Kimihito is inducted as a "volunteer" into the government exchange program, his world is turned upside down. A snake-like lamia named Miia comes to live with him, and it is Kurusu's job to take care of her and make sure she integrates into his everyday life.
As a child, Raku Ichijo made a secret promise with his childhood sweetheart, keeping a pendant as a memento while his love took the key. He dreams of one day meeting his past love, but years later, reality smashes his hopes when Chitoge Kirisaki accidentally knees him in the face. Though Raku's a normal high schooler, his family heads the notorious yakuza gang the Shuei-Gumi faction. And he's dragged into family affairs when he's forced into a relationship with Chitoge, the daughter of a rival gang's boss.
Chiyo Sakura confesses her feelings to her schoolmate Nozaki. Due to a misunderstanding, Nozaki thinks Chiyo is just a fan. She then discovers Nozaki's other identity; a shōjo manga artist. As she gets closer to Nozaki, she befriends Nozaki's quirky acquaintances who assist him and serve as inspirations for his manga.
Kota Shibaki is a perverted high school student in the Mysterious Discovery Club (MDC). When the MDC finds a witch summoning manual, Kota uses the text to wish for a girl's panties. Later, when his wish comes true, a witch named Rurumo appears and tells him he has 2 days to live. However, once Rurumo gets to know Kota she decides not to kill him and is demoted to a witch trainee.
As a trainee Rurumo cannot use magic unless her contractor, Kota, makes a wish. Furthermore, Kota is given a book of magical tickets to make wishes. Once Kota has used up all the tickets Rurumo will be made a full witch again. However, unbeknownst to Rurumo, when Kota uses up all the magic tickets he will die. As Kota contemplates the dilemma he is in, between helping Rurumo and living, a peculiar relationship blossoms.
References: MyAnimeList, ANN, Wiki