7 Anime Like Mysterious Girlfriend X [Nazo no Kanojo X] [Recommendations]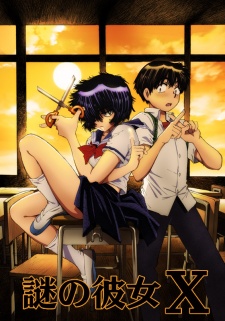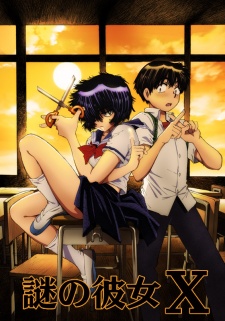 Here are my favorite picks for anime like Mysterious Girlfriend X. Keep in mind the list is in no particular order. Enjoy the recommendations!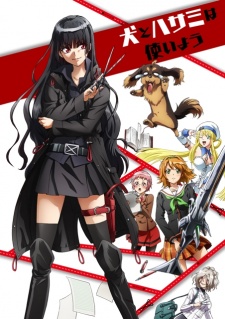 The absurd mystery comedy centers around Harumi Kazuhito, a high school boy who is obsessed with reading books. One day, he is killed in the middle of a robbery—and resurrected as a dachshund dog. Unable to read in his new form, the hapless Kazuhito now belongs to Natsuno Kirihime, who is both a sadistic girl who uses scissors like a weapon and his favorite author. (Source: ANN)
Yuuta Togashi suffered from chuunibyou while he was in middle school. When he graduated, he put that dark history behind him and forgot about it… or he was supposed to. High school was smooth sailing and full of enjoyment—until the unavoidable, sad event occurs. The event that locks Yuuta into a contract with Rikka Takanashi and disrupts his desperately ordinary life. (Source: adapted from the back of the first novel)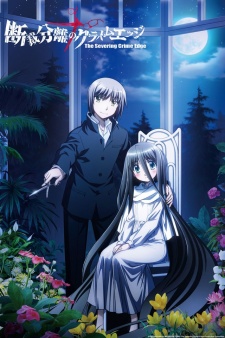 Haimura Kiri is a seemingly ordinary boy with one slight problem: he is obsessed with cutting other people's hair. One day he meets Mushiyanokouji Iwai, the "Hair Queen" who cannot cut her hair because of an inherited curse. Kiri finds out that his scissor, "Dansai Bunri no Crime Edge" is the only thing that can cut them. But little did he know that their meeting sparked the start of an old murder game to kill the "Hair Queen" using the cursed killing tools, the "Killing Goods." Can Kiri protect Iwai from the Killing Goods Owners? Let the game begin! (Source: MU)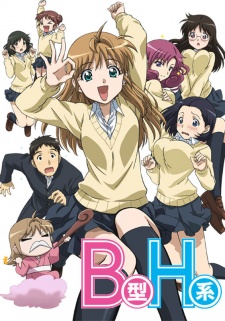 Yamada, first name withheld, is a 15-year-old girl who has just entered Takizawa High School. Easily considered exceptionally beautiful, she has only one problem with her own body, she thinks her vagina looks weird and is very self-conscious about it.
Upon entering high school, her dream was to have casual sex with 100 men but therein lies the problem, she believes an experienced partner will tease her about the way her vagina looks or simply the fact that she's a virgin. She stumbles upon the solution in the form of Kosuda Takashi, a fellow virgin, whom she believes will help ease the transition to more experienced partners.
There's only one small problem, Yamada doesn't know anything about sex or the ancient art of seduction, meaning her quest to conquer Kosuda will be a difficult one. (Source: MyAnimeList)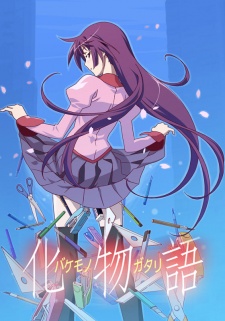 Koyomi Araragi, a third-year high school student, manages to survive a vampire attack with the help of Meme Oshino, a strange man residing in an abandoned building. Though being saved from vampirism and now a human again, several side effects such as superhuman healing abilities and enhanced vision still remain. Regardless, Araragi tries to live the life of a normal student, with the help of his friend and the class president, Tsubasa Hanekawa.
When fellow classmate Hitagi Senjougahara falls down the stairs and is caught by Araragi, the boy realizes that the girl is unnaturally weightless. Despite Senjougahara's protests, Araragi insists he help her, deciding to enlist the aid of Oshino, the very man who had once helped him with his own predicament.
Through several tales involving demons and gods, Bakemonogatari follows Araragi as he attempts to help those who suffer from supernatural maladies. [Written by MAL Rewrite]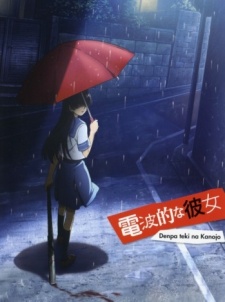 Juuzawa Juu is a delinquent high school boy who just wants to be left alone. One day, he is approached by Ochibana Ame, who claims that she knew him in a previous life, and now wants to serve him as his "knight." At first, Juu wants nothing to do with Ame, but after a classmate is murdered, he accepts her help as he looks for the killer. (Source: ANN)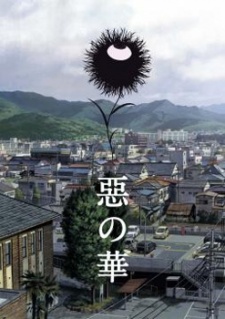 Kasuga Takao is a boy who loves reading books, particularly Baudelaire's Les Fleurs du Mal. A girl at his school, Saeki Nanako, is his muse and his Venus, and he admires her from a distance. One day, he forgets his copy of Les Fleurs du Mal in the classroom and runs back alone to pick it up. In the classroom, he finds not only his book, but Saeki's gym uniform. On a mad impulse, he steals it.
Now everyone knows "some pervert" stole Saeki's uniform, and Kasuga is dying with shame and guilt. Furthermore, the weird, creepy, and friendless girl of the class, Nakamura, saw him take the uniform. Instead of revealing it was him, she recognizes his kindred deviant spirit and uses her knowledge to take control of his life. Will it be possible for Kasuga to get closer to Saeki, despite Nakamura's meddling and his dark secret? What exactly does Nakamura intend to do with him? (Source: MangaHelpers)
References: MyAnimeList, Wiki, ANN