6 Anime Like Oreshura [Ore no Kanojo to Osananajimi ga Shuraba Sugiru]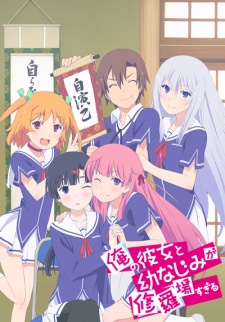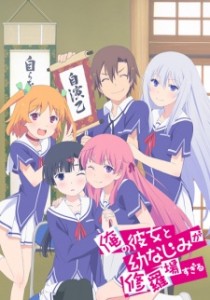 Here are my favorite picks for anime like Ore no Kanojo to Osananajimi ga Shuraba Sugiru. Keep in my the list is in no particular order. Enjoy the recommendations!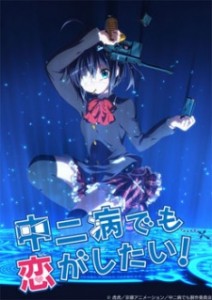 Yuuta Togashi suffered from chuunibyou while he was in middle school. When he graduated, he put that dark history behind him and forgot about it… or he was supposed to. High school was smooth sailing and full of enjoyment—until the unavoidable, sad event occurs. The event that locks Yuuta into a contract with Rikka Takanashi and disrupts his desperately ordinary life. (Source: adapted from the back of the first novel)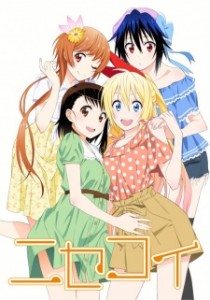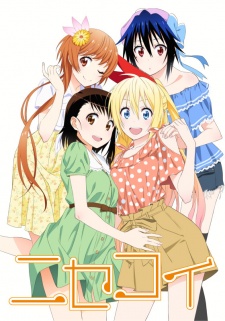 Raku Ichijou, a first-year student at Bonyari High School, is the sole heir to an intimidating yakuza family. Ten years ago, Raku promised his childhood friend that they would get married when they reunite as teenagers. To seal the deal, the girl had given Raku a closed locket, the key to which she took with her when she left him.
Now, years later, Raku has grown into a typical teenager, and all he wants is to remain as uninvolved in his yakuza background as possible while spending his school days alongside his middle school crush Kosaki Onodera. However, when the American Bee Hive Gang invades his family's turf, Raku's idyllic romantic dreams are sent for a toss as he is dragged into a frustrating conflict: Raku is to pretend that he is in a romantic relationship with Chitoge Kirisaki, the beautiful daughter of the Bee Hive's chief, so as to reduce the friction between the two groups. Unfortunately, reality could not be farther from this whopping lie—Raku and Chitoge fall in hate at first sight, as the girl is convinced he is a pathetic pushover, and in Raku's eyes, Chitoge is about as attractive as a savage gorilla.
Nisekoi follows the daily antics of this mismatched couple who have been forced to get along for the sake of maintaining the city's peace. With many more girls popping up his life, all involved with Raku's past somehow, his search for the girl who holds his heart and his promise leads him in more unexpected directions than he expects. [Written by MAL Rewrite]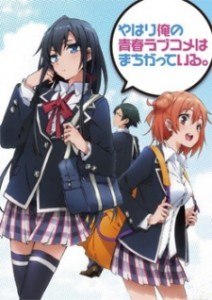 Hachiman Hikigaya is an apathetic high school student with narcissistic and semi-nihilistic tendencies. He firmly believes that joyful youth is nothing but a farce, and everyone who says otherwise is just lying to themselves.
In a novel punishment for writing an essay mocking modern social relationships, Hachiman's teacher forces him to join the Volunteer Service Club, a club that aims to extend a helping hand to any student who seeks their support in achieving their goals. With the only other club member being the beautiful ice queen Yukino Yukinoshita, Hachiman finds himself on the front line of other people's problems—a place he never dreamed he would be. As Hachiman and Yukino use their wits to solve many students' problems, will Hachiman's rotten view of society prove to be a hindrance or a tool he can use to his advantage? [Written by MAL Rewrite]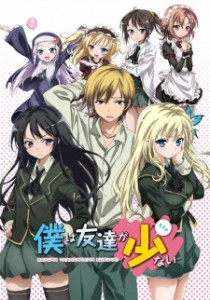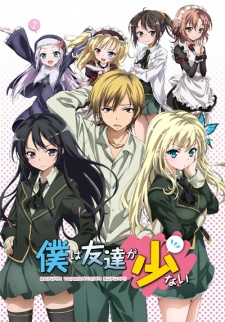 Every teenager has undergone the awkwardness of high school. Making new friends and trying to fit in. It's hard enough doing so under normal circumstances. Try doing so with blonde hair and a bad boy face… in Japan. After transferring to a new school, Kodaka Hasegawa was instantaneously labelled a "delinquent" due to his eccentric appearance. Having classmates shiver in your presence is not a good way to start the school year.
One day, Kodaka has a surprise encounter with a female classmate, Yozora, who just might be more of an outcast than him – she has both a bad temper and an imaginary friend. However, even outcasts desire companionship. The two decide to form the "Neighbors' Club," specifically designed for people who don't have many friends. Kodaka, a lone wolf in the wild terrains of high school, had finally found his pack. But will this dysfunctional bunch be able to form normal relationships with each other? Or will their unique personalities collide?
Boku wa Tomodachi ga Sukunai is a slice of life anime that portrays the difficulties of fitting in and making friends in a comedic and heartwarming way. Viewers can't help but root for these adorable underdogs.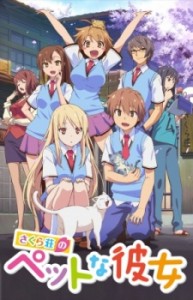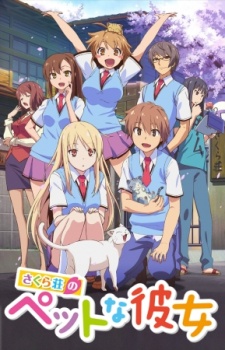 When abandoned kittens and his good conscience force second year Sorata Kanda to move into Suimei High School's infamous Sakura Hall, the satellite dorm and its eccentric, misfit residents turn his life upside down. The decidedly average Sorata finds it difficult to fit in with the bizarre collection of dorm residents like Misaki, an energetic animator; Jin, a playwright playboy; Ryuunosuke, a reclusive programmer; and Chihiro, the dorm manager, art teacher, and party girl.
Sorata's friend Nanami, a second year student and aspiring voice actress, pushes him to find new owners for the many cats so that he can quickly move back into the regular dorms. However, his desire to escape Sakura Hall wavers when the pet-like and infantile second year Mashiro Shiina, a world-class artistic savant looking to become a mangaka, transfers in during the spring trimester and quickly latches onto him.
Supported by each other's quirks, Sorata and Mashiro come out of their shells and trigger change in the lives of those around them. Based on the light novel series of the same name, Sakurasou no Pet na Kanojo explores the fine threads connecting talent, hard work, romance, and friendship with its ensemble cast. [Written by MAL Rewrite]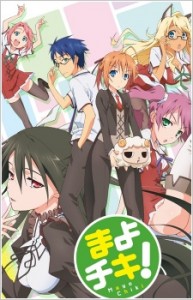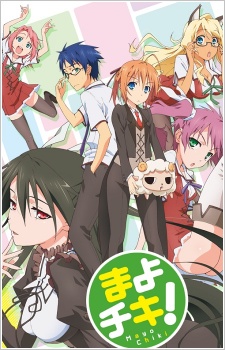 When you've got acute gynophobia, even a pretty girl can be a malady, and as the sparring partner for his family of female wrestlers, Sakamachi Kinjiro has the worst case EVER! Just one touch makes his nose bleed, so school's a bloody nightmare even before Kanade, the Principal's twisted daughter, deduces both Kinjiro's "feminine issue" AND that his name contains the sounds "Chi" and "Kin" back to back. But Chi-Kin's female troubles don't totally redline until a wrong turn in the men's room exposes the secret Subaru, Kanade's manservant, has been hiding in the water closet. (Well, to be fair, we should say WOmanservant.) And if Subaru's cross reactions concerning her cross-dressing aren't enough of a drag, Kinjiro's girl problems also include a haunted martial artist (with ghosts); a cat-eared fetishist (meow!); AND his own sister, whose interest in "wrestling" a certain incorrectly packaged butler may result in an unexpected ending! And that's JUST the set up! (Source: Sentai Filmworks)
References: MyAnimeList, Wiki, ANN