Alucard Demon Hunter Review [Mobile Legends: Bang Bang]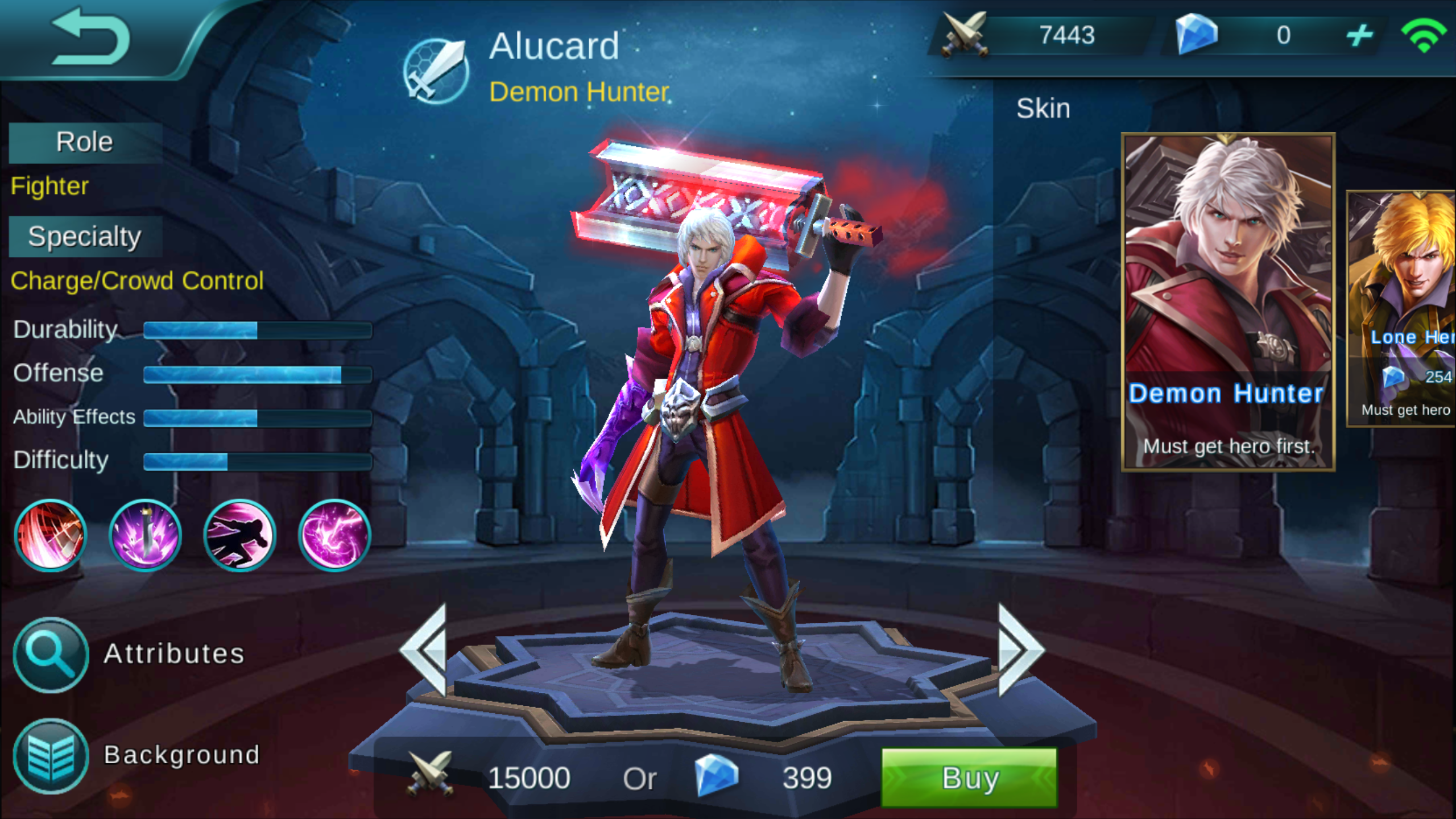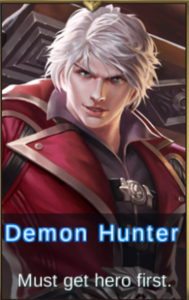 | Role | Fighter |
| --- | --- |
| Specialty | Charge / Crowd Control |
| Cost | 15000 BP or 399 Diamonds |
| Durability | 5/10 |
| Offense | 9/10 |
| Ability Effects | 5/10 |
| Difficulty | 4/10 |
Thoughts
Alucard is a strong attacker and greatly used for handling other heroes. Use him to take point and clear a path for your minions.
Attributes
| | | | |
| --- | --- | --- | --- |
| MOVEMENT SPEED | 2.65 | MANA | 0 |
| PHYSICAL ATTACK | 118 | ATTACK SPEED | 9 |
| MAGIC POWER | 0 | HP REGEN | 39 |
| ARMOR | 21 | MANA REGEN | 0 |
| MAGIC RESISTANCE | 10 | BASIC ATTK CRIT RATE | 0 |
| HP | 2593 | ABILITY CRIT RATE | 0 |
Abilities
Pursuit: Passive

Description: After use, the next basic attack will teleport the hero next to the target. If the ability only targets one enemy, then it will deal 1.2x damage. If it only targets two enemies, it will deal 1.1x damage.
Groundsplitter

Cooldown: 10 s
Description: Leaps forward and strikes 1x. A strike deals 260 physical damage to the enemy.
Whirling Smash

Cooldown: 5 s
Description: Slashes at enemies in the area, dealing 230 physical damage
Fission Wave – Ultimate

Cooldown: 36 s
Description: Increases the hero's lifesteal effect 20% while also locking in on an enemy. Damage dealt to this enemy within 8s must trigger the extra passive damage effect, as well as increase current lifesteal effect 100% times. While this ability is in effect, the hero can cast forth powerful Attack Waves that deal 440 physical damage.
Builds
Continuous Damage
Burst Damage

Damage, Jungling

Skins
Lore
When just a child, both of Alucard's parents were killed by demons and he was imprisoned and suffered cruelties at their hands for several months, until finally he was rescued by demon hunters and raised by them. From a young age, he was raised to be an outstanting demon hunter, with an extreme enmity for the demon race. The three iron laws of the demon hunters are: Swear no allegiance to any army; Spare not a single one of demonkind. Never stop carrying out missions.