10 Anime Like Miss Kobayashi's Dragon Maid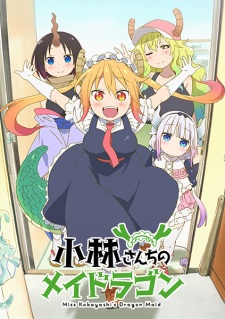 Miss Kobayashi's Dragon Maid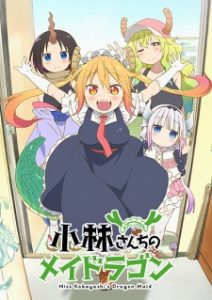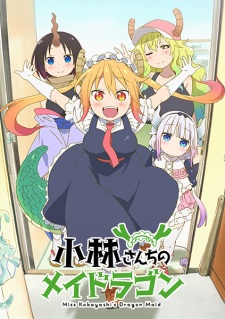 Here are my favorite picks for anime like Miss Kobayashi's Dragon Maid. Keep in mind the list is in no particular order. Enjoy!
Interviews with Monster Girls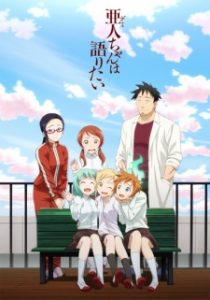 High school biology teacher Tetsuo Takahashi may look like your average everyday instructor, but beneath his gentle appearance lies something less ordinary: his fascination for the "Ajin," more commonly known as "Demi." Although these half-human, half-monster beings have integrated into human society, Takahashi believes that much about them will remain unknown unless he interacts with them firsthand
Squid Girl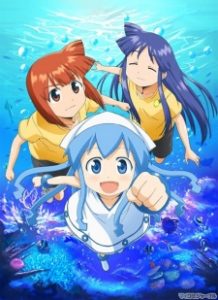 From the depth of the seas rises an evil monster, bent on taking over the human world: Ika Musume. She's ruthless. She's menacing. She's… an adorably non-threatening little girl who makes an awesome squid-ink spaghetti? Ika Musume has come out of her home in the ocean on a quest to punish humanity for polluting her waters. With squid tentacles for hair and some pretty useful ink-spitting skills, Ika Musume is sure she'll have no trouble invading Earth. What she didn't account for were the Aizawa sisters, rough and tumble Eiko and deceptively mellow Chizuru, who immediately bully her into working as a waitress in their seafood restaurant by the shore.
Nichijou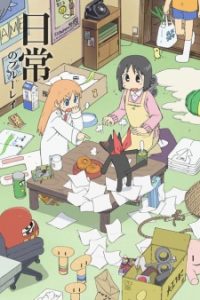 Nichijou primarily focuses on the daily antics of a trio of childhood friends—high school girls Mio Naganohara, Yuuko Aioi and Mai Minakami—whose stories soon intertwine with the young genius Hakase Shinonome, her robot caretaker Nano, and their talking cat Sakamoto. With every passing day, the lives of these six, as well as of the many people around them, experience both the calms of normal life and the insanity of the absurd. Walking to school, being bitten by a talking crow, spending time with friends, and watching the principal suplex a deer: they are all in a day's work in the extraordinary everyday lives of those in Nichijou.
The Devil Is a Part-Timer!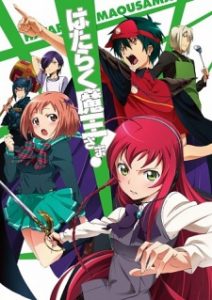 Striking fear into the hearts of mortals, the Demon Lord Satan begins to conquer the land of Ente Isla with his vast demon armies. However, while embarking on this brutal quest to take over the continent, his efforts are foiled by the hero Emilia, forcing Satan to make his swift retreat through a dimensional portal only to land in the human world. Along with his loyal general Alsiel, the demon finds himself stranded in modern-day Tokyo and vows to return and complete his subjugation of Ente Isla—that is, if they can find a way back!
Mikakunin de Shinkoukei (Engaged to the Unidentified)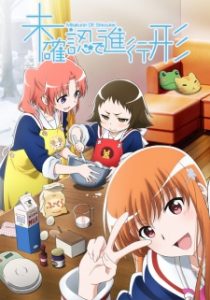 Just an ordinary teenager, Kobeni Yonomori receives quite the surprise on her 16th birthday—a fiancé and a sister-in-law she never even knew she had. As a result of an arrangement that her late grandfather made, Hakuya Mitsumine and his younger sister Mashiro have moved from their countryside home to the Yonomori household in order to deepen their relationship with their new family members.
Non Non Biyori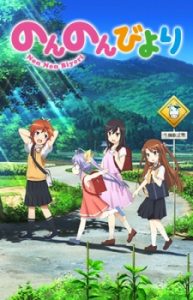 Asahigaoka might look like typical, boring countryside to most; however, no day in this village can ever be considered colorless thanks to five students of varying ages occupying the only class in the only school in town. The youngest student is first grader Renge Miyauchi, who brings an unadulterated wit, curiosity, and her characteristic catchphrase, "Nyanpasu!" Then there are the Koshigaya siblings consisting of the quiet ninth grader and elder brother Suguru, diminutive eighth grader Komari, and the mischievous seventh grader Natsumi. The recent arrival of Tokyo-raised fifth grader Hotaru Ichijou, who appears overdeveloped for her age and thus naturally holds an air of maturity, rounds out this lively and vibrant group of five classmates.
I Can't Understand What My Husband Is Saying
Though they couldn't be any more different, love has managed to blossom between Hajime Tsunashi, a hardcore otaku who shuts himself in at home while making a living off his blog, and his wife Kaoru—a hard-working office lady who, in contrast, is fairly ordinary, albeit somewhat of a crazy drunk. As this unlikely couple discovers, love is much more than just a first kiss or a wedding; the years that come afterward in the journey of marriage brings with it many joys as well as challenges.
Monster Musume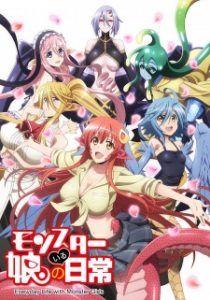 With his parents abroad, Kimihito Kurusu lived a quiet, unremarkable life alone until monster girls came crowding in! This alternate reality presents cutting-edge Japan, the first country to promote the integration of non-human species into society. After the incompetence of interspecies exchange coordinator Agent Smith leaves Kimihito as the homestay caretaker of a Lamia named Miia, the newly-minted "Darling" quickly attracts girls of various breeds, resulting in an ever-growing harem flush with eroticism and attraction.
Dragon Crisis!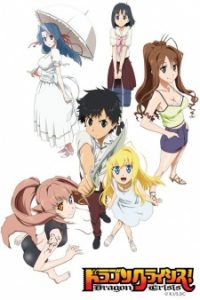 A normal high school boy Kisaragi Ryuji's peaceful life is turned into an adventure by the return of his second cousin Eriko. Ryuji and Eriko seize a relic box from a black broker. In the box, they find a red dragon girl Rose. In order to protect Rose from the black organization, Ryuji decides to fight using his power as a relic handler.
Please Tell Me! Galko-chan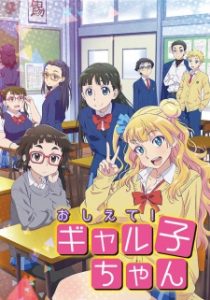 At first glance, Galko, Otako, and Ojou are three high school girls who seem like they wouldn't have anything to do with each other. Galko is a social butterfly with a reputation for being a party animal, even though she is actually innocent and good-hearted despite her appearance. Otako is a plain-looking girl with a sarcastic personality and a rabid love of manga. And Ojou is a wealthy young lady with excellent social graces, though she can be a bit absent-minded at times. Despite their differences, the three are best friends, and together they love to talk about various myths and ask candid questions about the female body.
References: Myanimelist