Aurora Queen of the North [Mobile Legends Bang Bang]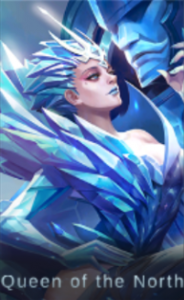 | Role | Mage |
| --- | --- |
| Crowd Control | Burst Damage |
| Cost | 24000BP or 499 Diamonds |
| Durability | 4/10 |
| Offense | 5/10 |
| Ability Effects | 9/10 |
| Difficulty | 7/10 |
Thoughts
Aurora is a good mage with good ability effects making her a valid choice for hero kills.
Attributes
| | | | |
| --- | --- | --- | --- |
| MOVEMENT SPEED | 245 | MANA | 500 |
| PHYSICAL ATTACK | 110 | ATTACK SPEED | 0.8 |
| MAGIC POWER | 0 | HP REGEN | 34 |
| ARMOR | 17 | MANA REGEN | 23 |
| MAGIC RESISTANCE | 10 | BASIC ATTK CRIT RATE | 0 |
| HP | 2501 | ABILITY CRIT RATE | 0 |
Abilities
Passive: Pride of Ice
Description: ach time the skill is released, one unit of frost energy will be added to the hero when 4 units of frost energy is collected, the next skill damage will freeze the target. All skills can cause extra magic damage to the frozen target.
Frost Shock
Cooldown: 4.0
Mana Cost: 60
Description: Fires forward a Frost Energy Missile, when it hits the enemy it will detonate and deal 240 pts of radial magical damage and slow enemies down.
Bitter Frost
Cooldown: 11.0
Mana Cost: 110
Description: Deals 420 magic damage to a specified target and causes target's movement speed to drop 80% for 1.5s.
Ultimate: Coldness Destroy
Cooldown: 40.0
Mana Cost: 160
Description: Summons a giant icy rock to bombard a designated target location, all enemy heroes hit will be slowed down and receive 800 pts of magic damage. Surrounding enemies of the target location where the rock lands also will be slowed down and receive 400 pts of magic damage.
Builds
Burst

Sustained, DPS

Durable

Skins
Lore
Aurora, born in a windstorm and with a great power of controlling ice and snow, is the queen of the northernmost land – Nost Gal, the dominator of the Frozen Sea and the Guardian of the Land of Dawn. Although they are all on this northernmost land, Aurora never had any interest in the conflicts between Franco and Bane. She was born powerful and extraordinary. As one of the four Guardians of the Land of Dawn, she undertakes all those responsibilities of protecting the world, protecting its border and ensuring its safety from the spacetime rifts and monsters. During a horrible plane fight, Aurora lost one arm, along with her guardian knight. after this experience, the young queen became solemn and cold, silent and full of sorrow. When she riding on the wind of travels, there's only snow and ice keeping her company.