Sun Monkey King Review [Mobile Legends: Bang Bang]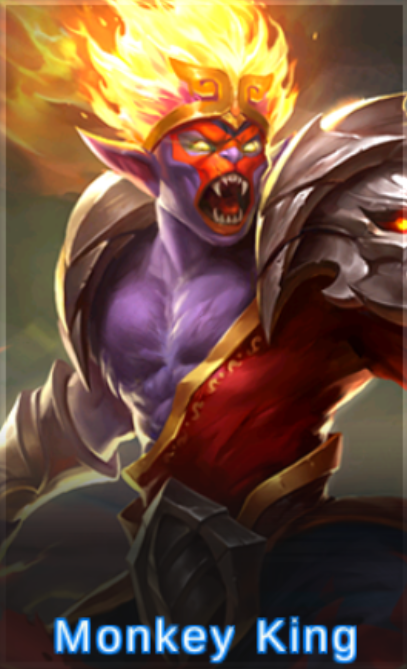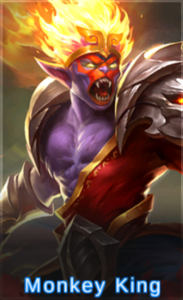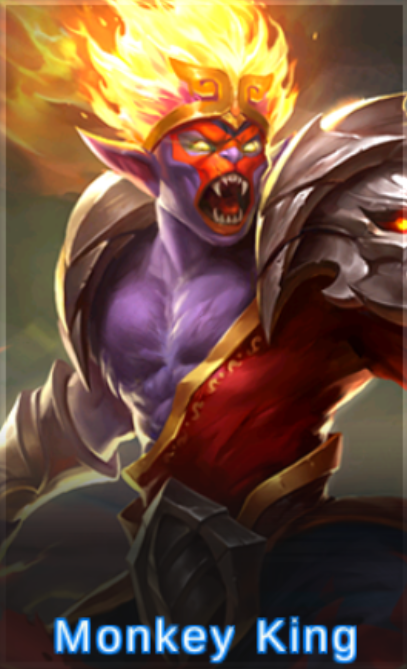 | Role | Fighter |
| --- | --- |
| Specialty | Charge / Push |
| Cost | 32000 BP or 599 Diamonds |
| Durability | 9/10 |
| Offense | 7/10 |
| Ability Effects | 6/10 |
| Difficulty | 5/10 |
Thoughts
Sun is a great Fighter type with amazing Durability. Using him to throw in some damage while taking a lot of hits can be easy and effective.
Attributes
| | | | |
| --- | --- | --- | --- |
| MOVEMENT SPEED | 2.65 | MANA | 400 |
| PHYSICAL ATTACK | 114 | ATTACK SPEED | 9.2 |
| MAGIC POWER | 0 | HP REGEN | 41 |
| ARMOR | 23 | MANA REGEN | 16 |
| MAGIC RESISTANCE | 10 | BASIC ATTK CRIT RATE | 0 |
| HP | 2630 | ABILITY CRIT RATE | 0 |
Abilities
Summons Money: Passive
Description: Summons a doppelganger after 5 basic attacks, then every 5 basic attacks will upgrade the doppelganger. Doppelganger's attack will increase with the level and basic attack will restore HP for Sun
Golden Cudgel Strike
Cooldown: 10s
Mana Cost: 80
Description: Sun and his doppelganger use the Golden Cudgel to smash forward, dealing 120 pts of physical damage lowering hit enemies movement speed 40% for 2s.
Instantaneous Move
Cooldown: 8s
Mana Cost: 110
Description: Sun and his doppelganger launch Instantaneous Move, dealing 100 pts of physical damage to all enemies along the way.
Clone Techniques: Ultimate
Cooldown: 42s
Mana Cost: 120
Description: Summons two top-level doppelgangers, increasing doppelganger attack and HP by 500.
Builds
Durability

Continuous Damage

Damage, Jungling

Skins
Lore
Sun, born from a rock, has been extraordinary since the very beginning. Once he was pinned down under a moutain by gods, unable to move even a little bit. He watched time changing and watched the world being changed by the time. Snow covered his body parts that were exposed outside the moutain, but could nevre freeze his heart full of enthusiasm for freedom. When the opportunity showed, he chanted "Freedom"loudly and broke down his imprisonment. Then he laughed and flew away. Now, Sun has come to the Land of Dawn. In here, the stone-born monkey with a soul that connot be tied down will start his own legend again.