Lolita Steel Elf Review [Mobile Legends: Bang Bang]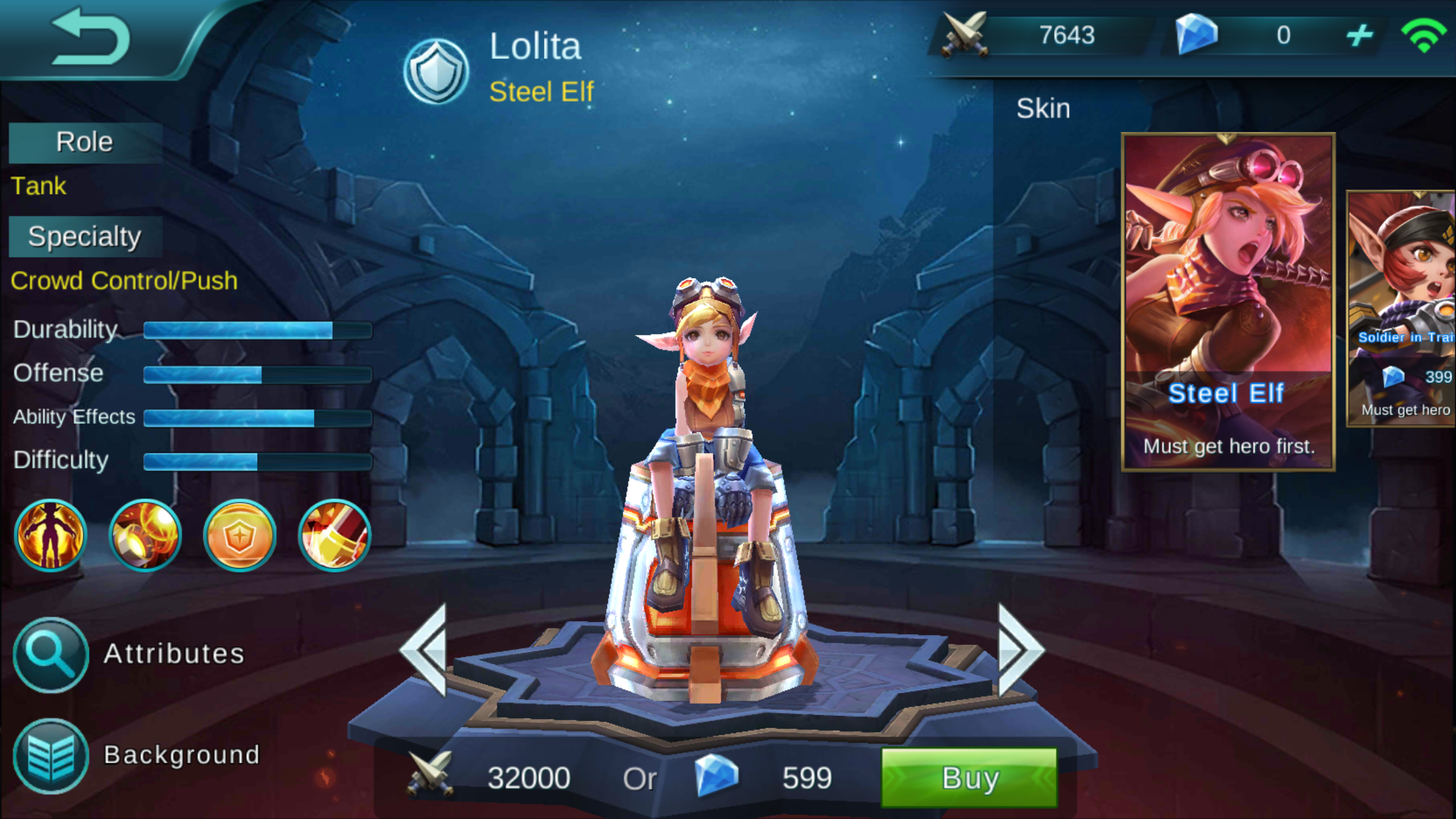 | Role | Tank |
| --- | --- |
| Specialty | Crowd Control / Push |
| Cost | 32000 BP or 599 Diamonds |
| Durability | 8/10 |
| Offense | 6/10 |
| Ability Effects | 7/10 |
| Difficulty | 6/10 |
Thoughts
Lolita is a great Tank in terms of usability and role. Her durability is good for a tank so use her to soak up damage from heroes so your team mates can take them out.
Attributes
| | | | |
| --- | --- | --- | --- |
| MOVEMENT SPEED | 2.65 | MANA | 0 |
| PHYSICAL ATTACK | 115 | ATTACK SPEED | 7.7 |
| MAGIC POWER | 0 | HP REGEN | 48 |
| ARMOR | 27 | MANA REGEN | 0 |
| MAGIC RESISTANCE | 10 | BASIC ATTK CRIT RATE | 0 |
| HP | 2545 | ABILITY CRIT RATE | 0 |
Abilities
Noumeneon Energy Core: Passive

Description: The Noumenon energy core under normal circumstances will slowly store up energy and provide shields to Lolita's allies. Every so often, Lolita's allies can come close to Lolita and get a shield.
Energy Rocket

Cooldown: 6 s
Description: Casts an energy rocket which will regen energy when it hits an enemy hero and deal 190 magic damage, also causing the enemy to slow down 50% for 1.5s. At the same time it immediately resets ability cooldown. If the 2nd cast hits the enemy while in the slow down period, it will cause a stun.
Protective Shield

Cooldown: 13.5 s
Description: Raises a shield which blocks all ranged projectiles flying towards the shield.
Noumeneon Blast – Ultimate

Cooldown: 40 s
Description: After powering up for 2s, it will deal 380 to 1026 magic damage to enemies in a conical area in front of the hero according to current energy amount. While gathering power, the Noumenon energy will make the hero immune to damage, but enemy hero attacks will reduce the amount of energy. If total energy drops to 0, it will not do any damage, but it will return half of energy and cooldown time. During the power-up period, movement speed for enemies in the attack range will drop 75%.
Builds
Team Buff

Burst Damage

Durability

Skins
Lore
Lolita was born in a distant elven village, living a happy, uneventful life. That is, until war brought an end to those peaceful, safe days. Her whole village was destroyed in the war; her family torn apart. Just as her own life was in grave peril, Rooney, the master machinist of the City of Scholars, found her when he was passing through and took her back to Eruditio. To show her gratitude to the city, Lolita joined the City Guard and swore an oath to the death to defend its honor. Bruno very much admired and understood this young elf maiden's spirit, and so he put in a request with the city scholars for their most advanced tech crystal — the Noumenon Energy Core — and bestowed it to Lolita. This powerful energy core endows LoMa's tiny frame with the ability to discharge massive burts of force, even allowing her to control a giant mechanical hammer with ease.