Chou Kung Fu Boy Review [Mobile Legends: Bang Bang]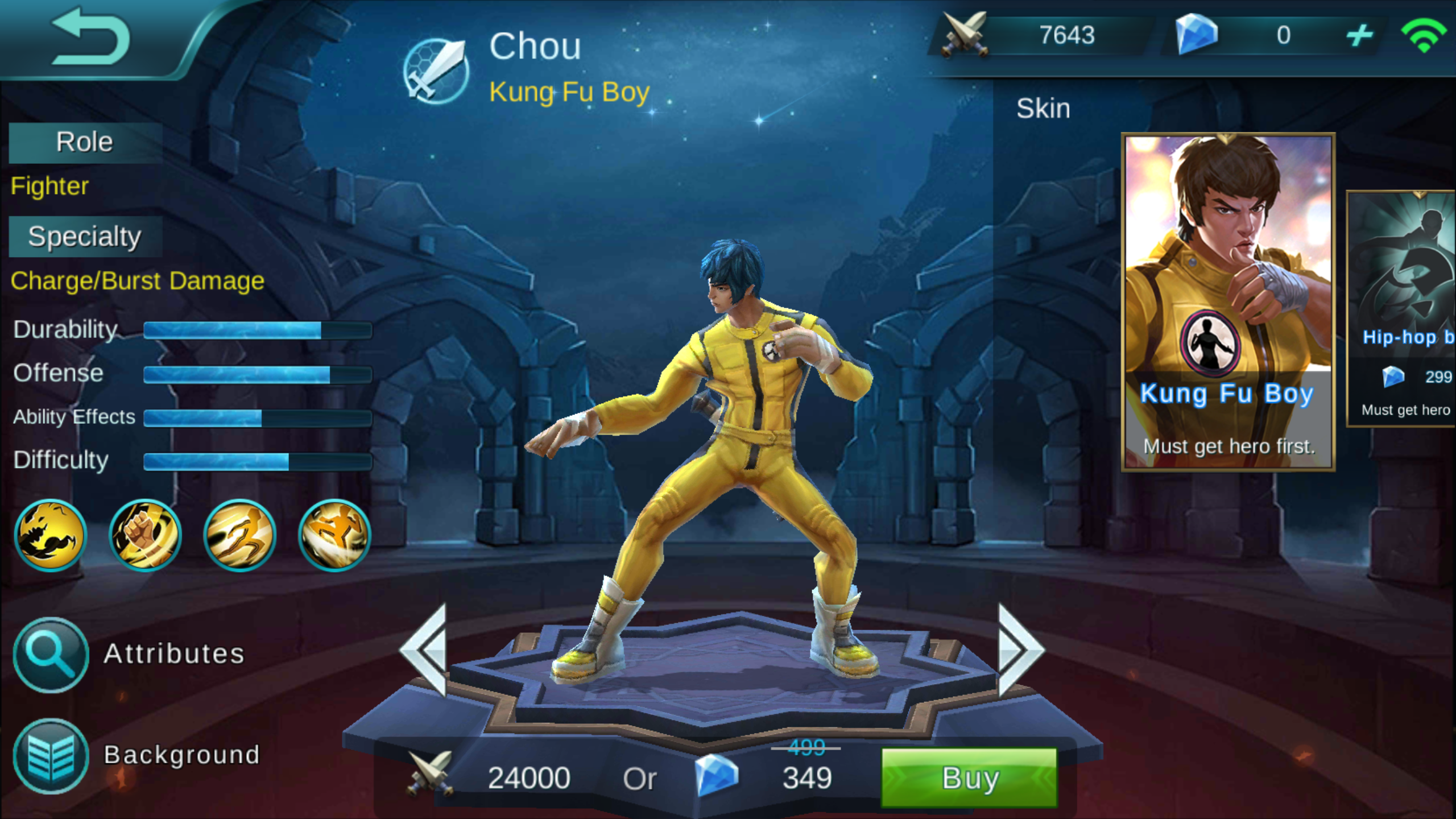 | Role | Fighter |
| --- | --- |
| Specialty | Charge / Burst Damage |
| Cost | 24000 BP or 499 Diamonds |
| Durability | 8/10 |
| Offense | 9/10 |
| Ability Effects | 6/10 |
| Difficulty | 7/10 |
Thoughts
Chou is one of the better Fighter types in the game. With his high durability and damage out put use him to take on the strongest heroes on the opposing team.
Attributes
| | | | |
| --- | --- | --- | --- |
| MOVEMENT SPEED | 2.65 | MANA | 0 |
| PHYSICAL ATTACK | 121 | ATTACK SPEED | 8.8 |
| MAGIC POWER | 0 | HP REGEN | 39 |
| ARMOR | 23 | MANA REGEN | 0 |
| MAGIC RESISTANCE | 10 | BASIC ATTK CRIT RATE | 0 |
| HP | 2598 | ABILITY CRIT RATE | 0 |
Abilities
Only Fast: Passive

Description: After every 8 yards of movement, the next basic attack will deal 200% pts of damage and stun the target for a while.
Jeet Kune Do

Cooldown: 10 s
Description: Punches forward to attack for 3 times, dealing 120 pts physical damage Former 2 attacks will lower target's movement speed 60%, the 3 attack will knock nearby enemies airborne. Usage of this skill will refresh the cooldown on your next Transient Pace.
Shunpo

Cooldown: 5 s
Description: Wages a short-range charge, invincible and immune to control skills while charging up. Within 2s after the charge, attacks will ignore target's armor 3, stacking up to 3 times at most.
The Way of the Dragon – Ultimate

Cooldown: 34 s
Description: Casts a roundhouse kick to knock back the target and deal 320 pts of physical damage Use the skill again to chase up the in-the-air enemy and deal at least 320 pts of physical damage.
Builds
Continuous Damage

Burst Damage

Damage, Jungling

Skins
Lore
Chou was born in a remote small slumdog, living a life of the lowest quality. Tough living enviroment has never worn away the kindness in Chou's heart. He cared for elders and minors in slum with passion. However, with the turmoil and instability of the Land of Dawn raised, situation outside has impacted this isolated slum eventually. On occasion, Chou saved an old monk who were being chased. He brought him back to the slum and looked atter him. In return, the old monk imparted the ancient Asian Kung-Fu skill to Chou, and told him that the world needed a real hero to stand up and end the turmoils. After finishing his appreticeship, Chou swore before the old monk that he would become a real hero.Then he started his journey to the centre of the Land of Dawn without even one looking back. Towards Chou's distant silhouette, the old monk noded, and drifted away.