Bleach Brave Souls Accessory Guide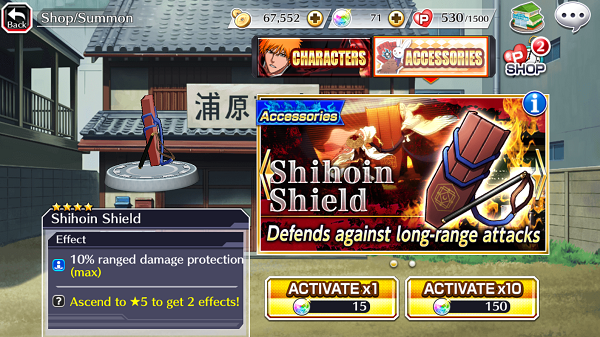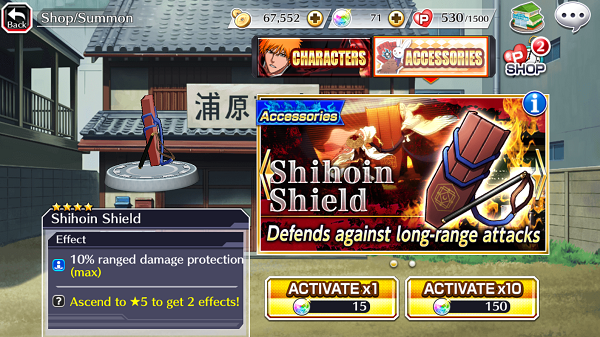 I have compiled all the accessories available in the game. You can farm accessories by doing co-op missions or using gems(spirit orbs) and pull them from the summon shop. Keep in mind that you can only get 1-3 star accessories with co-op and 3-4 star via gacha or the shop summon.
It is best to use accessories of the same element as the character to get the bonus stats.
Fusing any 1-3 star accessory of the same tier will give you a random one of the next tier. If you don't like what you get, you can use Perpetual Orbs to revert it back to what it was. Fusing 5 star accessories require 4 star accessories and the necessary materials.
Name
Item
Effect
Rarity
Attribute
Value (At Max Level)
Cookie
Increase Stamina
★ 1
Power, Tech, Speed, Heart, Mind
10%
★ 2
Power, Tech, Speed, Heart, Mind
16%
★ 3
Power, Tech, Speed, Heart, Mind
20%
Seireitei Bulletin
Increase EXP rate
★ 2
Power, Tech, Speed, Heart, Mind
5%
★ 3
Power, Speed, Heart
10%
★ 4
Heart, Speed
15%
★ 5
Heart, Speed
20%
Shinten
Increase Spirit Pressure
★ 1
Power, Tech, Speed, Heart, Mind
10%
★ 2
Power, Tech, Speed, Heart, Mind
16%
★ 3
Power, Tech, Speed, Heart, Mind
20%
Shihoin Shield
Defends against long-range attacks
★ 4
Power, Tech, Speed, Heart, Mind
10%
★ 5
Power, Tech, Speed, Heart, Mind
15%
Spirit Core
Reduce Status Ailments duration
★ 4
Power, Tech, Speed, Heart, Mind
20%
★ 5
Power, Tech, Speed, Heart, Mind
30%
Gokon Tekko
Increase Attack
★ 1
Power, Tech, Speed, Heart, Mind
10%
★ 2
Power, Tech, Speed, Heart, Mind
16%
★ 3
Power, Tech, Speed, Heart, Mind
20%
Karakurizer Watch
Increase Coins received
★ 2
Power, Tech, Speed, Heart, Mind
5%
★ 3
Power, Tech, Heart
10%
★ 4
Power, Tech
15%
★ 5
Power, Tech
20%
Chappy Dispenser
Decrease Spirit Pressure while increasing all other stats
★ 4
Speed, Heart, Mind
20%
★ 5
Speed, Heart, Mind
30%
Hojiku-Zai
Increase recovery effect
★ 2
Power, Tech, Speed, Heart, Mind
20%
★ 3
Speed, Heart, Mind
25%
★ 4
Speed, Mind
50%
★ 5
Mind
100%
Memory Replacement
Increase Focus
★ 1
Power, Tech, Speed, Heart, Mind
10%
★ 2
Power, Tech, Speed, Heart, Mind
16%
★ 3
Power, Tech, Speed, Heart, Mind
20%
Headband of Justice
Increase resistance to Opposing Attribute
★ 2
Power, Tech, Speed, Heart, Mind
5%
★ 3
Power, Speed, Heart
10%
★ 4
Speed, Heart
15%
★ 5
Speed, Heart
20%
Tenshintai
Increase damage to Special Attack
★ 4
Power, Tech
50%
★ 5
Power, Tech
100%
Cape
Increase Defense
★ 1
Power, Tech, Speed, Heart, Mind
10%
★ 2
Power, Tech, Speed, Heart, Mind
16%
★ 3
Power, Tech, Speed, Heart, Mind
20%
Training Scroll
An item used to improve Accessories.
★ 4
Power, Tech, Speed, Heart, Mind
All stats +1.0-1.0%
Book of Secrets
An item used to improve Accessories.
★ 4
Power, Tech, Speed, Heart, Mind
All stats +1.0-1.0%
Evolution Powder
An item used to improve Accessories.
★ 4
Power, Tech, Speed, Heart, Mind
All stats +1.0-1.0%
Plain Immutable Ball
Fuse with a ★1 Accessory to increase its rarity to ★2 without changing its type.
★ 1
–
All stats +1.0-1.0%