Bleach Brave Souls Spirit Orb [Gem] Farming Guide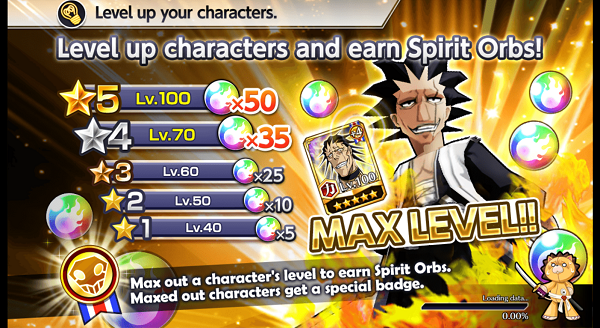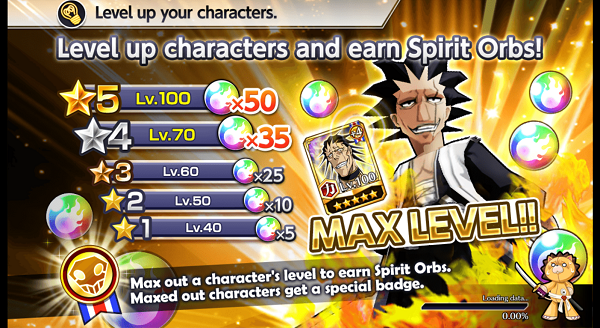 Hello everyone! Today, I am going to share with you all the things you can do in Bleach Brave Souls and earn Spirit Orbs(or gems) without any hacking or cheating. Unlike most games, BBS actually is quite lenient with the amount of free gems they give out. That is a good thing because the majority of the players are free to play.
Complete Daily and Weekly Quests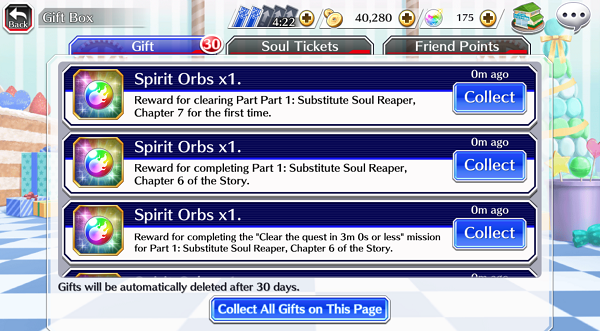 Doing the daily will net you 1 spirit orb. Not much, but it is easy to do!
Clear story quest x3 – You get 3000 coins
Defeat 100 enemies in story mode – You get 5 PvP tickets
Defeat 300 enemies in story mode – You get 5 medium exp crystals
Brave Battle wins x3(PvP) – You get 5 campaign tickets
Brave Battle wins x5(PvP – You get 2 rare medals
Clear Co-op x3 – You get 3000 coins
Upon completion, you get 1 spirit orb.
For the weekly quests, you get 3 spirit orbs upon completion. That makes a total of 4 just playing the game regularly.
Doing Campaign Mode and Special Events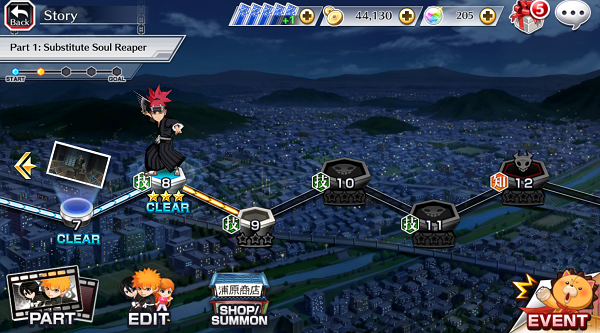 Now doing any new stages for the first time will net you a spirit orb. When doing campaign mode, you can get up to 5 spirit orbs if you complete it the first time + you also complete the objectives for each map. Most of them are quite easy except for those that require X combos or certain characters to be in that map. As long as you keep leveling your character, you should be able to complete most 90% of the objectives on your first run through campaign mode.
They are a lot of maps to do, so in the course of the entire game, you will be looking at 500+ spirit orbs you can get for free. I highly suggest you save up 250 spirit orbs to get your 10 premium summons which guarantees a 4 star.
Co-Op Battles
This is one of the best ways to farm spirit orbs. For each new player you team up with, you get 3 spirit orbs. The good part is, you can do this as long as you play actively and save your soul tickets strictly for Co-Op. This is where I think they are very generous when it comes to giving away free gems. I have not seen any other mobile game that have these kinds of rewards just for playing actively and teaming up with other players. It does come with a drawback though. Disconnecting and crashing is quite rampant in certain devices, so you might not be able to enjoy it as much as you would like.
Other than that, its all about teaming up regularly to not only get spirit orbs, but to also collect accessories. I suggest you party up in the beginner's area. This way, your odds of encountering new players sky rocket. That means, on average, you can get at least 3 spirit orbs per run. Each Co-Op battle usually go about 3-5 minutes, so in an hours time, you can farm up about 30-50 spirit orbs, depending on how many new players you encounter. You can also create rooms for different maps so you will meet more new players.
Character Leveling
Not the fastest way to get spirit orbs, but it is free gems for you! As you can see from the picture at the top of the post, you need:
Max level 100 5★ Character = 50 Spirit Orbs
Max level 70 4★ Character = 35 Spirit Orbs
Max level 60 3★ Character = 25 Spirit Orbs
Max level 50 2★ Character = 10 Spirit Orbs
Max level 40 1★ Character = 5 Spirit Orbs
You can start doing this once you have a nice roster of strong max level 100 characters. You need to be able to do higher level maps and also gain experience crystals to make this worth while.
I hope this mini guide is able to help you out. I recommend you really give Co-Op battles a try as it can really help you get your 5★ characters a lot quicker.