Kingdom Hearts Unchained X Keyblade Upgrading Guide [Materials and Stats] – KHUX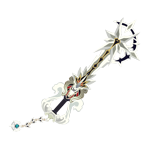 Upgrading your keyblade is key to stronger attacks and progress through the game. Currently, there are 6 keyblades that are usable. I am sure they will release more keyblades in the near future. I have also included information of keyblades that have yet to release and also those that cannot be acquired.
I still don't have material info for some of the keyblades. For those wanting to check out the material drop locations, check out this table. Have questions? Ask on the forums!

Keyblade List
Starlight | Treasure Trove | Lady Luck | Three Wishes
Olympia | Divine Rose | Moogle of Glory
Starlight Keyblade
This is the keyblade you start with. It's man-made, created in imitation of the legendary χ-blade that exists alongside Kingdom Hearts.
| | | |
| --- | --- | --- |
| | | |
| Levels 0-3 | Levels 4-20 | Levels 21+ |
Upgrade Stats
Level
Slot 1
Slot 2
Slot 3
Slot 4
Slot 5
1
Magic x 1.08
–
–
X
X
2
Magic x 1.12
–
–
X
X
3
Magic x 1.12
–
Power x 1.08
X
X
4
Magic x 1.16
–
Power x 1.12
Speed x 1.08
X
5
Magic x 1.16
Speed x 1.08
Power x 1.16
Speed x 1.08
X
6
Magic x 1.16
Speed x 1.08
Power x 1.20
Speed x 1.12
X
7
Magic x 1.20
Speed x 1.12
Power x 1.20
Speed x 1.12
X
8
Magic x 1.20
Speed x 1.12
Power x 1.24
Speed x 1.12
X
9
Magic x 1.20
Speed x 1.16
Power x 1.24
Speed x 1.16
X
10
Magic x 1.20
Speed x 1.16
Power x 1.28
Speed x 1.20
X
11
Magic x 1.24
Speed x 1.20
Power x 1.28
Speed x 1.24
X
12
Magic x 1.24
Speed x 1.24
Power x 1.32
Speed x 1.24
X
13
Magic x 1.24
Speed x 1.28
Power x 1.32
Speed x 1.24
X
14
Magic x 1.28
Speed x 1.28
Power x 1.32
Speed x 1.24
X
15
Magic x 1.28
Speed x 1.32
Power x 1.32
Speed x 1.28
Magic x 1.16
16
Magic x 1.32
Speed x 1.32
Power x 1.32
Speed x 1.28
Magic x 1.24
17
Magic x 1.32
Speed x 1.32
Power x 1.32
Speed x 1.32
Magic x 1.32
18
Magic x 1.36
Speed x 1.32
Power x 1.32
Speed x 1.36
Magic x 1.32
19
Magic x 1.36
Speed x 1.36
Power x 1.36
Speed x 1.36
Magic x 1.36
20
Magic x 1.40
Speed x 1.40
Power x 1.40
Speed x 1.40
Magic x 1.40
21
Magic x 1.40

Upright x 1.60

Speed x 1.40
Reverse x 1.75
Speed x 1.40

Upright x 1.60

Magic x 1.40
22
Magic x 1.40

Upright x 1.80

Speed x 1.40

Upright x 1.60

Power x 1.40

Reverse x 1.75

Speed x 1.40

Upright x 1.60

Magic x 1.40
23
Magic x 1.40

Upright x 2.10

Speed x 1.40

Upright x 1.60

Power x 1.40

Reverse x 1.75

Speed x 1.40

Upright x 2.00

Magic x 1.40

Upright x 1.80

24
Magic x 1.40

Upright x 2.10

Speed x 1.60

Upright x 2.00

Power x 1.50

Reverse x 2.00

Speed x 1.40

Upright x 2.00

Magic x 1.60

Upright x 2.10

25
Magic x 1.60

Upright x 2.35

Speed x 1.60

Upright x 2.00

Power x 1.60

Reverse x 2.00

Speed x 1.60

Upright x 2.30

Magic x 1.60

Upright x 2.10
Materials
| | | | | |
| --- | --- | --- | --- | --- |
| Level | Material 1 | Material 2 | Material 3 | Material 4 |
| 1 | Mythril Shard x 3 | Gold Ore x 5 | Melted Candle x 1 | Ice Crystal x 1 |
| 2 | Mythril Shard x 3 | Mythril Drop x 1 | Large Pearl x 1 | Ice Crystal x 2 |
| 3 | Mythril Shard x 3 | Gold Ore x 8 | Large Pearl x 2 | Ice Crystal x 4 |
| 4 | Mythril Shard x 3 | Mythril Drop x 3 | Gold Ore x 10 | Melted Candle x 4 |
| 5 | Mythril Shard x 3 | Orichalcum x 1 |   |   |
| 6 | Mythril Shard x 3 | Mythril Drop x 5 | Melted Candle x 5 | Ice Crystal x 5 |
| 7 | Mythril Shard x 3 | Gold Ore x 15 | Large Pearl x 3 | Ice Crystal x 6 |
| 8 | Mythril Shard x 3 | Mythril Stone x 1 | Orichalcum x 2 |   |
| 9 | Mythril Shard x 3 | Gold Ore x 17 | Melted Candle x 6 | Ice Crystal x 8 |
| 10 | Mythril Shard x 3 | Mythril Stone x 3 | Gold Ore x 20 | Large Pearl x 5 |
| 11 | Mythril Shard x 3 | Gold Ore x 22 | Melted Candle x 10 | Ice Crystal x 10 |
| 12 | Mythril Shard x 3 | Mythril Stone x 5 | Large Pearl x 6 | Melted Candle x 12 |
| 13 | Mythril Shard x 3 | Gold Ore x 23 | Large Pearl x 7 | Melted Candle x 13 |
| 14 | Mythril Shard x 3 | Mythril Crystal x 1 | Gold Ore x 25 | Ice Crystal x 13 |
| 15 | Mythril Shard x 3 | Large Pearl x 9 | Melted Candle x 15 | Ice Crystal x 14 |
| 16 | Mythril Shard x 3 | Mythril Crystal x 3 | Ice Crystal x 16 | Melted Candle x 16 |
| 17 | Mythril Shard x 3 | Large Pearl x 10 | Melted Candle x 18 | Ice Crystal x 17 |
| 18 | Mythril Shard x 3 | Mythril Crystal x 5 | Gold Ore x 27 | Large Pearl x 11 |
| 19 | Mythril Shard x 3 | Large Pearl x 12 | Melted Candle x 19 | Ice Crystal x 20 |
| 20 | Mythril Shard x 3 | Mythril Crystal x 10 | Melted Candle x 20 | Ice Crystal x 21 |
| 21 | Mythril Shard x 3 | Adamantite x 1 | Gold Ore x 29 | Large Pearl x 13 |
| 22 | Mythril Shard x 3 | Adamantite x 1 | Gold Ore x 30 | Melted Candle x 21 |
| 23 | Mythril Shard x 3 | Adamantite x 2 | Gold Ore x 31 | Ice Crystal x 23 |
| 24 | Mythril Shard x 3 | Adamantite x 3 | Mythril Drop x 3 | Mythril Stone x 3 |
| 25 | Mythril Shard x 3 | Adamantite x 3 | Mythril Drop x 5 | Mythril Stone x 5 |
References: khinsider