Clash Royal Giant Card Review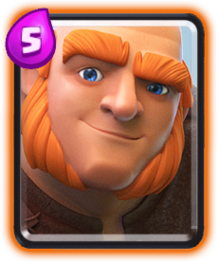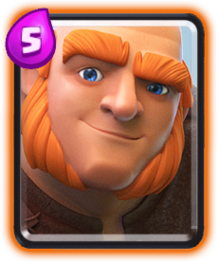 Unlock: Training Camp Tutorial
Description: Slow but durable, only attacks buildings. A real one-man wrecking crew!
The Giant is your tanky front line that can soak up damage for your ranged attackers. He does walk slow and only attacks buildings. But once he gets to your building, he can deal some serious damage. The best combos usually include a ranged attacker or a strong melee fighter. You can also use him to distract enemy small troops while trying to defend your base during double elixir time.
| Pros | Cons |
| --- | --- |
| Beefy meat shield | Very slow |
| Allows your ranged attackers to deal their damage | Countered by large number of small troops |
| Does good damage to towers | Can be distracted by other building cards that stray him away from the towers |
Useful Combos
Giant + Any Ranged Attacker – A great combo for starting a strong wave to destroy your enemy towers.
Giant + Valkyrie – Works great if you know they are going to drop small melee troops on your Giant. Costs 9 Elixir.
Giant + Mini PEKKA – This is great if you want to destroy towers FAST. Works well for a base race. Costs 9 Elixir.
Direct Counters
Skeleton Army – These guys make quick work of the Giant at 4 elixir cost. You need a Giant + Valkyrie or Dark Prince to avoid this.
Tombstones – Use this to distract a Giant from targeting your towers.
Small Ranged Troops and Melee Troops – If you deploy a mix of Goblins, Skeletons and Archers, the Giant can be taken down fairly quickly. Use Arrow to counter this.
| Hit Speed | Speed | Deploy Time | Range | Target | Cost | Count | Rarity | Type |
| --- | --- | --- | --- | --- | --- | --- | --- | --- |
| 1.5 sec | Slow | 1 sec | Melee | Buildings | 5 | x1 | Rare | Troop |
| Level | Hitpoints | Damage | Damage per second |
| --- | --- | --- | --- |
| 1 | 2,000 | 120 | 80 |
| 2 | 2,200 | 132 | 88 |
| 3 | 2,420 | 145 | 96 |
| 4 | 2,660 | 159 | 106 |
| 5 | 2,920 | 175 | 116 |
| 6 | 3,192 | 192 | 128 |
| 7 | 3,511 | 211 | 140 |
| 8 | 3,860 | 231 | 154 |
| 9 | 4,240 | 254 | 169 |
| 10 | 4,660 | 279 | 186 |