Clash Royale Baby Dragon Card Review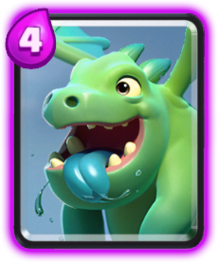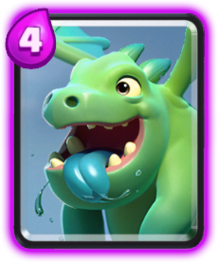 Unlock: Training Camp Tutorial
Description: Flying troop that deals area damage. Baby dragons hatch cute, hungry, and ready for a barbeque.
The Baby Dragon is a good unit that doesn't have too many counters for its elixir cost. This card is used in high arena(6+) decks at the moment. He offers AoE splash damage and is great against small troops.
| Pros | Cons |
| --- | --- |
| Good AoE Splash Damage | Rather slow moving unit |
| Works great against small troops | Does low damage to crown towers |
| Works best when paired with a front line so he can dish out splash damage |   |
Useful Combos
For most players, the most early game useful combo is:


Baby Dragon + Giant – Place your Giant in the back. Once the Giant reaches the bridge, drop your Baby Dragon and maybe more ranged/melee troops depending on their reaction.

Baby Dragon + Knight – Not as strong as the Giant one, but works just fine and will give you some elixir to defend.

Baby Dragon + Giant Skeleton – This combo annihilates any troop rushing deck. The Giant Skeleton will drop a bomb and kill all small troops. Use this combo once you know they run a lot of small troops.
Good Counters





Musketeer – A great counter as she can take her out for the same elixir cost.
Tombstone – This is used to distract the Baby Dragon. It takes a few hits to kill the tombstone, allowing your crown tower to take it down before it can deal damage to the crown tower.
Archers – Requires to be behind either the crown tower or a tank in front. Otherwise, you will lose the trade.
Tesla – A well placed Tesla 3 blocks below the center of your base will kill the Baby Dragon with some left over health.
Inferno – Kills the Baby Dragon quick, but at the cost of 5 elixir. Use this only if they run big units like Skeleton King, Giant or PEKKA.
| Hit Speed | Speed | Deploy Time | Range | Target | Cost | Count | Type | Rarity |
| --- | --- | --- | --- | --- | --- | --- | --- | --- |
| 1.8 sec | Fast | 1 sec | 3.5 | Air & Ground | 4 | x1 | Troop | Epic |
| Level | Hitpoints | Area Damage | Damage per second |
| --- | --- | --- | --- |
| 1 | 800 | 100 | 55 |
| 2 | 880 | 110 | 61 |
| 3 | 968 | 121 | 67 |
| 4 | 1,064 | 133 | 73 |
| 5 | 1,168 | 146 | 81 |
| 6 | 1,280 | 160 | 88 |
| 7 | 1,408 | 176 | 97 |
| 8 | 1,544 | 193 | 107 |