Clash Royale Archer Card Review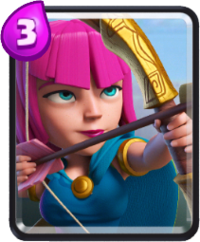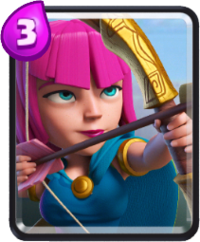 Unlock: Training Camp Tutorial
Description: A pair of unarmored ranged attackers. They'll help you with ground and air unit attacks, but you're on your own with coloring your hair.
The archers are your ranged attackers. It spawns 2 when you summon them. They work great against smaller troops and is excellent when paired with a beefy tank like the Knight or Giant.
Pros
Cons
Decent damage for 3 elixir cost
 Needs a front line to be effective
Not too good against towers
Vulnerable to strong melee attackers like the Valkyrie and Knight
Great against small troopers like skeletons
minion hordes and goblins
Easily distracted by anything closest to it
Useful Combos
Knight + Archer – For 6 elixirs, this is a decent combo to try and get a troop advantage
Giant + Archer – Another good combo against small troops if you deploy them together.
Dragon + Archer – This decimates any small troop groups like Goblins, Barbarians if you deploy them from afar.
Skeleton + Archer – For 4 elixirs, this works great against slow attack speed cards like the Mini P.E.K.K.A and Prince.
| Hit Speed | Speed | Deploy Time | Range | Target | Cost | Count | Rarity | Type |
| --- | --- | --- | --- | --- | --- | --- | --- | --- |
| 1.2 sec | Medium | 1 sec | 5.5 | Air & Ground | 3 | x2 | Common | Troop |
| Level | HP | Damage | Damage per second |
| --- | --- | --- | --- |
| 1 | 125 | 40 | 33 |
| 2 | 137 | 44 | 36 |
| 3 | 151 | 48 | 40 |
| 4 | 166 | 53 | 44 |
| 5 | 182 | 58 | 48 |
| 6 | 200 | 64 | 53 |
| 7 | 220 | 70 | 56 |
| 8 | 241 | 77 | 64 |
| 9 | 265 | 84 | 70 |
| 10 | 291 | 93 | 77 |
| 11 | 320 | 102 | 85 |
| 12 | 351 | 112 | 93 |