Clash Royale Knight Card Review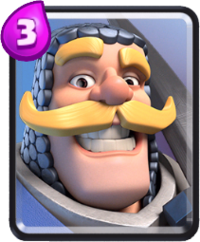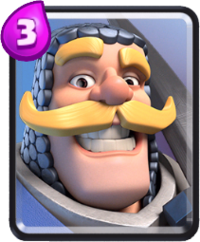 Unlock: Training Camp Tutorial
Description: A tough melee fighter. The Barbarian's handsome, cultured cousin. Rumor has it that he was knighted based on the sheer awesomeness of his mustache alone.
The knight is one of your beginner cards. He is pretty much the jack of all trades. He does decent damage, has decent health, can take a beating and can take towers. He just can't do anything against air units.
| Pros | Cons |
| --- | --- |
| Tanky and a great utility card | Can be easily overwhelmed by small troops |
| Great against ranged attackers | Useless against air units |
| Pair with the Giant for some front line tank | |
Works Well Against…
Archers(3 Elixirs) – The knight is able to whittle down the archers before he gets taken out. However, if your knight is far away from the archers, your opponent can drop skeletons to buy enough time for the archers to kill your knight.
Goblins(2 Elixiris) – Knight wins but the goblins are cheaper.
Spear Goblins(2 Elixirs) – If the knight is in melee range, he will kill them fast. However, a combo of goblins + spear goblins will buy enough time to kill the knight.
Skeletons(1 Elixir) – Knight would make short work of them, but it is a different story if they have ranged backup.
Does Poorly Against…
Minion Horde(3 Elixirs) – Your knight becomes useless.
Dragon(4 Elixirs) – Same as minions.
Valkyrie(4 Elixirs) – The Valkyrie will win in a melee battle but at the cost of an extra elixir.
Mini P.E.K.K.A(4 Elixirs) – This guy hurts and will kill the knight first.
Useful Combos
Knight + Ranged attacker – This is your most basic ranged + melee combo. This can whittle down towers fairly quickly.
Knight + Giant – Front line tank to soak up pressure and damage.
Knight + Skeleton Army – Great against the Prince and you can counter attack for the same elixir cost.
Knight + Goblin Hut – Works great if you want to start a swarm of small troops.
| Hit Speed | Speed | Deploy Time | Range | Target | Cost | Count | Rarity | Type |
| --- | --- | --- | --- | --- | --- | --- | --- | --- |
| 1.1 sec | Medium | 1 sec | Melee | Ground | 3 | x1 | Common | Troop |
| Level | HP | Damage | Damage per second |
| --- | --- | --- | --- |
| 1 | 600 | 75 | 68 |
| 2 | 660 | 82 | 74 |
| 3 | 729 | 90 | 81 |
| 4 | 798 | 99 | 90 |
| 5 | 876 | 109 | 99 |
| 6 | 960 | 120 | 109 |
| 7 | 1,056 | 132 | 120 |
| 8 | 1,158 | 144 | 130 |
| 9 | 1,272 | 159 | 144 |
| 10 | 1,398 | 174 | 158 |
| 11 | 1,536 | 192 | 174 |
| 12 | 1,686 | 210 | 190 |