Final Fantasy: Brave Exvius Aquatic Cover [Item Locations]

Aquatic Cover is the second dungeon of Olderion, and the 2nd dungeon to have 4 collection point. It's a typical dark cave featuring waterfalls, bridges and a few hidden treasure chests. For the most part it's pretty boring actually, rehashed boss, no quest, and no secrets to find, it's only redeeming factor comes solely from the fact that you can farm Light Megacryst here, which will be important soon for the upgraded Hero Ring's and for crafting Curaga now. Check out the guide to make sure you got all the goods.
Exploration Stats:
| | | | | |
| --- | --- | --- | --- | --- |
| Energy | Battles | Gil | Unit Exp | Rank Exp |
| 10 | 30 | 10348 | 63861 | 447 |
How to maximize EXP: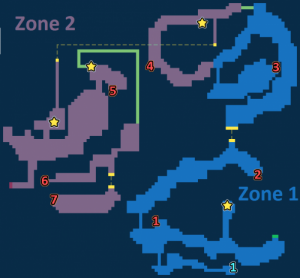 Aquatic Cover is a two zone instance, meaning in order to maximize EXP you have to defeat all the monsters in both zones. To do this, defeat monsters in Zone 1 until you have collected 4004 Gil, then defeat monsters in Zone 2 until you have collected 10001 Gil in total and then defeat the boss.
Drops: Allure Powder, Aqua Pearl, Beast Meat, Book of Ruin, Broken Blade, Chromatic Ooze, Corpse Fly, Crimson Tear, Deepsea Bloom, Earth's Core, Esper Cryst, Esper's Tear, Farplane Dew, Farplane Soul, Gaia's Tear, Glowseeds, Green Fluid, Life Orb, Pearl of Wisdom, Rainbow Needle, Scripture of Time, Seed of Life, Spellsilk, Spiritsand, Talmonite of Life, Tough Scale, Wizard Stone
Collection Points: Mythril Ore, Light Cryst, Light Megacryst, Magicite, Iron Ore, Silver Ore, Blue Megacite, Water Cryst, Water Megacryst
Enemies: Killer Fish, Zombie, Yellow Soul, Sea Scorpion, Sleepy, Aqua Elemental, Xiphactinus, Poison Toad, Akhkhazu
 Boss: Abhorrent One
Other Locations for Abhorrent One

Location
Lv
HP
MP
Aquatic Cover – Dead Man's Way

Aquatic Cover – Exploration

Boss battle

50
160000
230
Colosseum:

Beginner S-4

Boss battle

36
140000
120
Abhorrent One is immune to petrify and gravity is resistant to poison, blind, sleep, silence, paralyze, confuse, disease and ice and is weak to fire.
Item/Treasure Chest Locations: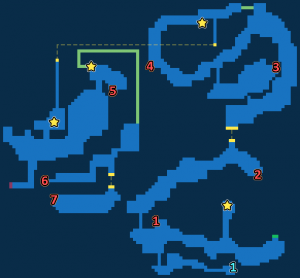 | | |
| --- | --- |
| Treasure Chests |   |
| 1 | Remedy |
| 2 | Blue Fang |
| 3 | Ice Megacryst |
| 4 | Giant's Axe |
| 5 | Recipe for White Fang |
| 6 | Star Quartz |
| 7 | Mystery Veil |
| 1B | Recipe for Watera Blade (Silver Chest, Needs Magic Key) |
 Collection Point 1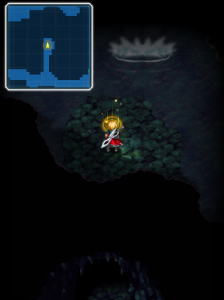 Recipe for Watera Blade (Silver Chest, Needs Magic Key)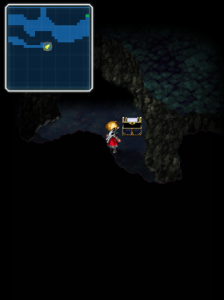 Remedy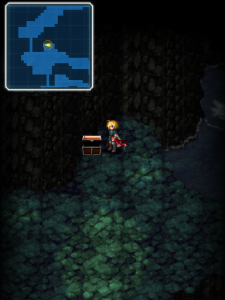 Blue Fang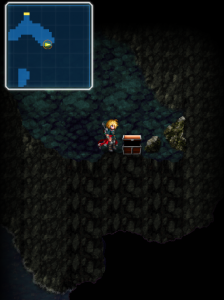 Ice Megacryst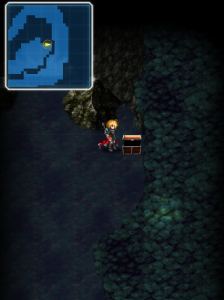 Giant's Axe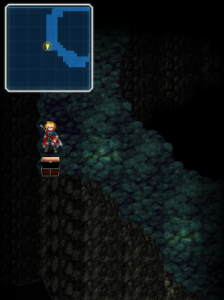 Collection Point 2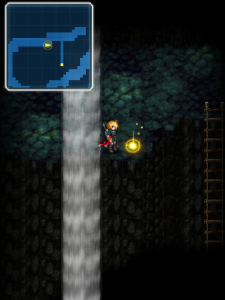 Collection Point 3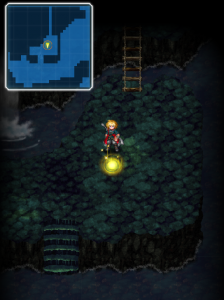 Recipe for White Fang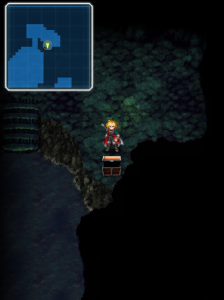 Collection Point 4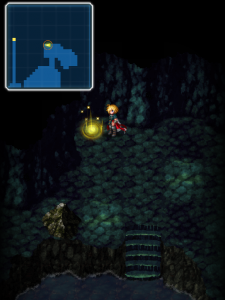 Star Quartz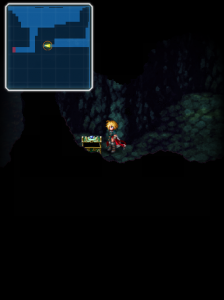 Mystery Veil